Enjoy Your Dream Retirement - You Earned It!
By Michele Wojciechowski
March 3, 2022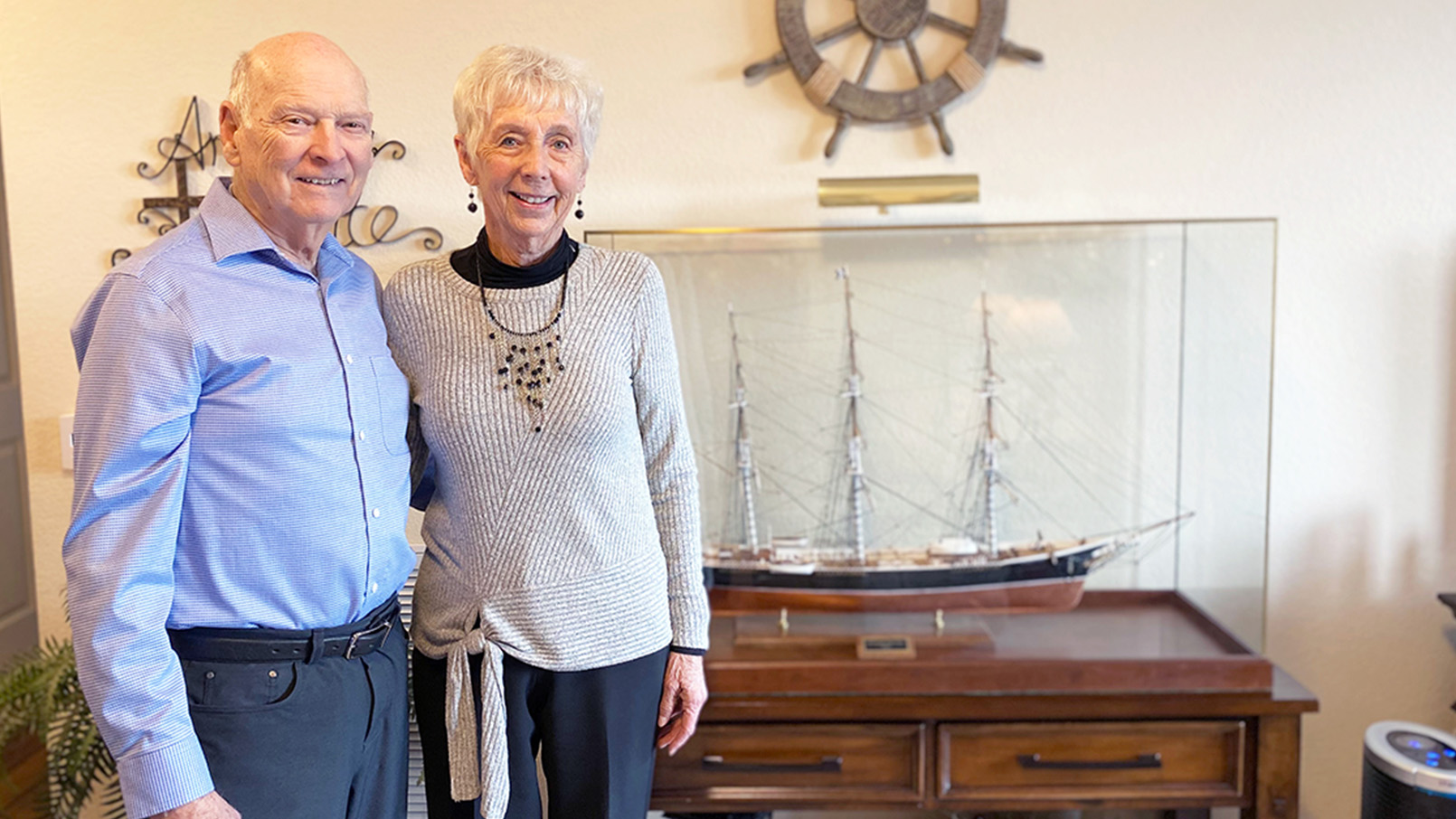 When Deb Kilgore started to think about moving in 2014, she scheduled tours at five different retirement communities to see what they offered. Without a doubt, she says, Wind Crest, the Erickson Senior Living community in Highlands Ranch, Colo., was the perfect one for her.
"It was so far above all the other ones - in the beauty of the campus, the friendliness of the people, the food, and the security," says Deb.
Since her move in July 2021, Deb stays active by working out at the fitness center two or three times a week, swimming in the pool, practicing line dancing, and participating in a club for new community members.
"I don't have to cook or do dishes anymore because I eat at the restaurants here, and I have so much free time to do activities. It's great! And it's so easy to make friends."
Just like Deb, many seniors have found that Wind Crest is the perfect choice for those who want to enjoy a financially secure and active lifestyle with opportunities to learn, grow, socialize, and pursue their passions.
Community members Roger and Joan Chenoweth have also found it easy to live the life they imagined at Wind Crest. When they're not spending time in their deluxe two-bedroom, two-bath apartment home, the couple enjoys attending Bible study class together and exercising - everything from aerobics and strength training to Pilates, weights, and yoga.
Finding new friends
They also love grabbing dinner with friends they've made at the community. "We have to keep a Day-Timer, [a calendar that breaks down each day by the hour], for the first time in our lives. But it's fun, and our kids are thrilled!" says Joan.
Joan also volunteers with some on-campus programs. Two days a week, she spends time with community members at Mill Vista Lodge, the continuing care neighborhood at Wind Crest. And one day a week, Joan gives her time to Intermissions, a program for independent living community members who have caregivers, such as a husband or wife. Janice leads crafts, brain games, and art classes so the caregivers can take a break.
Roger spends a lot of his time in the woodshop. "My hobby is using wood to build historic model ships," he says. His ships are so detailed, he notes, that one ship might take him a full year to make. When he finishes each model, he displays it in a glass case.
He also sings with the Wind Crest Chorale, a resident choir whose three 2021 holiday performances sold out. "I've been involved in singing most of my life," he says.
Maintenance-free living
Roger, Joan, and Deb are also thankful for their new maintenance-free lifestyle, allowing them to live the fulfilling and rewarding retirement they've always hoped for.
Deb admits that being solely responsible for all house repairs, before her move, was a challenge. "I had to get a new furnace, a new air conditioner, have the deck refinished, and replace a window," she recalls. "Not only did it cost me a small fortune, but on top of that, it was a nightmare trying to get vendors to do it all."
Since moving to Wind Crest, all of her home repair nightmares have vanished. If Deb needs something fixed in her apartment home - even if it's simply replacing a lightbulb - she can either give the general services staff a call or submit a form through My Erickson, an app for community members. She also is thrilled that her monthly fee stays the same all year long. The service package at Wind Crest bundles expenses like electric, property taxes, water, cable, and Wi-Fi into one predictable bill.
"Not having to worry about budgetary concerns - it's major," says Deb. "When you realize the cost of all the things that can go wrong in your house, it's shocking!"
Relax and enjoy
"The maintenance-free lifestyle in our community and the predictability of expenses lets community members relax and make their retirement dreams a reality," says Wind Crest Resident Life Director Ashley Cable. "They can focus on their joys, creativity, and passions."
This message resonates with Roger, who knows exactly the costs he and his wife used to incur. In the years prior to moving into Wind Crest, they paid for a security system, a lawn sprinkler system, chimney cleaning, roof cleaning and repairs, and more.
"That's a list of things I don't need to be concerned about anymore, and it feels really good," says Roger. "It was pretty expensive."
Now, everything is taken care of - inside and outside of their apartment home. "When it snows, I don't have to worry about that. When the lawn needs mowing, the [general services team] is out there doing it," says Roger.
"We're spoiled," says Joan, laughing. "It's great!"
Invest in your future at Wind Crest. From top-notch amenities and activities to affordable, maintenance-free apartment homes, you'll enjoy living your retirement to the fullest. Request more information today!
Back