Keep The Memories, Lose the Stuff!
By Kelly Shue
March 6, 2023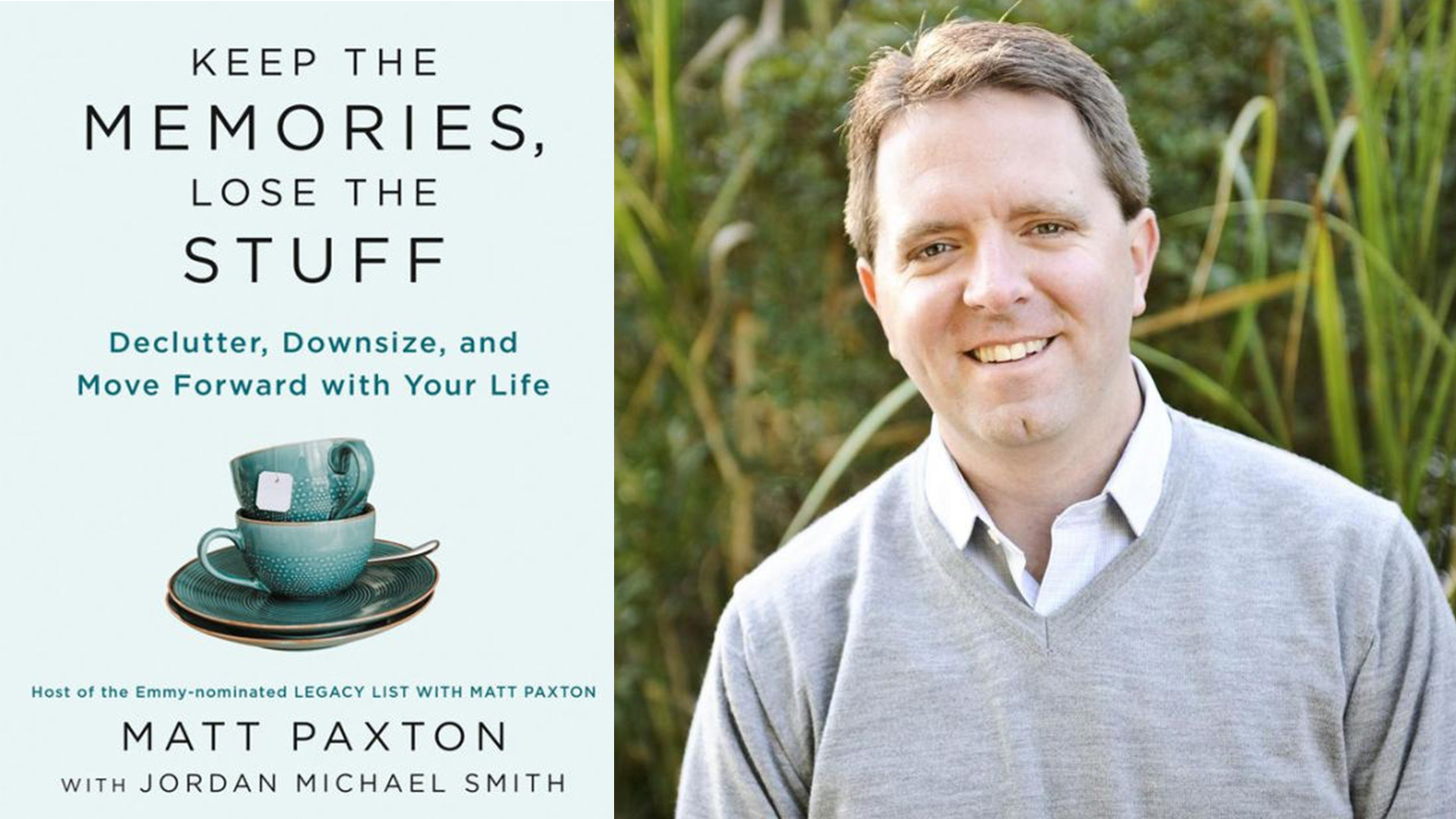 Matt Paxton, host of Legacy List With Matt Paxton on PBS and author of Keep the Memories, Lose the Stuff, is an "extreme cleaning expert."
With experience honed over two decades, Paxton helps people accomplish the notoriously challenging task of decluttering their houses. In that time, he says, he has uncovered one inescapable fact: "People hold on to stuff because of the people attached to it, not actually the stuff." In other words, the memories.
Most people want to hear that their children and grandchildren do want their stuff, but the reality is, not everything will be passed down. The trick is uncovering which items hold the most memories.
"It isn't always what you think it will be," he explains. "Most likely it isn't the dining room furniture." Most people want to choose furniture that suits their own taste and preferences.
What matters most?
If you're looking for a thorough spring clean - or wanting to downsize for a future move - Paxton recommends starting with two crucial actions.
First, create a "legacy list" of the five most meaningful items in your house. Then, acknowledge the importance of those belongings by sharing the memories connected to them.
"That 'legacy list' tells your family story, your legacy," Paxton explains. "Creating this list helps you identify what matters most in your home. Then, when you share this list with your adult children and grandchildren, they will let you know what items they would like to have."
Trash to treasure
To illustrate this point, Paxton shares an example. He was working with a family in Bethesda, Md., to get their grandfather's house ready to sell. 
"Although they knew Grandpa had a long career with the Federal Aviation Administration [FAA], they didn't know any details. While we were cleaning out his office, we discovered letters he'd received from President Eisenhower documenting the creation of the FAA," he explains. "Once they knew the history of the documents, his loved ones were able to appreciate these documents for what they revealed about their grandfather, and those items became treasures."
While everyone doesn't have letters from presidents hiding in their house, personal storytelling is one of the most important factors to consider when downsizing.
"Once you've shared five or six stories, discarding an old box of shoes in the garage is easier because, through those conversations, you've already celebrated the person who once wore those shoes," Paxton says.
Keep it up
The only thing harder than beginning the cleaning process is sticking with it. But, there's a reason behind why you want to declutter, and you have to keep it top of mind.
"Knowing your 'why' is imperative to success," Paxton says. "Once you identify that, write it down and put it somewhere you'll see it every day - it'll keep you from quitting."
Then, he says, ease into the process. Start with something that lacks emotional attachment, such as a pile of junk mail.
"The process is going to take some time, and that's okay," he says. "It took years to fill your house, so you won't be able to empty it over a long weekend. Instead, get in the habit of taking small steps on a regular basis."
Don't go it alone
Recognizing that some senior moves require a shorter time frame, Paxton suggests hiring a professional move manager to help with the process.
"Hire someone certified by the National Association of Senior and Specialty Move Managers [NASMM]," he recommends. "Don't be afraid to interview more than one person. You want to find someone you really click with."
Downsizing is a profession for Paxton, but recently, it became personal as well.
"I had fallen in love with a woman, now my wife, who lived in Atlanta," he says. "I had lived in my Richmond, Va., neighborhood for 40 years. I was nervous - I had to get rid of 70% of my stuff! But I took the leap and couldn't be happier."
He leaves us with a final piece of advice.
"If you are thinking about downsizing, there is a reason why. Trust that instinct," says Paxton. "Don't let stuff hold you back. Decluttering is an opportunity to establish a family legacy, share stories with friends and loved ones, and make space for a wonderful new life."
Erickson Senior Living communities have experts on hand to provide planning and moving support. To learn more about Erickson Senior Living, request a free brochure.
Back