Siena Lakes Staff Members Share a Commitment to Care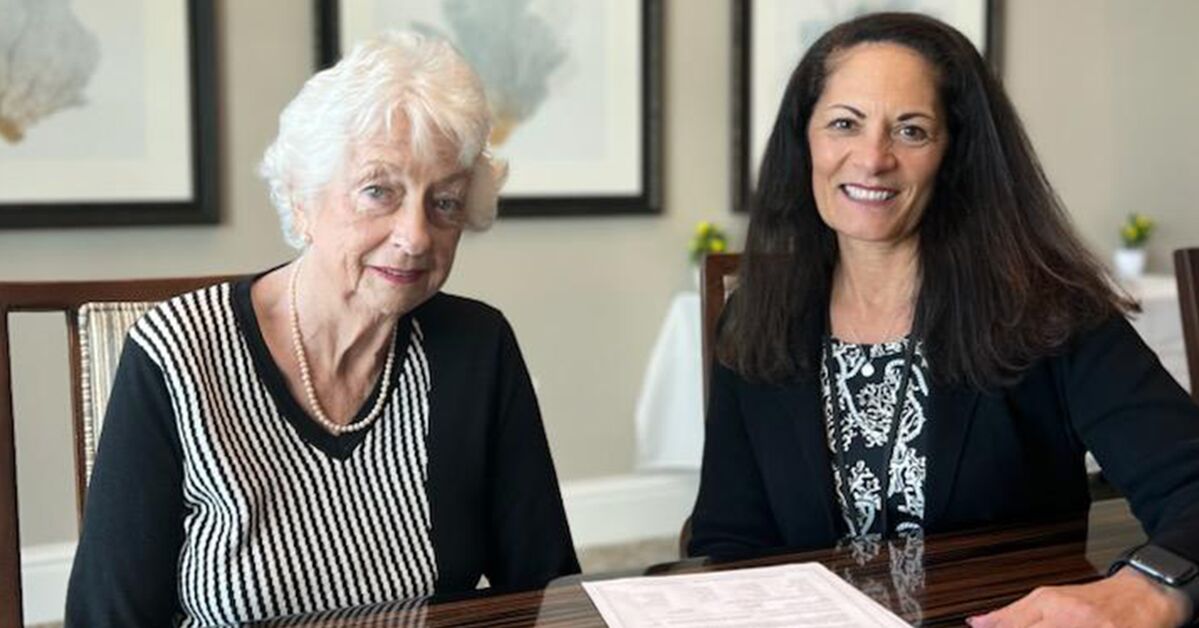 When choosing among retirement communities, you have a lot of options to consider. But take a closer look, and you'll see a world of difference in the experiences they offer.
Ask any Erickson Senior Living resident what sets their community apart, and they'll tell you it's the people.
"The staff is wonderful!" says Clair Callan, a resident at Siena Lakes, the Erickson Senior Living community in Naples, Fla.
From the knowledgeable sales associate who helps you find the perfect apartment home, to the fitness trainer who motivates you to reach your goals, to the enthusiastic servers at your favorite on-campus restaurant, it's the staff members who make Siena Lakes such a great place to live.
'Passion for serving others'
In addition to the sunny, tropical weather, retirees choose Siena Lakes for many reasons. What's number one on most lists? The community's maintenance-free lifestyle that creates time for residents to pursue their interests and hobbies.
If a lightbulb blows out, just place a quick call to the General Services team and someone will come to replace it. And, if you never want to cook again, you don't have to. On-campus restaurants, cafés, and bars offer all the dining options you could hope for.
Moving to Siena Lakes provides an engaging lifestyle that's full of amenities, clubs, activities, and no worries. To provide this excellent resident experience, Erickson Senior Living and its national network of communities strive to hire the best talent in the industry.
"Senior living should be considered a destination for career-driven people who possess a passion for serving others," says Alan Butler, CEO of Erickson Senior Living. "We continue to innovate and train our workforce because the services we offer to residents are only as good as the people who provide them. I am confident that we have the best in the business working for Erickson."
A company that cares
Executive Assistant Rhoda Horgan is just one of the many talented employees that show up to Siena Lakes with a smile on their face every day.
Eighteen years ago, Horgan started her career with Erickson Senior Living at Linden Ponds, an Erickson community in Hingham, Mass. When Horgan heard that the company was building a new community in Naples, not too far from where her parents lived, she quickly applied for a position there.
"I got the job, so I happily relocated!" recalls Horgan. "I love working with the residents most of all, but the workplace culture at Erickson Senior Living has earned my praise as well. The company cares for their employees so much."
As a result of Siena Lakes' warm, positive atmosphere, multigenerational bonds between residents and employees flourish. 
When the community's Resident Advisory Council (RAC) was founded in August 2022, Horgan was right there, ready to help.
Since then, Horgan has collaborated with a number of RAC members on communitywide projects. Residents appreciate her wealth of knowledge and willingness to help. 
"You can always find her standing at her desk!" quips Clair, who serves as chair of the RAC. "She knows the answer to every question I've ever asked her. She also knows the best way to facilitate things because she understands the community's processes, which many of us are still new to."
The Erickson Way
"Coming to work is not like going into an office building. We're part of a resident's home," explains Horgan, "which means that relationships really matter. I listen to them and try to let them know that I genuinely care. I do everything I can to help them out!"
Executive Director Mike McCormick notes that, to residents' advantage, all Erickson Senior Living communities are designed to foster meaningful relationships that support a vibrant lifestyle.
Connecting with others
"The best part of working at an Erickson Senior Living community is the opportunity to develop connections with residents," says McCormick. "The most valuable resource we have is our employees. They touch the lives of our residents in profound ways. We want everybody who works for Erickson to come to work feeling supported, appreciated, and excited to make a difference."
He adds, "Many residents at Siena Lakes are amazed at the tenure of Erickson staff members. It's comforting, knowing that there are many employees who have chosen to build their career here. We aim to create an environment that makes team members want to stay."
Invest in your future at Siena Lakes. From top-notch amenities and activities to affordable, maintenance-free apartment homes, you'll enjoy living your retirement to the fullest. Request more information today!
Back