At Siena Lakes, Residents Form Lasting Friendships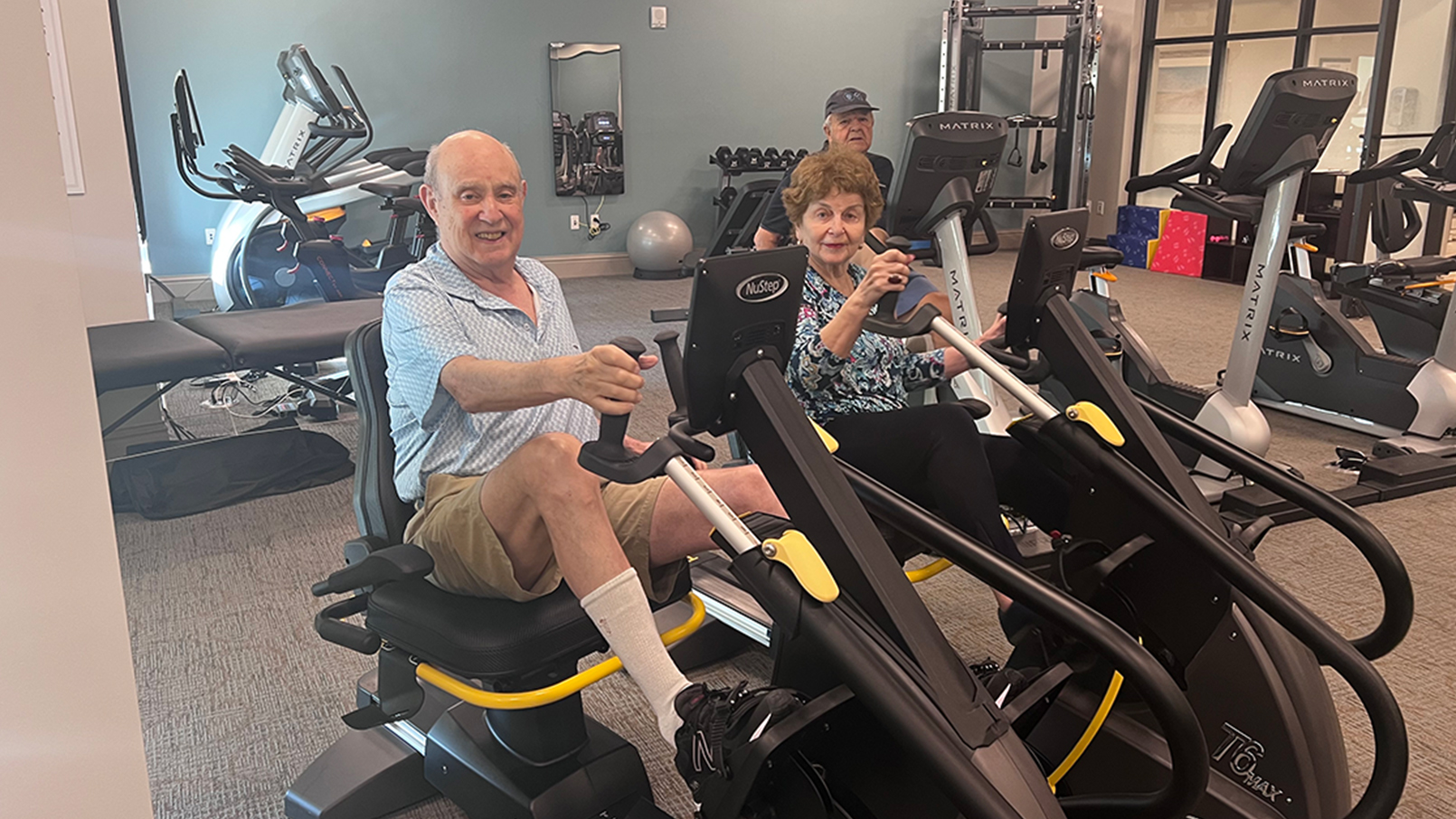 People move to Siena Lakes, the Erickson Senior Living community in Naples, Fla., for many reasons: the maintenance-free lifestyle, the clubs and activities, the wide range of amenities, and, possibly the most impactful, the close-knit community.
As a result, many are excited for the opportunity to make new friends, and in at least one case, the chance to reconnect with friends they hadn't seen in decades.
Serendipity strikes
When John Pollok was growing up in Valley Stream in Nassau County, N.Y., his mother was a teacher at H. Frank Carey High School. Roz Rubenstein was raised in Queens, N.Y., and her mother taught at the same high school.
The two mothers became not just friends, but best friends--along with their husbands and kids.
Now, fast forward 60-something years. John and Roz haven't seen each other since they were teenagers.
One day, after a workout at Siena Lakes' fitness center, Roz's personal trainer wanted to introduce her to another resident she worked with. At first, their names meant nothing to each other. Then, something clicked.
"Is your name Johnny Pollok?" Roz asked.
John replied, "Nobody has called me 'Johnny' for 60 years."
The two began talking and realized how they knew each other. They spent the rest of the afternoon sharing memories about their childhoods in New York and their beloved moms.
Like it used to be
Asking John and Roz to talk about their past is like listening to a tennis match--they quickly follow-up on each other's sentences, and the laughter is constant.
"My mother was a yenta," says John.
"A busybody," quips Roz.
"And your mother was a super yenta," John adds.
"It's true. She never stopped," Roz replies.
When asked about their teenage years, John jokingly says, "They tried to fix us up for a number of months, but it didn't work because the love of her life was always standing around."
That suspected "love of her life" is now, in fact, the love of Roz's life. Roz married her husband Ira many moons ago, and John married his wife Pat. Amazingly, Roz and Pat share the same birthday.
Also coincidentally, both couples moved to Naples, Fla., in retirement, then to Siena Lakes.
Lots of laughs
Since Roz and John's reconnection, the couples have become fast friends--and discovered that not only do they live in the same building, but on the same floor.
John, Roz, Pat, and Ira enjoy going out to dinner together and playing on opposing teams in a weekly trivia game.
"We're champions at Trivial Pursuit," says John.
"Oh, sure," replies Roz. "I think they cheat!"
"Rarely do we lose," says John.
"That's why I say they cheat," Roz says. But it's all good-natured ribbing.
For both couples, their valued friendship is just one of many at Siena Lakes.
Benefits of connecting
"Having enjoyable social connections is an important, yet often overlooked, aspect of personal health and well-being," says Dr. Matt Narrett, chief medical officer at Erickson Senior Living.
"From a robust calendar of events and dozens of clubs to sharing a meal together with friends, our communities are designed to maximize social engagement opportunities for residents."
Michele Minogue, Siena Lakes' resident services coordinator, couldn't agree more.
"When I walk by people playing cards or getting involved in another group or club, they're talking, they're laughing, and they're having a great time," says Minogue. "Residents at Siena Lakes are constantly engaged. Having a meal together, which seems so simple, really goes a long way when it comes to mental health."
She continues, "While many people were active before coming here, they tell me that Siena Lakes is enabling them to be even more social than they had been. Some are making new friends, others have known each other previously, but all of the relationships here come together like a big family."
Easy to make new friends
Just like John and Roz, whose light-hearted relationship inspires everyone at Siena Lakes to say hello to a new neighbor. You never know who you might run into…
"We're having the time of our lives," says Roz. "And going to dinner with John is an adventure. He stops at each table and chats with everybody."
"I don't get it," says John, laughing. "I don't talk that much!"
Invest in your future at Siena Lakes. From top-notch amenities and activities to affordable, maintenance-free apartment homes, you'll enjoy living your retirement to the fullest. Request more information today!
Back