Siena Lakes Residents Find the Key to a Healthy, Happy Life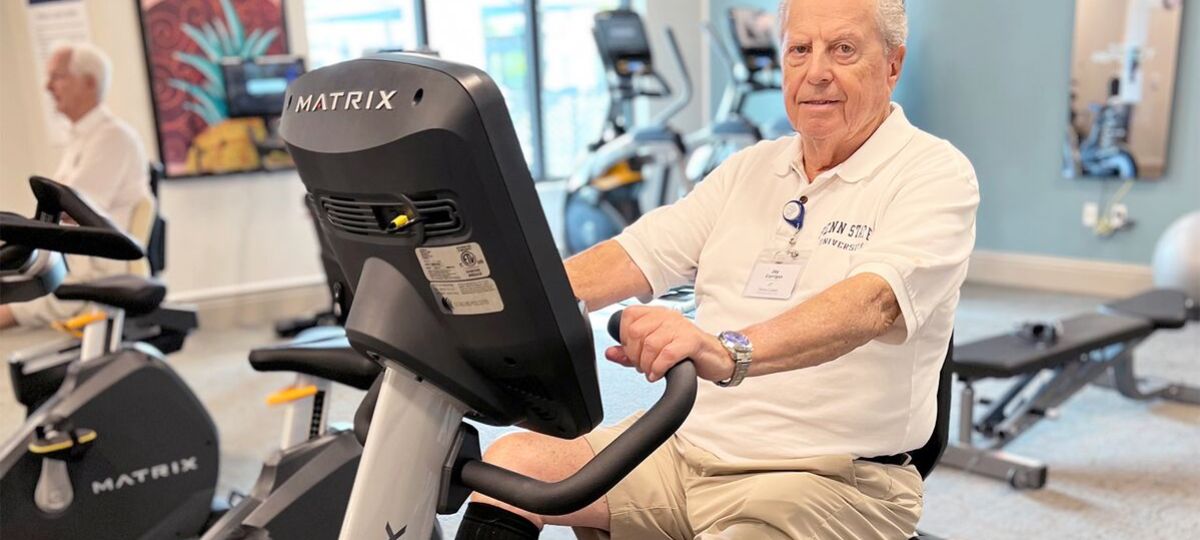 For five decades, Jay Corrigan has ridden his bicycle three or four days a week, traveling anywhere from 15 to 18 miles each trip. So, it's not surprising that when he moved to Siena Lakes, an Erickson Senior Living community located in Naples, Fla., he wanted to keep up with his long-standing fitness routine.
Since moving in to his apartment home a little more than a year ago, Jay has "traveled" hundreds of miles on the community's brand-new Echelon stationary road bike.
Equipped with a touchscreen as well as a TV screen with various programs, "Different cyclists take you on all kinds of adventures," says Jay. "Today, I rode for about 45 minutes. I get a lot out of it. I'm going to lose a lot of weight, I hope. They feed me too well here!" he says, with a laugh.
In fact, this state-of-the-art stationary bike is just a glimpse of the recent changes made to Siena Lakes' amenities and resources.
Focusing on well-being
This year, Erickson Senior Living provided a multimillion-dollar investment, through its Well-Being Fund, to support the addition of enhanced health and well-being programs and services to residents.
Incorporating findings from the company's research partnership with Harvard University and the Benson Henry Institute (BHI) for Mind Body Medicine at Massachusetts General Hospital, these additions are designed to enhance the physical, emotional, and social well-being of residents.
In 2021, selected residents at Erickson Senior Living communities participated in the Embrace Well-Being and Flourish study, which used the BHI's SMART (Stress Management and Resilience Training) curriculum to provide them with practical strategies for managing stress and improving resiliency.
Results of the study showed statistically significant changes, including increases in resilience, coping, and positive emotions, while decreases in distress and social isolation were seen.
"Through the Well-Being Fund, we are able to apply evidence-based research to further enhance the programs, amenities, and services available to better enable residents to achieve optimal health outcomes," notes Dr. Margaret Kimbell, vice president of community living for Erickson Senior Living.
Seeing the investment
Residents at all Erickson Senior Living communities now have greater access to tools and strategies that support resilience and overall health and well-being. Examples include Wellbeats, a new fitness app that allows residents to participate in on-demand and live exercise, yoga, and meditation classes from any location.
According to Resident Services Manager Craig Ellsworth, the fitness center at Siena Lakes also received an additional recumbent bike, a NuStep machine, an Echelon Fitness Mirror, and the Echelon stationary road bike that Jay enjoys.
"I've heard so much positive feedback from residents like Jay," says Ellsworth. "Even though Siena Lakes is new, it's wonderful that we were able to add more equipment and machines that will allow our residents to keep up with their active lifestyles."
To help residents adjust to the new technology, fitness staff members are more than happy to answer questions and offer tutorials. "I had some questions about the Echelon bike, and Gina [Muaau, fitness manager,] was very knowledgeable. She was also helpful and encouraging!" recalls Jay.
Gaining confidence
Patty Fairweather, who moved into her two-bedroom, two-bath apartment home at Siena Lakes a year ago, was also eager to take advantage of the community's fitness offerings.
Patty met with Muaau to set up some personal training sessions, with her goals being to gain strength and better balance. Muaau suggested that Patty use the NuStep machine, which is similar to an elliptical but operated from a sitting position. Patty has been using it ever since.
"It's an excellent machine--so good for legs and arms. I've noticed a tremendous difference," says Patty. "It's important to keep your physical self well and strong, so I appreciate having something that's going to help me get around better. My mother lived to be 100, and I'm planning on it too!"
Exercise has improved her mental health as well, she says. "Exercising gives you a feeling of confidence, which you may have lost if you weren't working out. You really need it. It makes you feel good all over!"
Keeping up to date
Thanks to the Well-Being Fund, Siena Lakes also received new video equipment to create and provide content for its in-house television station that launched in the fall.
"We are so fortunate to have been able to get exactly what we needed," says Ellsworth. "Our in-house channel keeps residents connected and informed, which can lower stress and provide peace of mind. It will enhance their connections with other residents too!"
Invest in your future self at Siena Lakes. From top-notch amenities to affordable, maintenance-free apartment homes, you are sure to live your retirement to the fullest. Request more information today!
Back