Siena Lakes Residents Enjoy the Freedom to Live a Fulfilling Retirement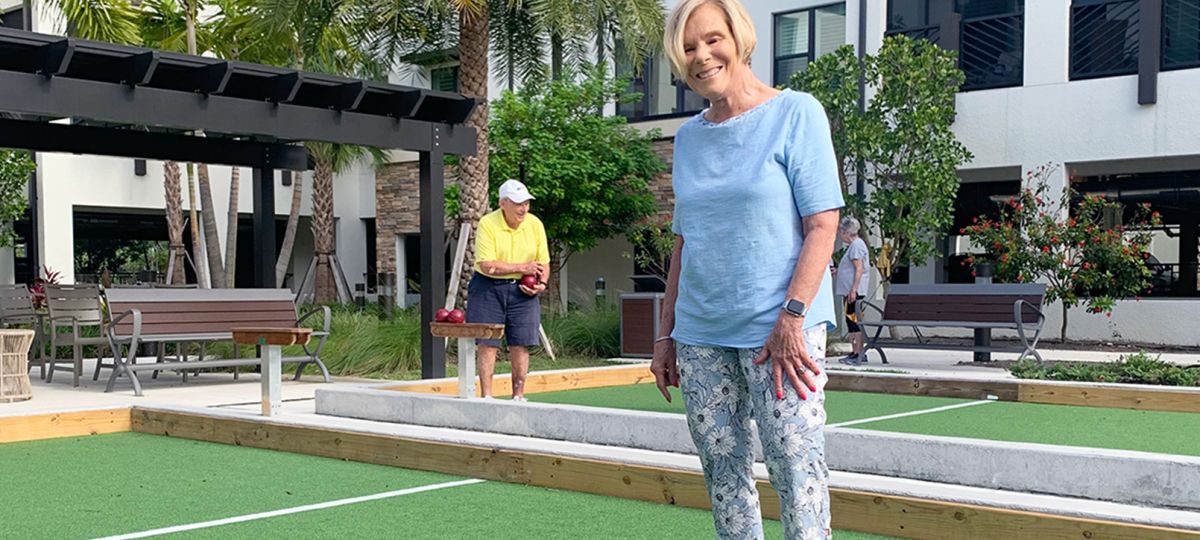 Nearly two and a half centuries after the Declaration of Independence was written, Americans continue to value the unalienable rights of life, liberty, and the pursuit of happiness. At Siena Lakes, an Erickson Senior Living community in Naples, Fla., residents are embracing those freedoms, claiming their independence from the headaches of homeownership, and pursuing an active, vibrant lifestyle.
Whether it's participating in clubs and activities, artistic pursuits, or volunteer endeavors that enrich the lives of others, you can be as social and creative as your imagination allows - especially when forming new clubs, which is easy for residents like Sally Bettin.
From the ground up
In July 2021, Sally and her husband Fred were among the first residents to move into Siena Lakes. Since then, Sally has filled her time well, working out in the fitness center three days a week and playing canasta every Monday.
In addition to all the activities already available at Siena Lakes, Sally took the opportunity to create a new one - a group called The Stitchers. The group meets regularly to work on needlepoint, quilting, knitting, or crocheting projects while they chat.
Sally got the idea when she came across a number of needlework pieces that she has had for decades, but hadn't finished. Now, she works on them once a week while she talks with friends. "We take an hour-and-a-half to accomplish whatever we can," she says.
Sally also volunteered to help set up a small lending library on campus. All the books in it were donated, and they have so many, Sally says, that they've had to turn people away who wanted to give more.
"I volunteered to take charge of keeping it neat and tidy," she says. So every time she walks by the library, "I just poke my head in to see if there are books that have been returned, and I put them back on the shelf. I really love doing it."
Social butterflies
Sally and Fred have made a lot of new friends, she says, by simply going to dinner. They chat with other residents on the elevator heading to one of the on-campus restaurants, and often they've been asked to join their neighbors. "People are always saying hello," says Sally.
It's not uncommon for residents to find a new walking partner, dinner companion, or travel buddy right around the corner - whether it's a new acquaintance or an old friend.
"The residents here are so friendly and inviting," says Sales Director Suzanne McAllister. "Thanks to the maintenance-free, worry-free, and safe lifestyle here at Siena Lakes, residents have plenty of time to do the things they love and make new friends!"
Worry-free living
And when Sally's not out-and-about or spending time in the couple's spacious two-bedroom, two-bath apartment home with a den, she enjoys being outdoors - without having to mow the lawn. "The weather, of course, is wonderful. I love the warm weather," Sally says.
Thanks to Siena Lakes' stylish, maintenance-free apartment homes, residents get the opportunity to live out the active retirement lifestyle they've always wanted. Instead of worrying about lawn care, appliance replacement, and unexpected repairs, Siena Lakes residents can take part in a welcoming community that fosters meaningful connections and supports their overall well-being.
Glenda Bridges, who moved to Siena Lakes in February, shares the same sentiment. "I love my apartment home!" she says. And living at a supportive community like Siena Lakes, Glenda adds, has really helped her branch out.
Trying something new
When Glenda moved in, she didn't expect that her husband Bart would need to move to memory care living just a month later.
Forming uplifting friendships, she explains, helped her get through. "I'm in the best place possible to start my 'new' life."
"Residents tell me the best part about our clubs and groups here is that they make connections and build relationships with other residents that have the same passions," says Manager of Resident Services Craig Ellsworth.
For Glenda, finding a new passion - on the bocce court - expanded her social circle even more. "I've never played before, and I love it," she says. "I've met so many great people by playing it."
Glenda was grateful when a resident offered to meet her 30 minutes early, so that he could explain the game and even demonstrate how to play. She loves the game so much now that she plans on joining a league at the community.
Room to grow
"Through working with others, the residents have learned new things and have had new experiences," adds Ellsworth. "I've seen so many new friendships blossom through our clubs and activities."
"The staff is incredible. They're all so nice and willing to help you," says Glenda. "I just love everything about living here!"
Invest in your future at Siena Lakes. From top-notch amenities and activities to affordable, maintenance-free apartment homes, you'll enjoy living your retirement to the fullest. Request more information today!
Back