Siena Lakes Residents and Their Canine Companions Enjoy the Dog Park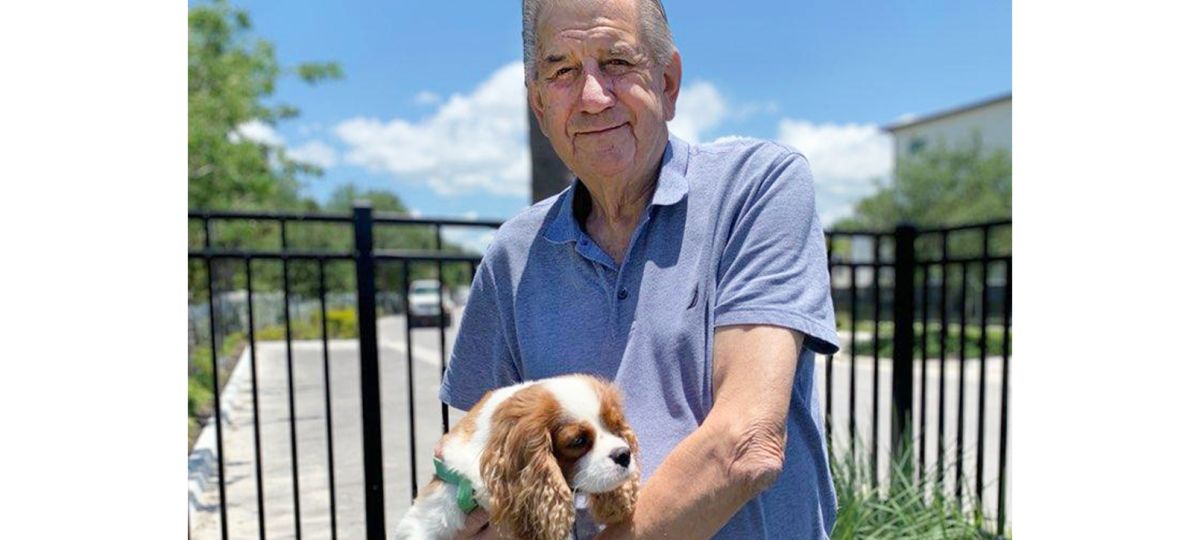 On any given day at around 8 a.m., an energetic group gathers on the campus of Siena Lakes, the Erickson Senior Living community in Naples, Fla. They walk, they run, and sometimes they even wrestle playfully.
Oh, and their human companions are there too…
It's just another morning at the dog park, and everyone loves it. "The pups enjoy the park immensely," says resident Bryan Gibbs. "They're all good friends. They get up to their mischief and their antics for 30 minutes to an hour every morning."
"It's a dogsend," he jokes.
A regular routine
Bryan, who's originally from England, frequents the dog park regularly with his Cavalier King Charles Spaniel, Archie. "I think the owners like it because they can have a good old natter, talking about life in general, while the dogs look after themselves. They have the time of their lives."
Someone usually brings a bowl, Bryan explains, and others bring water in case the dogs need a quick drink. "They have their own fun. They're running up and down, chasing balls and each other. They don't need more than their own company, quite frankly," Bryan says.
When Bryan and Archie return to their one-bedroom, one-and-a-half bath apartment home after a visit to the dog park, Archie has his breakfast while Bryan enjoys a morning cup of tea.
"He nods off for a couple of hours, and I get some peace and quiet," he adds.
Making new friends
Bryan says that, besides being able to stretch their legs, he enjoys taking Archie to the dog park because it encourages both of them to be more social.
Before moving to Siena Lakes, he would take Archie to a garden area outside of a local pub and sit with him.
"Everybody would come and say hello to him because he was a little pup in those days," Bryan explains. "It made him very social. He loves people and he loves dogs, so the dog park fits perfectly!"
Many residents find that being able to take their furry companions to the dog park helps them adjust to living at Siena Lakes. In adapting to a smaller indoor play space, "they may find it more difficult than the adults to settle in. This helps them a lot," Bryan says.
"It's been a great addition. Having the dog park reinforces the whole attitude of Siena Lakes - to make everything as convenient and as comfortable as possible, making it a pleasant place to live. I've been here since it first opened, and it's just gotten better and better every day!"
Staying healthy
Retired veterinarian Larry Coen also frequents the dog park, bringing his five-year-old Cavalier King Charles Spaniel, Finn, four or five mornings each week. (Although there are many other breeds of dogs that frequent the park, Cavalier King Charles Spaniels are especially popular.)
The park is covered in artificial turf, which is great for the dogs and their owners, says Larry. "They can run and run and not get muddy!" he says.
"From a veterinary standpoint, going there betters his physical and mental health, and then it turns into a nice little visit for me. Owners catch up on the news with each other. We have discussions about what is going on here and what is going on in the world," explains Larry.
After their visits, he and Finn head back to the two-bedroom, two-and-a-half-bath apartment home they share with Larry's wife Diane.
Like Archie, Finn gets in a workout - to then come home and sleep. "It's fun to see Finn run, catch a ball in the air, run around, and play with other dogs," says Larry.
A warm doggy welcome
And when a new neighbor and their pup show up, things just seem to work out.
Larry explains that when a resident brought his dog Beauregard to the park for the first time, Finn and a few other dogs came over, but they didn't quite seem comfortable at first.
"Two weeks later, Beauregard is the leader of the group!" says Larry, laughing. "It just brings out the good in you."
To learn more about affordable, independent senior living at Siena Lakes, request your free brochure to get more information on amenities, floor plans, and so much more.
Back