Siena Lakes Offers Great Dining Career Opportunities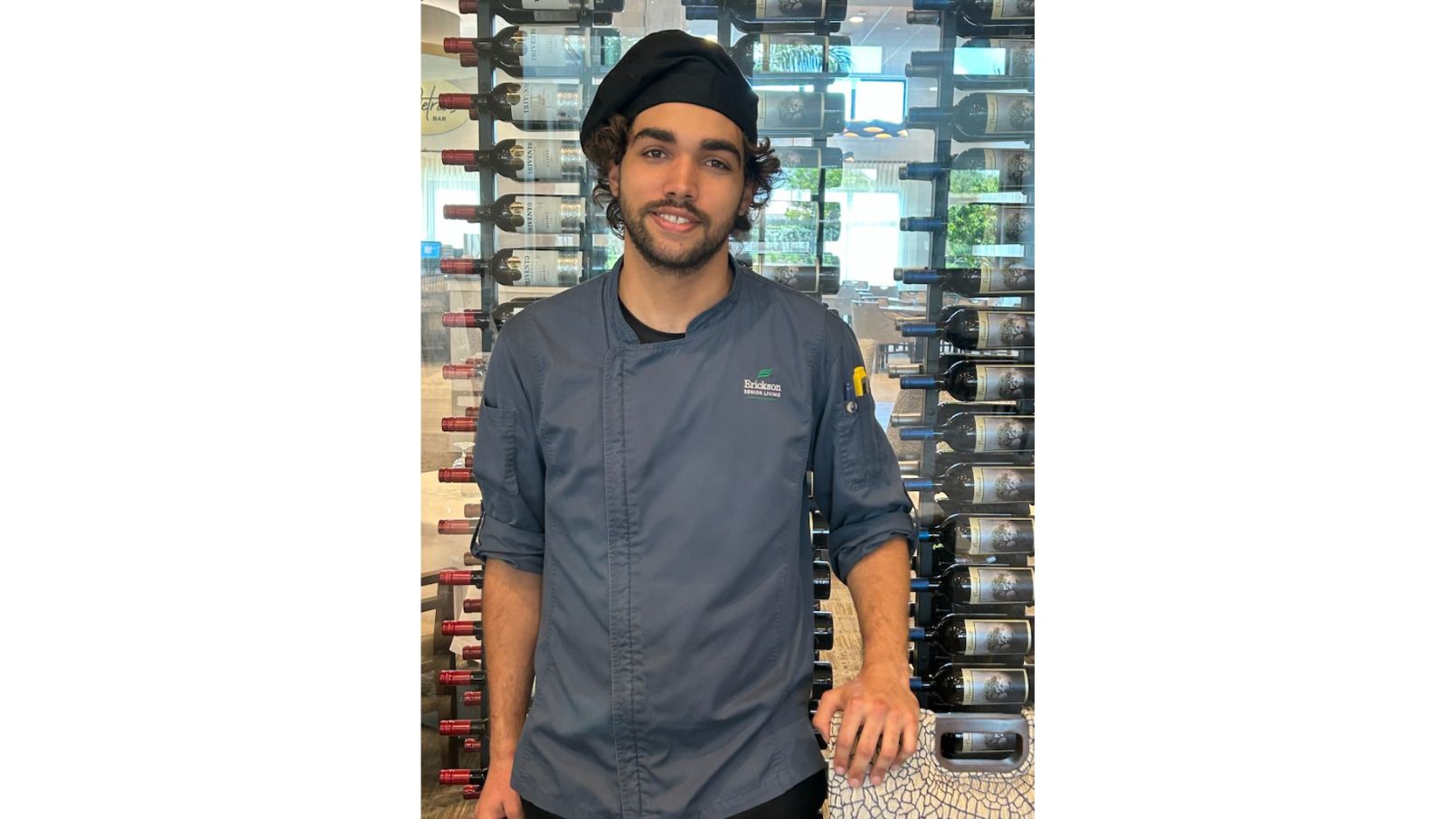 Almost three years ago, Jakob Fields was a senior in high school and attending a travel basketball game to watch his sister play. He was only going to support his sister. What he ended up with, though, was a connection to a job he loves.
Also on the team was the daughter of Executive Director Mike McCormick, who heads up Siena Lakes, the Erickson Senior Living community in Naples, Fla. McCormick talked with Fields about the newly constructed residential campus and how they were looking for employees.
Fields followed up and went on an interview. "It was a really good thing. I was the second person ever to get hired in the Dining Department," he says.
While he was initially attracted to the college scholarships that Siena Lakes awards to its student servers, Fields was soon happy with the community and his co-workers as well. And in no time at all, he moved up from server to being a dishwasher.
Although he had not really cooked before, Fields says that during down-times—before a lot of residents had moved in—cooks in the kitchen began showing him how to do lots of preparation and cooking techniques. "My friends would pull me aside and say, 'Let me show you how to grill meat' or 'Watch how I cut the salmon.' I learned so many things before I was even a cook. I was still the dishwasher," he says.
Fields also provided training to all the servers who initially worked at Siena Lakes. He then moved up to utility worker, who works in the back of the kitchen. In seemingly no time at all, he then began working as a prep cook.
Today, if he's not at school at Florida SouthWestern State College, you'll find him working as a line cook at Siena Lakes.
"I definitely have a passion for cooking," he says. "I feel like that's also why it's been so easy for me to grow so quickly in the cooking industry."
And when he started, he had absolutely no experience as a cook. In fact, he says, "I never thought about it before." Now, he takes his new-found skills home and cooks for his family.
While he plans to major in engineering, Fields loves his job in Dining Services. "I like it because there's so much excitement! You always have to be on your toes, moving quick, and making multiple decisions--fast. My experience here has made me a way better problem solver," says Fields. He says that he's also learned more about talking with people as well as interacting with them.
Even though he's attending college, Fields plans to keep working at Siena Lakes for a long time.
"I want to keep learning more," he says. As for those who may be thinking of working at Siena Lakes, he encourages them. "It's definitely about the sense of community here. It feels like the people you're working with are your family," Fields says. "If there's any reason that makes you want to go to your job, that's it! I love working here!"
Invest in your future self at Siena Lakes. From top-notch amenities to affordable, maintenance-free apartment homes, you are sure to live your retirement to the fullest. Request more information today!
Back