Residents Enjoy a Vibrant Lifestyle and Unmatched Financial Value at Siena Lakes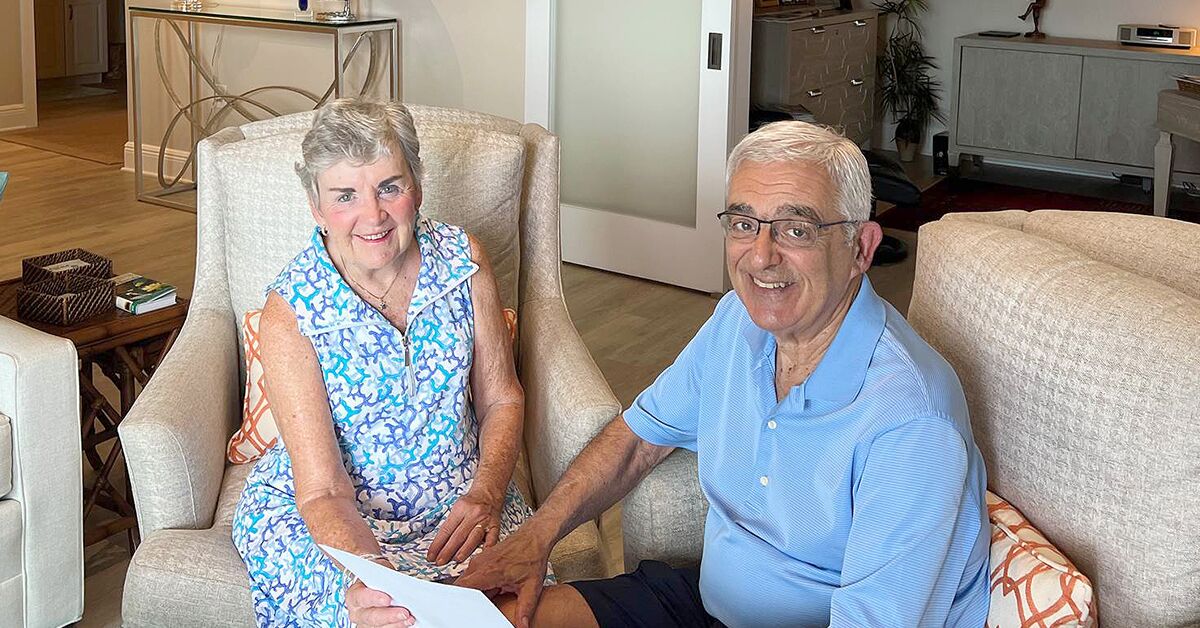 For more than 40 years, Hugo and Anna Marie Finarelli have painstakingly tracked all their household expenses, whether by pen and paper or digital spreadsheet.
So when they were considering a move to Siena Lakes, the Erickson Senior Living community in Naples, Fla., they analyzed the numbers and knew it was definitely a smart move.
"We estimated that we'd save about $40,000 a year--expenses that would disappear by moving to Siena Lakes," says Hugo. "Since we moved in, that number has increased. We no longer have to pay between $45,000 and $50,000 per year."
Predictable expenses
For the Finarellis, Siena Lakes' monthly service package fits the bill perfectly.
It includes heating and air conditioning; all utilities, including phone and internet; access to the fitness center and pool; regularly scheduled transportation; housekeeping; 24-hour security and emergency response; maintenance, including repair and replacement of appliances, and more!
When living in their old house, Hugo says, "There were always expenses that popped up." Now, in their spacious two-bedroom, two-and-a-half-bath apartment home at Siena Lakes, all expenses are covered.
"If there's a problem with your heater, you just pick up the phone and make a call," he notes.
Peace of mind
When people move in, they have the choice of an 80% refundable entrance fee* and a nonrefundable entrance fee.
Sales Manager Kevin Patterson says that most people choose the 80% refundable entrance fee, knowing that, if or when they leave the community, it will be returned to them or their beneficiaries.
"Also, if any resident gets to a point where they exhaust their outside assets, they can use that refundable part of their entrance fee to cover costs," says Patterson. "It's another kind of financial safeguard."
Pay just for what you need
In addition, Siena Lakes' fee-for-service model means that residents only pay for the services they want or need, instead of having to pay upfront for advanced care services.
"This means you don't need to pay more for something you may never use, like assisted living or memory care," explains Patterson.
"Over Erickson Senior Living's 40-year history, we've seen that only a low percentage of independent living residents eventually need skilled nursing, assisted living, or a higher level of care on a permanent basis."
For Hugo, this financial model was a huge plus. "We don't have to pay for something that we might not need. It's great," he says.
"Moving here was my gift to my children," says Anna Marie. "They didn't have to make any decisions. I think they're relieved that we're settled."
Well cared for
Pat Murphy, who moved into her two-bedroom, two-and-a-half-bath apartment home a year ago, was also attracted to Siena Lakes' financial structure.
"I like the predictability of one fee," she says. "They don't nickel-and-dime you to death. That was an important consideration for me."
She also found that the 24-hour emergency response is something you can't put a price on. One day, when Pat felt lightheaded, she contacted security, whose members are also trained as emergency responders. "They were here in two minutes!" she says.
Once the responders cleared her, she reached out to the on-site medical center for a follow-up visit.
"I was able to speak to a doctor directly," Pat recalls. "Had I still lived in my large house, I wouldn't have had that service and my situation could have been worse."
She also was concerned about safety when she lived alone. Not anymore. "I don't need to pay for an alarm system here," says Pat, whose home is now safely nestled in a gated community.
Like Pat, Hugo and Anna Marie are gratified to live in a secure, well-built community. Buildings across Siena Lakes' campus can withstand 185-mile-an-hour winds during hurricane season.
A connected community
"We like that the whole community is safe and that it's connected--you can get anywhere inside, because of the climate-controlled walkways. So, we can shelter in place," says Hugo. "I'm very happy where we are!"
And the icing on the cake is that they no longer have to pay for homeowners' insurance, with its high fees for hurricane risk, which means more money in the bank.
To learn more about the benefits of moving to this maintenance-free community, request more information today.
Back