Residents Enjoy Spending Time in and Around Siena Lakes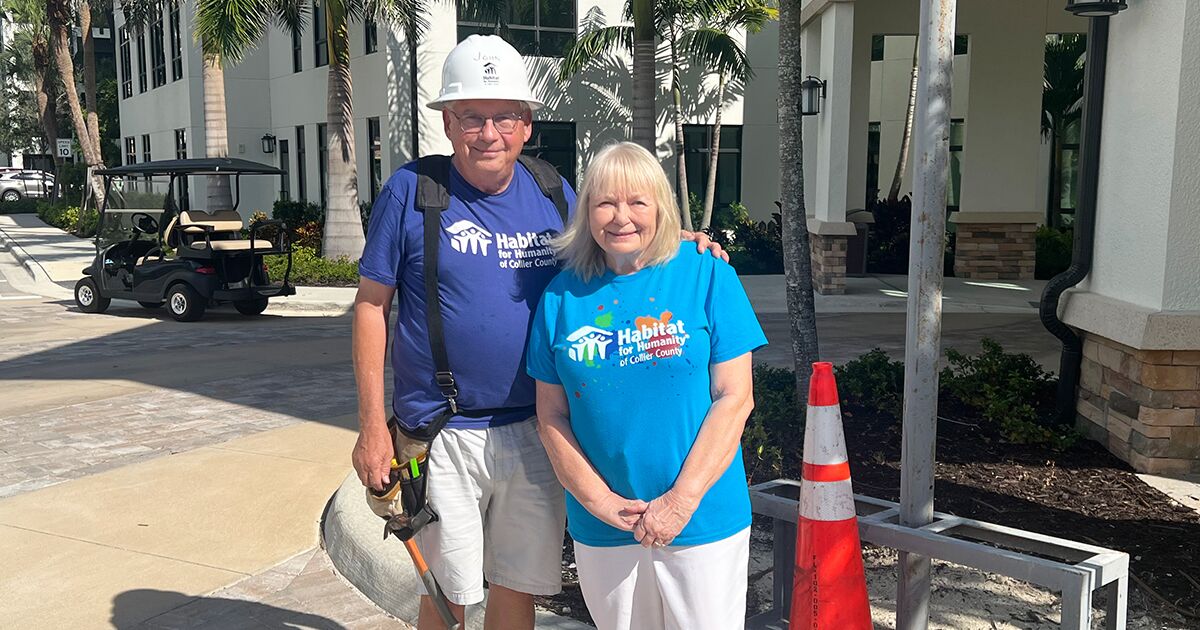 John and Sandi Rasmussen were no strangers to southwest Florida when they moved to Siena Lakes, the Erickson Senior Living community in Naples, Fla., looking for a maintenance-free lifestyle.
As longtime residents of the area, the couple has deep roots and is deeply committed to causes that help those in need. 
"We've always been really active in the community," says John. "And now, living at Siena Lakes has freed us from cooking, cleaning, and home maintenance chores, giving us more time to devote to our volunteer efforts."
Like all Erickson Senior Living communities, Siena Lakes offers the best of both worlds--local volunteer and cultural events paired with exciting on-campus happenings keep residents like the Rasmussens active and engaged.
Volunteering together
The couple spends two hours every Wednesday giving out more than $100 worth of food to each of 500 local families through Meals of Hope at Emmanuel Lutheran Church in Naples. 
John is a member of the church's Serving Others Ministry Team, which raises funds for local charities and the church council.
Sandi, a former language teacher, started a successful English as a Second Language (ESL) program at the church. Now, she's working on bringing one to Siena Lakes--doing everything from finding a space for lessons to recruiting resident tutors.
"We'll teach conversational English to adults," explains Sandi. "We'll assess students and focus on what they need. Sometimes, they're afraid to go to the grocery store or speak to their children's teachers because their English isn't what they'd like it to be."
Sandi and John have also taken advantage of events and activities on campus, using the fitness center and playing trivia. 
Giving back
For 12 years, Siena Lakes resident Sandy Randall has volunteered at the Naples Community Hospital. One day a week, she works in the gift shop. 
But when another volunteer opportunity recently came about at the hospital, she jumped right on it. 
"About a year ago, I started spending one day a week in the neonatal intensive care unit," she says. "I snuggle the babies, feed them, and do whatever else I can to help the nurses."
In addition to volunteering, Sandy frequents Artis--Naples, the premier center for the arts in Southwest Florida. Artis--Naples, home to the Naples Philharmonic and The Baker Museum, hosts ballets, musicals, and theatrical performances.
"A group of friends and I all have memberships there. We go out to dinner together and then to the show," she says. 
During the rest of the week, when she's not enjoying her one-bedroom, two-bath apartment home, Sandy plays mah-jongg and canasta with her friends and neighbors. She also appreciates the live events on campus, like a recent opera.
"I attend dinners and other activities as often as possible because it's a good way to meet new people and make friends," says Sandy. "I love giving back to the community, just like I always have, but these new opportunities are great. It's just what I was looking for. Siena Lakes has opened up another world for me!"
Community ties
"Residents have so much to do at Siena Lakes--if they don't want to leave campus, they don't have to," notes Resident Activities Coordinator Brittanee Kakar. "But when residents take part in the local community, their lifestyle is even more fulfilling."
The community's on-site Enrichment Center hosts a wide range of entertainment, including musicals, talent shows, and the ever-popular Follies performances. The art group appeals to resident artists who want to create and display original pieces. 
Staying physically active is easy with abundant walking paths, bocce ball, and pickleball, as well as classes for water aerobics, cardio, strength, and balance in the fitness and aquatics center.
Interested in a day trip? Siena Lakes provides a shuttle service to local stores, including Trader Joe's, Publix, Target, Aldi, and Coastland Center, a local mall. Special trips to attractions like Naples Botanical Gardens, Waterside Shops, and the Seminole Casino in Immokalee are also regularly offered.
Residents also enjoy access to a local golf club and shopping at Mercato, a venue with stores, restaurants, and movies. 
'Easy to do things'
Erickson Senior Living communities like Siena Lakes are redefining retirement living by offering residents an unparalleled lifestyle that combines convenience, opportunity, and the joy of being a part of something greater.
To learn more about the benefits of moving to a community filled with interesting things to do, request more information today. 
Back