Meet Suzy McAllister, Siena Lakes' New Sales Director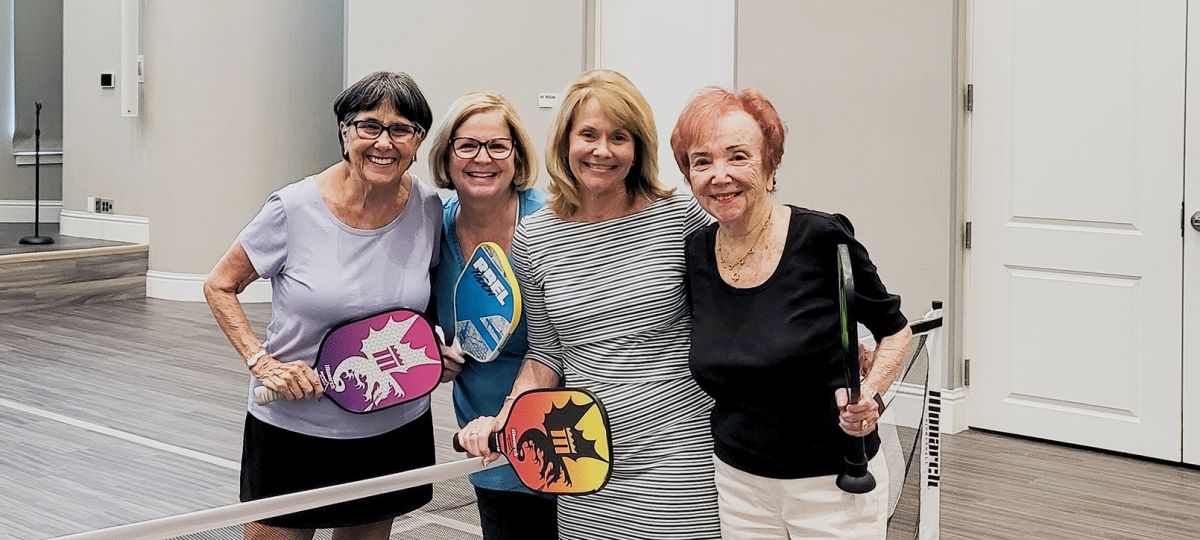 When Suzy McAllister was a teenager, she landed a summer job as a "cheese expert" in a gourmet cheese and bread shop, educating customers about the varieties on sale.
"I remember studying and tasting all the cheeses and learning the countries they were from. It was so much fun to sell!" McAllister recalls. "I knew then that I loved the challenge of sales. It was so interesting."
Recently, McAllister reached a new milestone in her sales career: becoming the sales director for Siena Lakes, the Erickson Senior Living community in Naples, Fla. Prior to this promotion, she had worked at Siena Lakes as a sales counselor and personal moving consultant, but this wasn't her first job at an Erickson community--not by a long shot.
Getting her start
After her high school years as a "cheese expert," McAllister went on to earn a bachelor's degree in business and marketing from the University of Alabama as well as a master's degree in education from Wilmington College.
Following her college education, she worked as a real estate agent for several years--and was nudged a step closer to her career at Erickson Senior Living.
"I had some clients who were downsizing to a retirement community," says McAllister. "They happened to have three houses that I had to sell before their move, and I was challenged with downsizing all of their furniture, including two Steinway pianos! I handled their whole move, so when they walked into their new place on their move-in day, it felt like home to me too. I had never gone to that extent with my clients before, so I found it extremely rewarding."
She adds, "Around the same time, another client of mine was moving to Maris Grove," the Erickson Senior Living community in Glen Mills, Pa. "When they told me about the community and what it was, I couldn't believe it! They said it was like being on a cruise ship that never ends, and that I needed to check the place out."
At the time, Maris Grove was getting ready to hire someone for the Erickson Realty and Moving Services program, helping incoming residents through the downsizing, packing, and moving process. Seeing it was a perfect match to her recent work in real estate, McAllister was hired in 2008 as a personal moving consultant for Maris Grove.
Perfect match
And McAllister hasn't looked back since. Although real estate had been an incredibly rewarding job for her, she says that becoming a personal moving consultant took her career satisfaction to a higher level.
She loved bonding with the residents and helping make their lives--and moves--easier. "That's the whole role of the personal moving consultant, to make moving as stress-free as possible," McAllister says.
McAllister stayed at Maris Grove for nearly a decade. In December 2017, she traveled south and began working out of Devonshire, the Erickson Senior Living community at PGA National in Palm Beach Gardens, Fla. This time, her role consisted of visiting Erickson communities to help them develop a top-notch realty and moving services program.
In January 2019, she traveled across the state to settle down at Siena Lakes.
An active lifestyle
McAllister and her longtime partner Charlie embraced the move to Naples, where she enjoyed watching progress on the community's construction--and helping new residents downsize and move in. "This is such a beautiful community, and the people in Naples are so nice. They're relaxed and laid back," says McAllister.
McAllister notes that she is very grateful for the staff and her coworkers at Siena Lakes. "I love the team here. Everybody is direct and honest, and they always have the residents' best interest in mind. They are all so supportive," she says. "We became a family during the two-and-half years before the community opened--we got to know each other so well!
She also enjoys spending time with the residents--sometimes even competing against them in pickleball. When she's not working or playing at Siena Lakes, she loves a game of tennis or golf and spending time with family.
"Naples is such a wonderful town. Between Siena Lakes and playing on different tennis teams in my free time, it's been so easy to meet people. It was like I had an instant family."
To learn more about affordable, independent senior living at Siena Lakes, request your free brochure to get the scoop on amenities, floor plans, and so much more.
Back