Meet Gina Muaau, Fitness Manager at Siena Lakes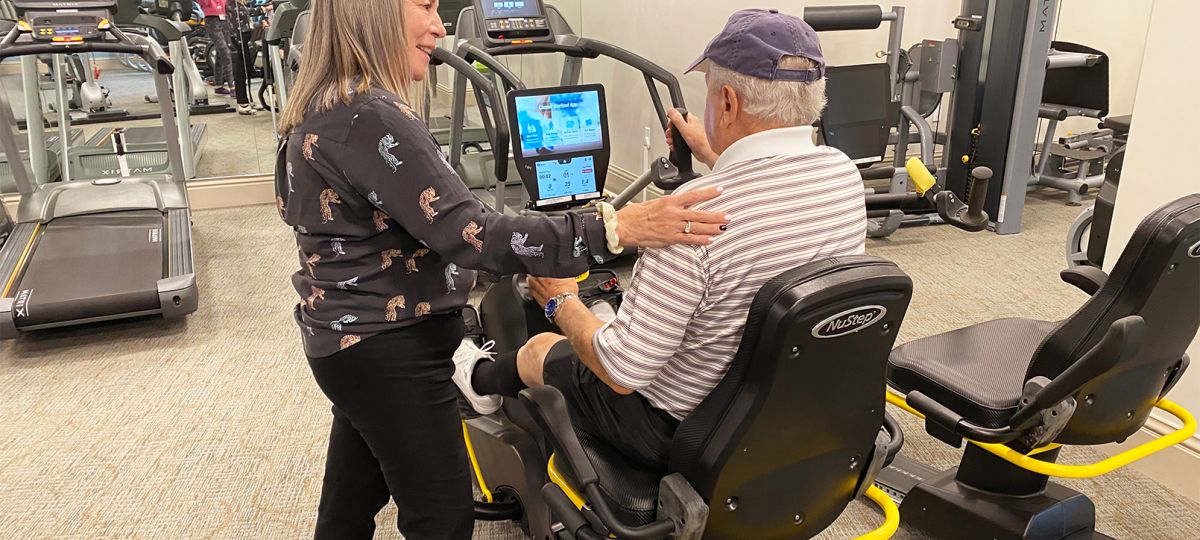 Naples, FL - For as long as she can remember, Gina Muaau has been in love with exercise.
Born in New York, Muaau spent her teenage years in the Hudson Valley. And any time she could, she would go for a run.
"I started running long distance, and then I joined the cross-country team," she says.
Now, in her position as fitness manager at Siena Lakes, the Erickson Senior Living community in Naples, Fla., she gets as much exercise, sunshine, and fresh air as she likes.
Having worked in fitness for a number of Erickson Senior Living communities throughout her career, Muaau says that interacting with residents has always been the best part.
Recognizing the 'big picture'
Muaau appreciates the unique, compelling motivations that residents bring with them to the fitness center and personal training sessions.
"I love working with them because it's not all about appearances," explains Muaau. "They never ask, 'How is working out going to make me look?' To them, getting active is about more important things, like staying independent. I often hear, 'I want to walk my daughter down the aisle,' and, 'I want to play with my grandchildren.' These are big-picture things."
Thanks to the tight-knit community at Siena Lakes, Muaau says that she's fostered meaningful relationships with residents and her coworkers.
"It just has so much more meaning and significance, working here than in a gym somewhere else," she says. "Because the residents live here, I see them every day. It's a special experience, working with such wonderful people in this setting. And, every day is different!"
On the move
When asked about her career in fitness, she can't help but laugh at the long list of moves she had to make to get to Siena Lakes.
 "I've been around to a lot of places. I'm fearless when it comes to trying different things!" she says.
After having her first two children, Muaau's fitness career took off in Atlanta, Ga.--when group exercise was really gaining in popularity.
There, she joined a gym--a Richard Simmons studio called The Anatomy Asylum--because, she quips, "They had childcare." She appreciated the music and the atmosphere of the classes so much that she became an instructor.
As her family grew to include three more children, she and her husband moved to Missouri, where she opened her own gym. When they decided to relocate to Colorado, she sold her gym to one of its members.
In 2009, she came back to Maryland to be with her extended family. "Throughout all that, I also trained to compete in bodybuilding competitions," she notes.
Getting started at Erickson
It wasn't until Muaau was working as a personal trainer and group instructor in Baltimore, Md., that she was recruited to work with Erickson Senior Living.
One of her students at the time, Teresa Reymann-Curran, who worked at Charlestown, an Erickson Senior Living community in Catonsville, Md., was impressed with her coaching and thought she would make a great addition to the Charlestown fitness team.
"She was very persistent," Muaau says, with a laugh.
When Muaau visited Charlestown in 2010, Reymann-Curran offered her a job on the spot.
"I started working as a fitness specialist there, and I fell in love with it. That's where my career with Erickson began!" says Muaau.
Settling in
In 2019, Muaau earned her master's degree in health care administration. That same year, Siena Lakes came calling.
Craig Ellsworth, Siena Lakes' resident services manager, contacted her to see if she was interested in working at a new community under the Florida sun. Not surprisingly, she was.
"I really wanted to experience being part of a new community," she says. "I already had a love for Erickson Senior Living, so I knew that it was going to be great. Plus, being able to develop the fitness programming from scratch sounded like an exciting opportunity. And," she jokes, "there's a beach."
As expected, the beach proved to just be the icing on the cake.
"I like the partnership between the residents and the staff here. There's a kind of camaraderie that you won't find in other settings," she says. "We feel like family--so well cared for."
To learn more about affordable, independent senior living at Siena Lakes, request your free brochure to get the scoop on amenities, floor plans, and so much more.
Back