Making Retirement Dreams Come True at Siena Lakes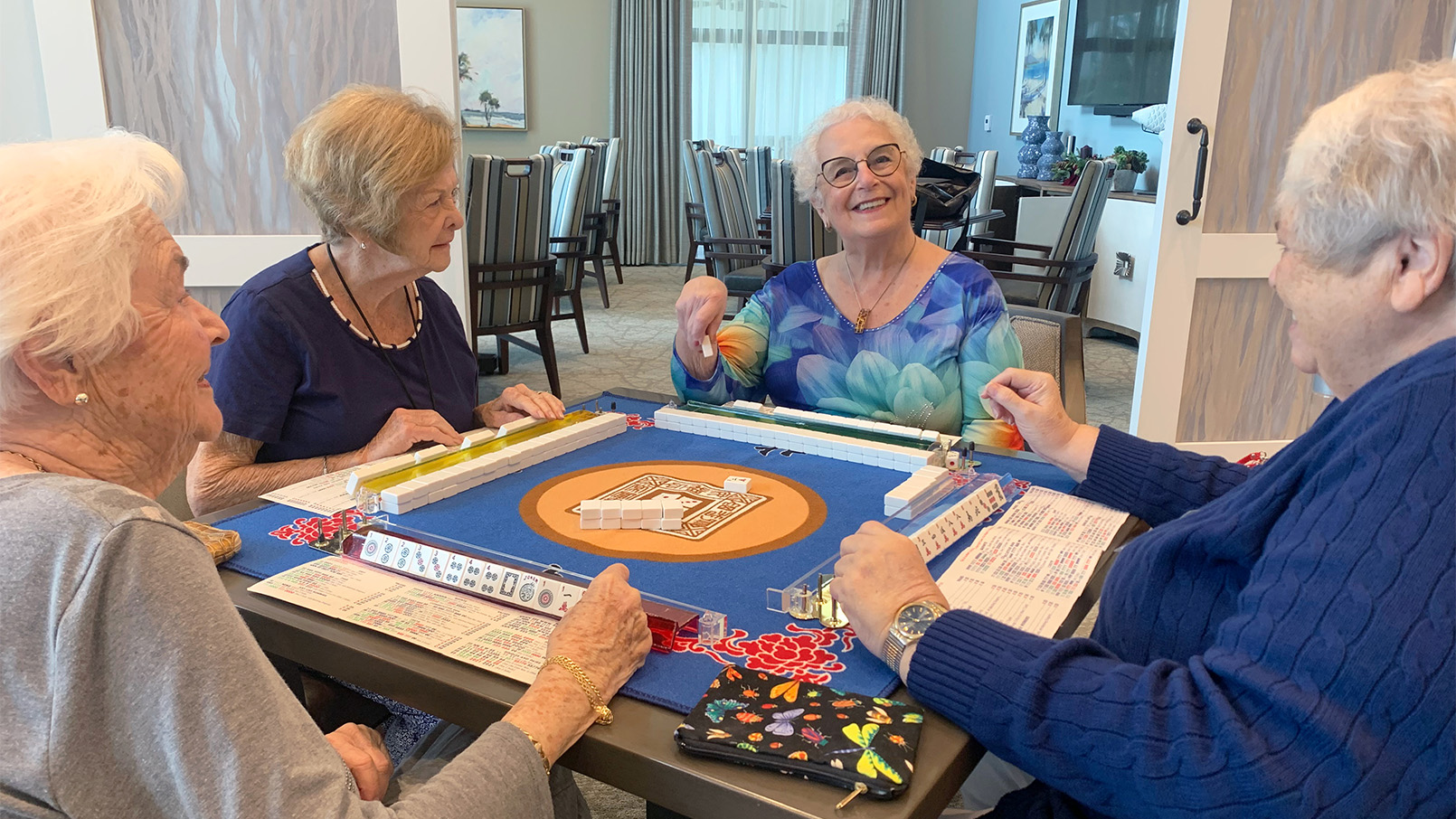 When Elaine Soffer moved to Siena Lakes, an Erickson Senior Living community located in Naples, Fla., she was excited to meet new friends, enjoy hobbies, and live an active lifestyle.
What she didn't realize is that she would have so much more time to do it all, thanks to the community's maintenance-free lifestyle.
"Living here, I have more time to enjoy things that I couldn't when I was living alone in a house," Elaine says.
Just like Elaine, many seniors have found that Siena Lakes is the perfect choice for those who want to enjoy a financially secure and active lifestyle with opportunities to learn, grow, socialize, and pursue their passions.
Worry-free lifestyle
For residents at Siena Lakes, the living is easy - fewer worries means more time to spend out and about among a bustling community of peers.
Elaine says that having her apartment home maintenance taken care of "is just wonderful." While she chose a two-bedroom, two-bath apartment home with a lanai, she says she appreciates how the campus has lots of floor plan options to meet a range of needs and budgets.
"The great thing about living at Siena Lakes is that there is one monthly fee that stays constant throughout the year, providing residents with a level of security because they know exactly how much their costs will be," says Resident Life Director Craig Ellsworth.
The monthly service package bundles monthly and quarterly expenses - like electric, property taxes, water, cable, and Wi-Fi - into one predictable bill allowing residents to balance their budgets with confidence.
"There are no surprises - like a hot water heater breaking or another maintenance issue that is going to charge you out of pocket," he adds. "That's all taken care of."
Whether a lightbulb burns out or a faucet starts to leak, the general services staff is just a phone call away. Regular maintenance that most homeowners forget about is also covered - like air-conditioning filters being replaced on a regular basis.
"A lot of times, we don't even do that in our own homes!" jokes Ellsworth.
Staying active
With all the free time she gained, Elaine decided to take advantage of the fitness opportunities on campus - just steps from her apartment home.
But before joining a group exercise class, Elaine was determined to work on strengthening her body and her core. 
"I started working with a personal trainer, which I had never done before," says Elaine. "I'm really surprised at the difference it's made in my energy level."
Elaine explains how when she first arrived at Siena Lakes, the campus seemed gigantic. "I would come downstairs for lunch, then go back to my apartment to do something, and then come back down for dinner. I thought I had walked 20 miles. In reality, it was probably a mile at most," she says, laughing.
Her next fitness step, she says, will be to sign up for water aerobics classes. Elaine also likes walking around campus with her dog, Captain.
"When I take him out, two or three times a day now, it seems like nothing," she says. "It's really fun!"
Social butterfly
In addition to staying physically active, Elaine stays socially active by playing canasta with about ten of her neighbors every Friday afternoon. It started with a group of four residents, she says, and continues to grow. As people walk by, they often ask what they are playing. Elaine says people usually respond that they haven't played canasta since high school or college.
"Some of them have even come back to watch or join the games," she notes. "The atmosphere is just lovely and friendly."
The informal trivia group she attended just before dinner on Wednesdays has also grown significantly. Elaine explains that they began with two tables of four people playing, and now it's up to six tables of four.
"In general, the groups change every week; it's just a very social thing," she says. The trivia topics have ranged from sports and music to facts about obscure insects. "It's surprising how many people get the correct answers!"
This kind of social engagement is what Siena Lakes is all about, notes Ellsworth. "We have well over a dozen resident-led social engagement groups - such as bridge, mah-jongg, and canasta - that are going on weekly. We provide a lot of choices so residents can continue to lead an active and engaging lifestyle."
From billiards to bocce and history to movies - there's truly something for everyone at Siena Lakes.
Invest in your future at Siena Lakes. From top-notch amenities and activities to affordable, maintenance-free apartment homes, you'll enjoy living your retirement to the fullest. Request more information today!
Back