Hurricane Preparedness Brings Safety and Comfort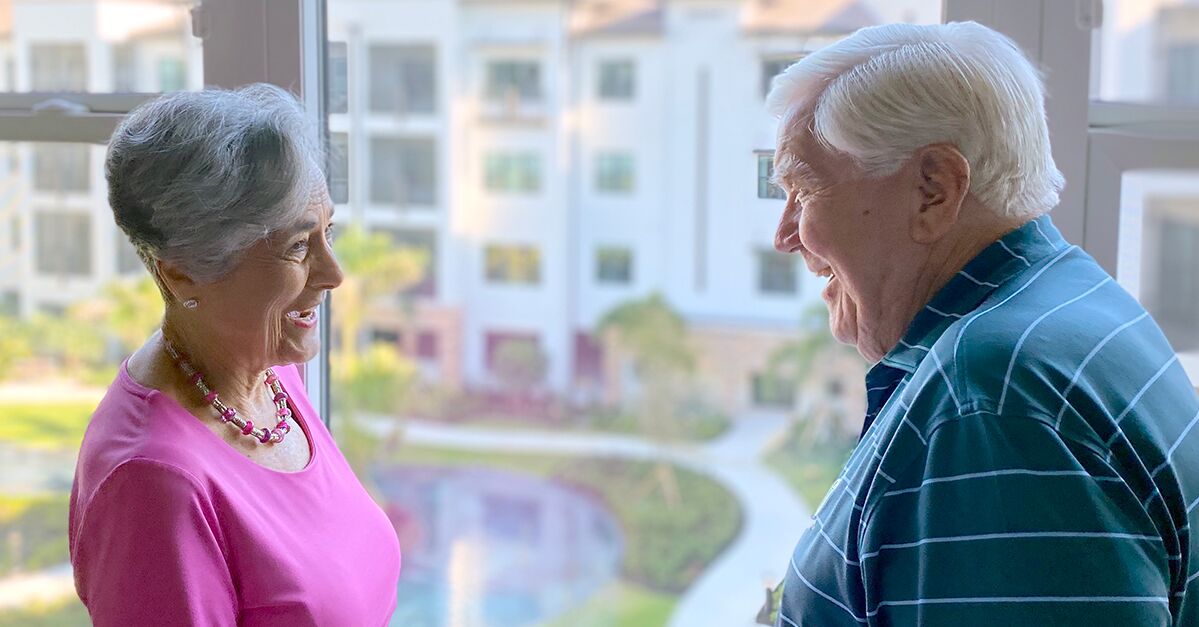 When Hurricane Ian hit Florida in September 2022, Marilyn and Ed Edge had no need to worry. A little more than a month before, they had moved into their apartment home at Siena Lakes, the Erickson Senior Living community in Naples, Fla.
"Siena Lakes is so well-built. We are very thankful that we were here," says Marilyn. "We feel like we live in a fortress!" she jokes.
Siena Lakes, which opened in 2021, was built with hurricane protection in mind.
"Our buildings were constructed to withstand Category 5 hurricanes-the highest ranking. Our windows are rated to protect up to 185 mile-an-hour winds," says Associate Executive Director David Gearing.
"While the hurricane roared outside, we were solid. You couldn't even hear anything blowing outside."
Safer than ever
Marilyn and Ed know the importance of hurricane safety as well as any Florida resident. When a previous hurricane struck, Marilyn hid in a closet of their house with a twin-size mattress, holding a battery-operated radio.
That time, she was terrified. At Siena Lakes, fear came nowhere close to creeping in.
"We feel so much safer here," she says of their two-bedroom, two-bath apartment home with a den. "This was a breeze compared to what we had experienced in our former house."
Ed, a self-proclaimed storm watcher, observed Ian raging outside with no concern.  
'A well-built building'
Residents Bob and Marilyn Dietz also appreciate the hurricane defenses that are in place at Siena Lakes. When they first visited the community, Bob, who has a background in engineering, thought, "This is a really well-built building."
Hurricane Ian validated Bob's statement. "The hurricane was hitting us with such force, but we could hardly hear a thing. It was so silent! We felt so safe," he says.
A hurricane spent in their previous house was a different story. "We lost our roof and a couple of big trees, and were out of power for three weeks," recalls Bob. "This one was a piece of cake. And, our kids realized that they didn't need to be concerned about us because we were here."
Sound construction is just one factor that went into making Siena Lakes a hurricane-prepared community. Way before Ian was on anyone's radar, staff members were hard at work developing a plan.
Calling on experts
To design the emergency preparedness plan for Siena Lakes, Gearing and Executive Director Mike McCormick looked to other Erickson Senior Living communities that have braved some storms-particularly Devonshire at PGA National Resort in Palm Beach Gardens, Fla., and Eagle's Trace in West Houston, Tex.
They were especially interested in conferring with Stephen Aigner, executive director at Eagle's Trace, who had seen the community successfully through Hurricane Harvey in 2017.
"He shared with us the preparation they had done before the event, their experiences during the storm, and how they handled the aftereffects," explains Gearing. "He had a great plan for handling whatever might occur."
Thanks to this collaboration, Siena Lakes included additional actions in their hurricane playbook. Resident volunteers would serve as communications liaisons for everyone living on their floor, and real-time updates would be sent to residents by phone or text-allowing everyone to easily forward information to family and friends to keep them abreast of what was happening.
A team effort
When Hurricane Ian was first spotted, the plan went into action.
Gearing served as the incident commander, supported by other executive team members including McCormick, the human resources director, dining director, and other staff members throughout the community.
Specific teams were mobilized immediately, covering general services, resident services, family support, supplies coordination, resident and staff communications, and tech support.
Many Siena Lakes employees remained on campus during the hurricane, sleeping on air mattresses and working in shifts to ensure complete coverage.
The result? Safe, protected residents that were going about their busy schedules as normal.
"While the wind was whipping around outside, residents were playing canasta, bridge, and mah-jongg at tables inside the clubhouse. They knew they had nothing to worry about because we had things covered," says Gearing.  
In reflecting on the community's experience with Hurricane Ian, Gearing is proud of the teamwork that staff members displayed.
"Everybody pitched in and helped out. It didn't matter whether you were staff or a resident-we all came together in the truest sense of community," he says. "Thanks to our foolproof plan, we're ready for anything that comes our way."
To learn more about senior living at Siena Lakes, request your free brochure to get the scoop on amenities, floor plans, and so much more.
 
Back