Good Times in the Great Outdoors at Siena Lakes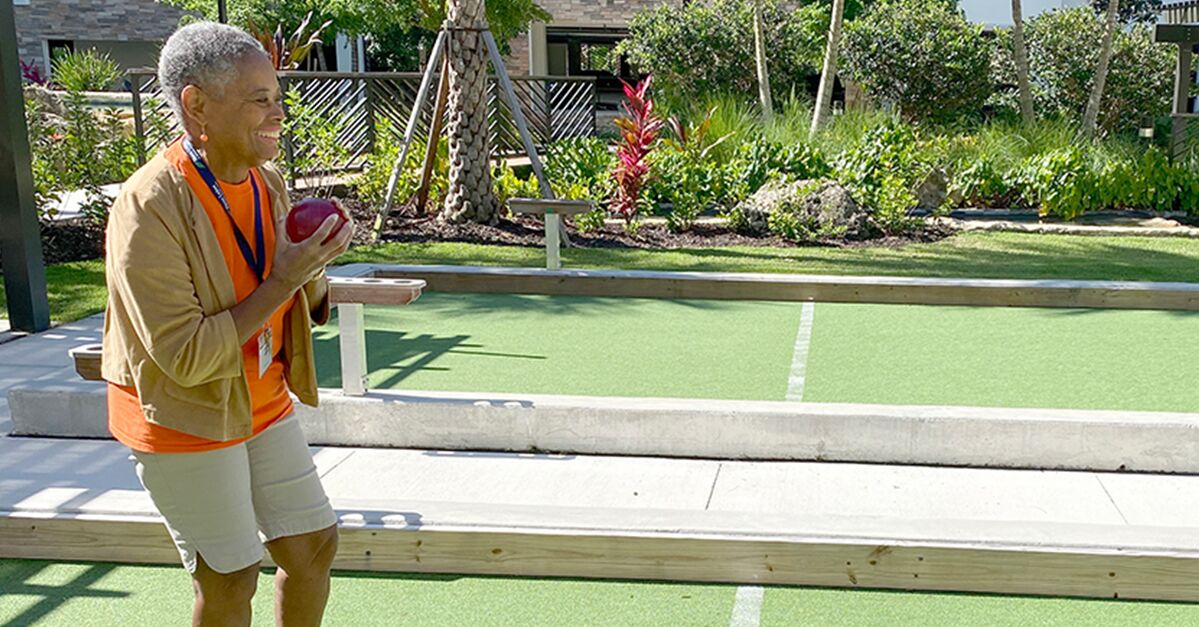 Studies have shown that seniors who spend more time outdoors feel better physically, mentally, and emotionally.
Darlene Jackson, who lives at Siena Lakes, an Erickson Senior Living community in Naples, Fla., is living proof of this research. Having spent many years in New England, she was thrilled to move to this vibrant-and most importantly, sunny-community last year.
"I wanted to move to Florida because it has so much more sun than New England. Being in the sun tends to invigorate you, and that's why I like to be outside rather than inside," she explains. "It really is a mental health thing. I can't handle gloomy, rainy days!"
At Erickson Senior Living communities, residents like Darlene enjoy exercise and social activities in the great outdoors, thanks to beautiful, secure spaces that are woven throughout each campus.  
Lots to do!
Six days a week, Darlene either walks three miles or bikes six miles.
"I feel that if you don't keep moving, you're not going to keep moving," notes Darlene, who also attends a weekly stretch class, practices tai chi on the beach, and plays in the campus league on the Bocce Busters team.
Like many of her neighbors, Darlene doesn't like to be idle. Luckily, at Siena Lakes, residents are never at a loss for outdoor activities.
"Sometimes, there's so much going on at the same time that you have to make a choice!" she says.
Given the community's active, engaging lifestyle, it's not surprising that, according to the latest county health rankings by the Robert Wood Johnson Foundation, Collier County residents are the healthiest in Florida.
A focus on well-being 
In 2022, Erickson Senior Living provided a multimillion-dollar investment through its Well-Being Fund to support the addition of enhanced health and well-being programs and services to residents at Siena Lakes and its other communities.
At Siena Lakes, the fund was used to renovate the dog park, expand the bocce courts, and install a Purple Martin birdhouse and a butterfly garden.
"The dog park is a well-utilized space," notes Fitness Manager Gina Muaau. "We put in a bench that's shaped like a dog bone, added a tunnel for the dogs to run through, and added a faux fire hydrant."
Bocce ball courts were part of Siena Lakes' campus from the beginning, but the sport's growing popularity spurred the need for an expansion.
"We added ball holders, scoreboards, and storage for supplies. But, the best addition by far is a portico that adds more shade-a welcome perk in the Naples sun," she says.
Birders appreciate the new Purple Martin birdhouse, which has attracted many local beauties. Outside The Gulf restaurant, a butterfly garden now draws and feeds hundreds of dazzling, winged creatures.
And soon to come is a designated space for croquet!
"Most of these outdoor activities provide opportunities for residents to connect with each other," adds Muaau. "They're also ways to get exercise and sunshine-vitamin D is something we could all use a bit more of!"
In the swim of things
Like Darlene, residents Richard and Lois Bowman play in the bocce league (on the Bocce Buddies team), but their favorite place to soak up the sun is at the outdoor pool.
"It's a wonderful pool. We just like to go there and relax," says Lois. "The temperature of the water is just about 90 degrees. It's perfect!"
Richard adds, "I think that the more you stay outside, the more you feel healthier and refreshed. We've lived in some places where we didn't have these amenities or it wasn't as pleasant to be outside. It's been really good for us here!"
Whether residents are just reclining or doing water aerobics, the outdoor pool is a great spot to stay active, meet friends, and have fun.
"Some residents even bring their grandchildren and family to our aquatic center. It benefits them in their connections, their health, and their emotional well-being," Muaau explains.
Endless outdoor fun
To support its many golf aficionados, Siena Lakes established a partnership with Quail Village Golf Club, allowing residents to play golf at a reduced fee.
And there's so much more! Whether it's yoga on the pool deck, outdoor table tennis, or walking around the lakes on campus, there are amenities and activities across the stunning, 29-acre community that appeal to everyone.
"In our gorgeous surroundings, residents find it easy to get and stay active," says Muaau.
To learn more about the ways residents are enjoying the great outdoors, request more information today!
 
Back