The Gals of '42 Share a Passion for Travel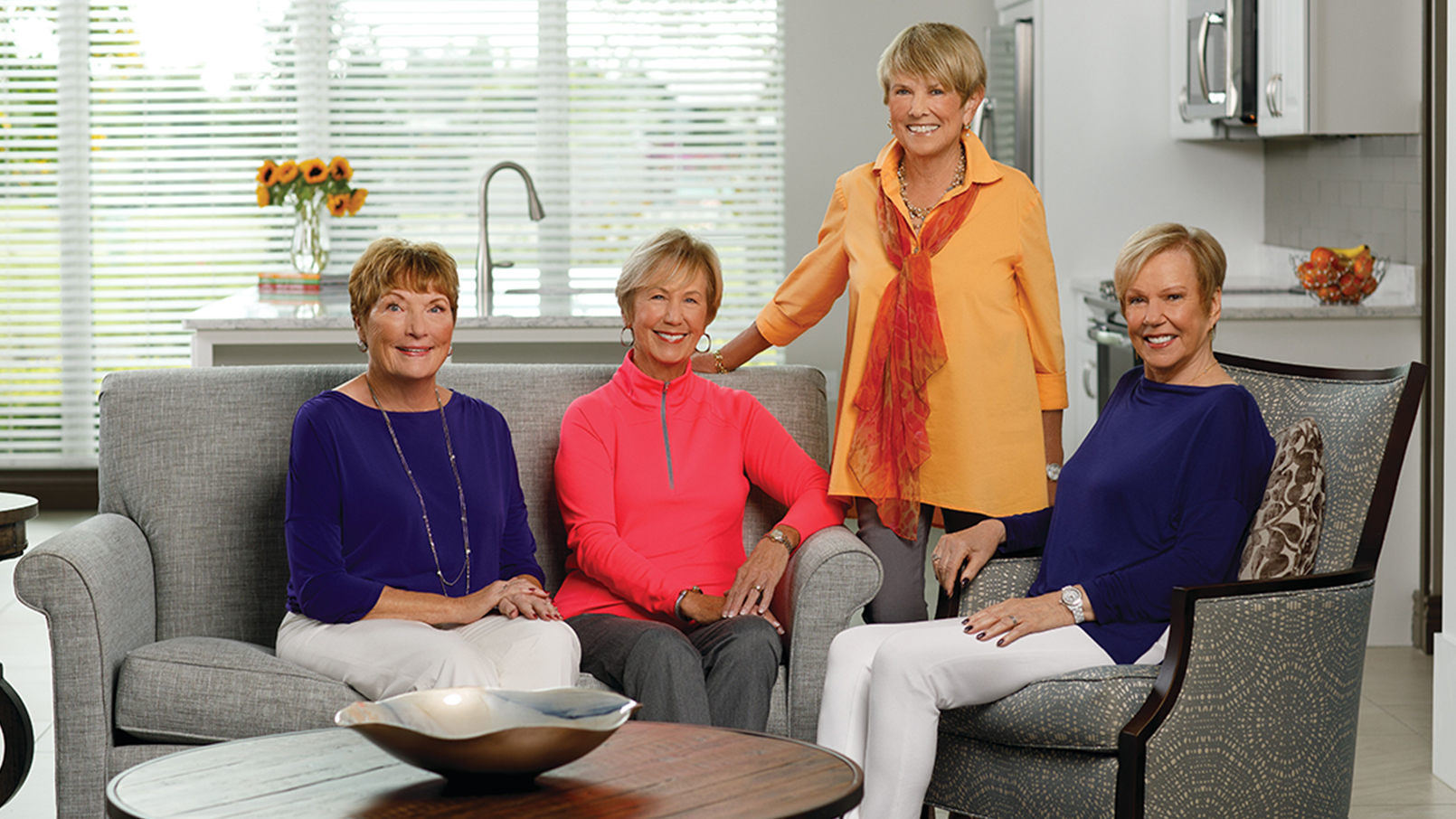 About 30 years ago, when Sandy Woodworth and Judith Mulholland were living in the Quail Creek Country Club in Naples, Fla., they traveled with a group of women who called themselves the Gals of '42.
Today, while living at Siena Lakes, an Erickson Senior Living community in Naples, Fla., their friendship endures.
The Gals of '42
"We were all born in the same year, and it happens to be 1942," says Judith. "The year we all turned 60, I originally thought we should have a party, but that wasn't what the other Gals wanted."
Instead, they decided to travel to a spa together.
"We all went to the Green Valley Spa in St. George, Utah. We weren't supposed to be drinking there, but we happened to bring in a case of wine," Judith says, with a laugh.
She adds, "We all got pampered, we hiked in Zion National Park, and we really got to know each other very well. One of the women came up with the name--the Gals of '42--and the other ladies loved it, even though we initially told her that she blew our cover by revealing our ages!"
Because they flew into Las Vegas, Nev., for that first trip as the Gals of '42, they visited the city annually for years afterward.
Life of the party
The Gals of '42 traveled together throughout the United States and to different countries over the next two decades.
Sandy fondly recalls a time when the group went to The Boulders in Arizona, taking one of the classic Pink Jeep Tours, a rugged drive with great views of the distinctive landscape. They followed it up by seeing the area from a different perspective.
"We took a balloon ride out there too. It was fabulous," Sandy says.
On the balloon ride, they were joined by three young men. "Judith was trying to get the single one together with one of my daughters, and by the end of the balloon ride, the young men wanted to join our group," jokes Sandy.
Everyone they met could tell the Gals were having a great time. "Every time we go on a trip, there are people there that want to come with us. We meet them either on the street or in restaurants. They say, 'You gals are having so much fun!'"
Convenience matters
Moving to Siena Lakes was another fun adventure for Judith, Sandy, and the rest of the Gals.
"Someone mentioned Siena Lakes, so we all decided to come over and see it," says Sandy.
Impressed by the community's active, engaging lifestyle, they were all sold.
Since moving to the community, the ladies have taken advantage of the on-site restaurants, which serve up delicious, made-to-order meals. They often gather on Saturday nights for an early dinner and then play card games.
During the week, they make time during their busy schedules to connect and play bridge.
"We decided early on that we knew too much about each other to never not be friends," quips Judith. "We get each other, you know? We've been through a lot in our lives, and we've always supported one another. We just know we can count on each other, no matter what."
Sandy, who moved to Siena Lakes with her husband Bob, adds, "We just have a good time here! We all have the same interests."
The community's climate-controlled walkways, connecting all of the buildings on campus, make it even easier for the Gals to meet up for dinner or at one of their apartment homes.
'So much fun'
Thanks to Siena Lakes' long list of amenities and activities, the women have met new people and made new friends, but the Gals of '42 will always have a special place in their hearts.
"Other women have mentioned that they were born in 1942 too. It helps form an immediate connection," notes Judith. "But we have also kept our original group because we're so close. We have great conversations, and nobody is a shrinking violet!"
She adds, "We're having so much fun. It's really a wonderful thing to have friends all in one place."
To learn more about senior living at Siena Lakes, request your free brochure to get the scoop on amenities, floor plans, and so much more.
Back