Dorothy Litras Brings Her Love of Entertaining to Siena Lakes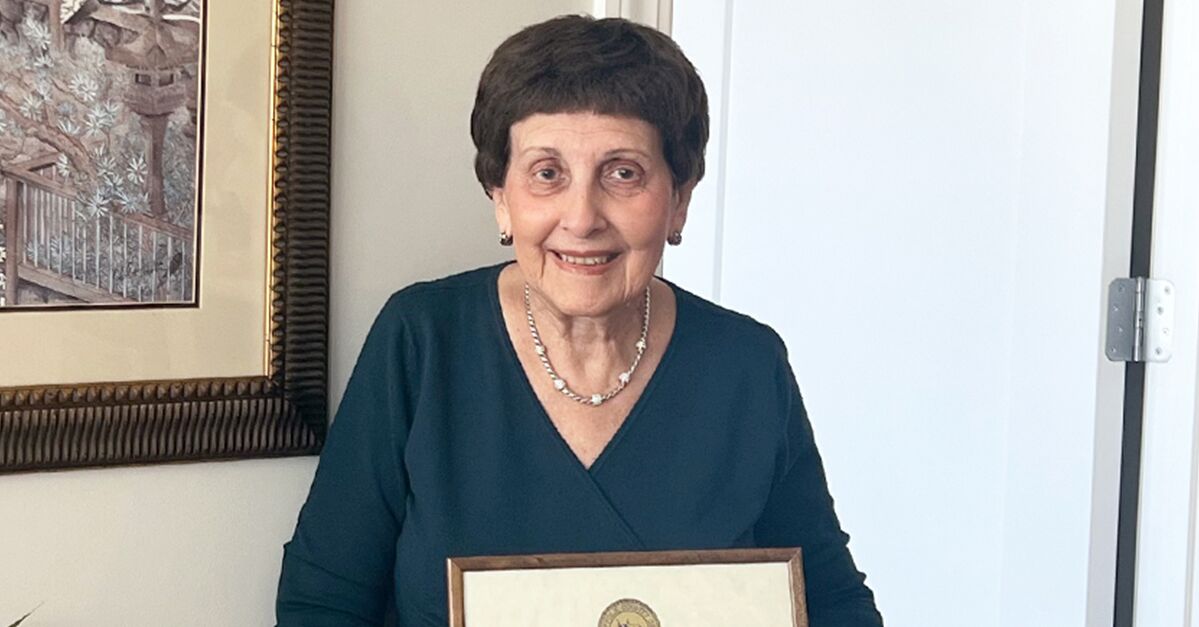 Since she was a little girl growing up in Brooklyn, N.Y., Dorothy Litras dreamed of working in theater.
At age nine, Dorothy remembers standing in front of a mirror and pretending that she was on stage. She would often mimic actors and even portray entire movies.
Later, while raising her family on Long Island in the '80s, she seized the opportunity to fulfill her dream by founding a group called The Greenlawn Players, which performed Broadway shows and received regional recognition.
Now, as a resident at Siena Lakes, the Erickson Senior Living community in Naples, Fla., she uses her talents to entertain her new neighbors.
Like Hitchcock
While on Long Island, Dorothy joined a church chorale group that was very talented.
"I told them, 'You all sing so beautifully,'" recalls Dorothy. "I wondered if there was a way we could gain a wider audience. That's how The Greenlawn Players was born!"
Dorothy had the company perform vignettes of popular Broadway shows, such as South Pacific, Annie, The King and I, and Oklahoma!. Eventually, she contracted The Greenlawn Players to perform a number of entire Broadway shows on Long Island.
In the beginning, Dorothy organized things behind the scenes and directed the shows all on her own. "And all the money we raised went to charity," she says proudly.
When asked if she performed in the shows, Dorothy laughs and says, "I was another Hitchcock. I would appear as a one-shot deal in the show."
The Greenlawn Players put on full productions like Annie Get Your Gun, Fiddler on the Roof, Guys and Dolls, and Hello, Dolly!, among many others.
When Fiddler on the Roof finished three successful performances, Dorothy received a plaque from the commissioner of Long Island for the group's fine work.
Closer to family
Dorothy enjoyed working with The Greenlawn Players for many years, until she and her husband John retired and moved to Marco Island, Fla.
When John passed away in 2011, Dorothy's family - who lived in Bonita Springs - asked her to move closer to them. "I told them I'd think about it," she says.
Then one day, while attending services at St. Katherine Greek Orthodox Church in Naples, she caught word that a continuing care retirement community (CCRC) was being built nearby. That CCRC was none other than Siena Lakes, a brand-new Erickson Senior Living community.
"I was intrigued," Dorothy recalls. As she learned more about Siena Lakes, she decided it was exactly what she wanted - an active, engaging retirement with peace of mind.
After taking her son, George, and his wife, Carol, out to dinner one night, Dorothy told them about her plans to move to Siena Lakes, which is just 20 minutes away from them. "They were thrilled!" she says.
She became a Siena Lakes pioneer - one of the first residents to move into the community as soon as it opened in 2021.
Taking to the stage
Dorothy's debut show at Siena Lakes, in March 2022, was called Coming to Siena Lakes. For the Follies-type theatrical revue, she enlisted other residents to share their vocal skills.
In December 2022, she acted in a larger Follies show that was set in the 1940s.
"A Night at the Canteen celebrates the soldiers who were going to be deployed overseas, not knowing where they were going to fight," Dorothy says. "The roles represented actors and performers who were prominent in those days."
More than 20 residents were involved, with an emcee - portraying George Burns - running the show. Another resident, playing Judy Garland, lip-synched to "Somewhere Over the Rainbow."
Dorothy performed as stage and screen icon Marlene Dietrich, while a staff member played Sam from the movie Casablanca. Women depicting the Andrews Sisters, she says, stole the show. It was, in Dorothy's estimation, "a wonderful production."
Both shows were free to attend, but stagehands were accepting donations, which were given to local charitable organizations.
An active lifestyle
She credits her theater involvement, monthly sing-a-longs, and campus social events for keeping her engaged. But entertaining new friends and neighbors, she notes, is her favorite way to remain active in the community.
 "I feel that I've kept young that way," she says. "The night of the second show, I sat backstage waiting for each person to go on, thinking about how incredibly satisfied I am with my lifestyle now."
She adds, "There couldn't be anything more convenient and more beautiful for me."
To learn more about affordable, independent senior living at Siena Lakes, request your free brochure to get the scoop on amenities, floor plans, and so much more.
Back