Design Your Dream Dwelling at Siena Lakes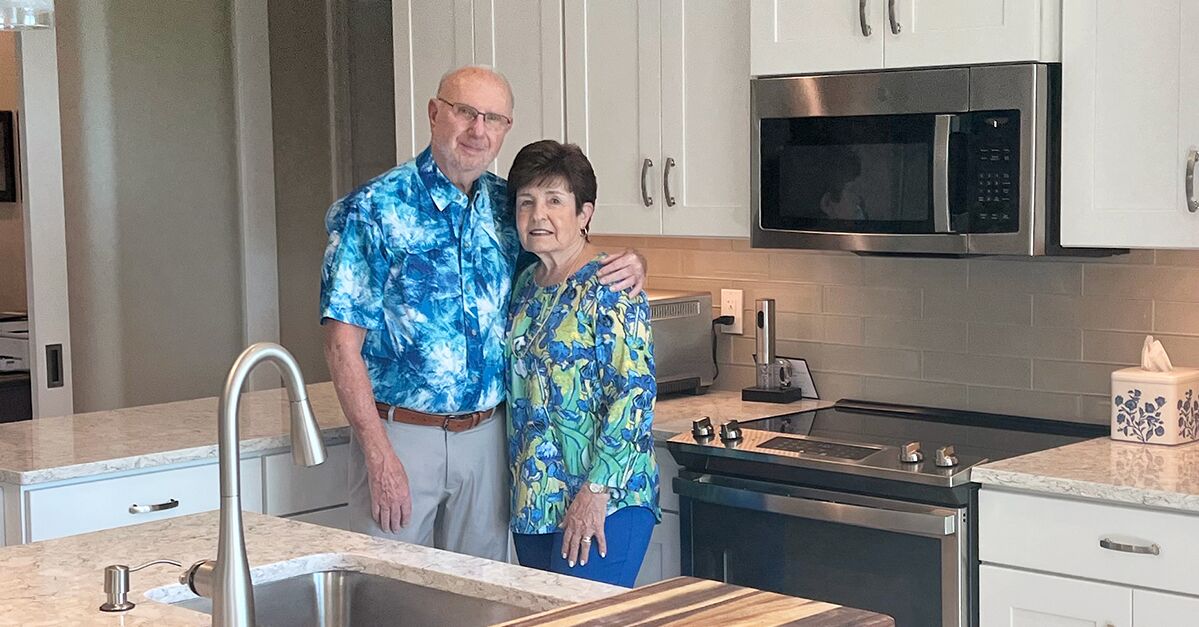 To Massachusetts natives Jan and Jim Roberts, Siena Lakes, the Erickson Senior Living community in Naples, Fla., was the perfect place to make the most of their retirement.
"After 16 years of enjoying Florida's balmy weather, we knew we didn't want to return to the cold," says Jan, with a laugh.
Drawn to the community's vibrant lifestyle and continuing care services, the Roberts contacted Siena Lakes' sales team to learn more and peruse available apartment homes.
"We wanted to pick a place that we liked - before our children needed to choose for us," explains Jim. "When we found a two-bedroom, two-bathroom apartment home with a den, we were sold. We love it! The view outside our windows is beautiful."
What made their decision even better was the ability to customize their new home.
Now that the Roberts have installed a kitchen peninsula, additional closet space, and some personal touches, the couple is living the carefree retirement they've always imagined - in a beautiful space that reflects their current wants and needs.
Customize your space
"When people move to a senior living community, they want a home that suits their new lifestyle," explains Sales Director Suzy McAllister.
While the Roberts knew that they were going to enjoy an active lifestyle at Siena Lakes, they wanted a personalized retreat to return to at the end of a busy day.
Jan and Jim, quite the wine connoisseurs, wanted a special place for their favorite vintages. So, in their spacious kitchen island, shelves were exchanged for a wine rack.
They also installed a kitchen peninsula to provide them with not only more cabinets and drawers, but additional counter space as well.
By adding a large-screen TV, a sofa bed, end tables with lamps, and occasional chairs to the second bedroom, the couple created a flexible space - perfect for hosting and entertaining guests!
In the den, they added a built-in closet with sliding doors to provide extra storage. "It was a good decision," Jan says.
They had shelving and bifold doors installed in their other closets as well, to free up wall and floor space for additional furnishings.
More outside your door
Now that Jan and Jim are feeling comfortable in their new abode, they spend plenty of time out and about at Siena Lakes.
Jan belongs to a canasta club that plays every Monday, Jim has started practicing tai chi, and, as a couple, they play bocce every Thursday in the community's league.
"We have met many new people here, so we have many dinner dates," says Jan. "We're on the go constantly. We take a walk every day - the campus is just beautiful. Plus, we get to see other people and pet their dogs!"
"We find a lot of things to do, and we find a lot of places to go," agrees Jim.
When the Roberts aren't participating in clubs or activities, you'll most likely find them relaxing in their lanai or traveling the world.
"We love our lanai. It's absolutely perfect!" says Jim. "Its unique shape allows us to see both sunrises and sunsets. We added a shade that offers protection from both the sun and rain."
The Roberts have loved traveling to other countries and taking cruises over the years. Now, living at Siena Lakes makes it easier than ever.
"All we have to do is close the door," says Jan. "We let them know that we're leaving and we tell them when we're coming back - that's it! Our place is taken care of." 
What suits you
At Erickson Senior Living communities, retirees appreciate the opportunity for a fresh start - and the ability to customize apartment homes to suit their new lifestyle.
Some residents, like Jan and Jim, choose a spacious two-bedroom apartment home, knowing that they will transform the second room into an office, craft room, or guest room.
Others may choose a one-bedroom apartment home, knowing that they will spend most of their time enjoying the community's amazing amenities and social activities, which are easily accessible via climate-controlled walkways.
"Now that we're settled, there's nothing that we have to do except enjoy!" says Jan.
Invest in your future self at Siena Lakes. From top-notch amenities to affordable, maintenance-free apartment homes, you are sure to live your retirement to the fullest. Request more information today!
Back