Seabrook TV volunteers Help Keep the Community Connected
Linda Esterson
August 17, 2023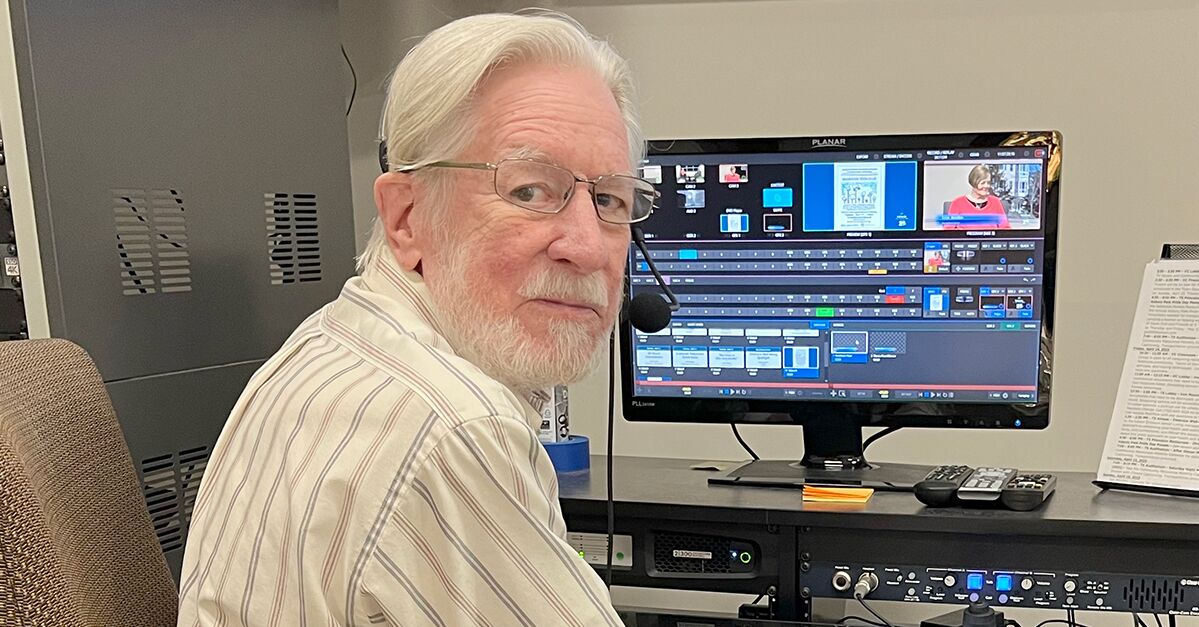 When Lee Joslin visited Seabrook, an Erickson Senior Living community in Tinton Falls, N.J., she never imagined she would find herself a new calling, let alone the perfect maintenance-free home.
"Seabrook felt like home right away," she recalls. 
After many years of living on the beach in Belmar, N.J., Superstorm Sandy was the nudge that Lee needed to consider a move to senior living. Seabrook's worry-free lifestyle, paired with the array of activities and hobbies to explore, caught Lee's eye. 
"I cried after moving in, I was so grateful to be here!" adds Lee, who moved into her apartment home nearly 10 years ago.
Carefree retirement
Now, as on-air host for Seabrook TV's live morning show, Lee is making the most of her retirement.
Lee, a retired psychotherapist, began volunteering at the community's in-house television studio shortly after moving in. Despite her lack of experience and knowledge in TV, she was eager to learn a new skill.
Recognizing her continued enthusiasm and dedication, Seabrook TV's staff asked if she would join the rotation of hosts for their live morning show, Seabrook Today.
"I took to it right away," recalls Lee. "It was like discovering a whole new talent!"
Frequent on-air guests
Today, Lee is one of several residents hosting shows on the station, which offers informative programming for community members. 
Seabrook Executive Director Jen McNamara appears regularly, as do representatives from the dining services, general services, and fitness departments. 
Seabrook Today airs twice a month. The first episode of the month, produced in conjunction with Hackensack Meridian Health, presents the latest medical news and treatments. The second episode features members of the Resident Advisory Council (RAC), a group of 90 active residents who work closely with Seabrook staff to make the community the best it can be. 
Spreading the word
Kourtney Massa, CTV lead coordinator, says the television station is a crucial component of the friendly atmosphere at Seabrook. 
"It's a communication tool, but it also serves as a creative outlet for residents and provides a sense of community. It's an extension of their home at Seabrook," says Massa. 
"When residents turn on their TVs and see familiar faces, they know the content was created for them by their friends, neighbors, and staff who have their best interests at heart." 
Shows produced in the studio appear on an in-house cable channel and are archived for future viewing on the My Erickson app, which also has a guide of upcoming shows. 
Seabrook TV also airs special events, like the annual Home for Life Telethon in July that raises money for the Resident Care Fund, Seabrook Performers productions recorded in the auditorium, and live Resident Town Meetings. 
"It's informative and it's timely-it's everything that TV should be," says Massa. "Seabrook TV focuses on the residents and their interests and passions. We're just facilitators to make those visions and ideas come together."
Renewing old interests
George Brinton, a retired computer science professor, is another resident who frequents the studio. 
After moving to the community four years ago, George expressed interest in volunteering with Seabrook TV as a way of sharing his technical expertise with the community. 
He started out as a cameraman and operated the sound system for events in the auditorium-until he was promoted to the studio's resident technical director two years ago. 
"I thought that when I retired, I would read books and travel," he says, with a laugh. 
"But with doing technical things for much of my life, my skillset naturally migrated to Seabrook. There's always something new to learn in the studio, and I enjoy being able to give back to the community at the same time."
Making new connections
George recalls that, while visiting senior living communities, Seabrook was the clear choice. The community's extensive list of activities meant more chances to meet interesting people and get involved.
When George isn't at the studio, you'll find him teaching a course on poetry through the Seabrook Active Learners program, exercising in the fitness center, or gathering with friends for dinner at one of the community's on-site restaurants. 
A wealth of activities
Lee, too, has developed strong friendships through Seabrook's array of activities. She participates in tai chi classes, is a member of the Seabrook Ringers chimes group, and takes long strolls around the beautifully landscaped grounds with neighbors.
"When you walk out your door, you get to choose among the many things you love to do and have the opportunity to meet so many people," she says. 
To learn more about senior living at Seabrook, request your free brochure to get the scoop on amenities, floor plans, and so much more.
Back