Seabrook Staff Members Share a Commitment to Care
Linda Esterson
February 22, 2023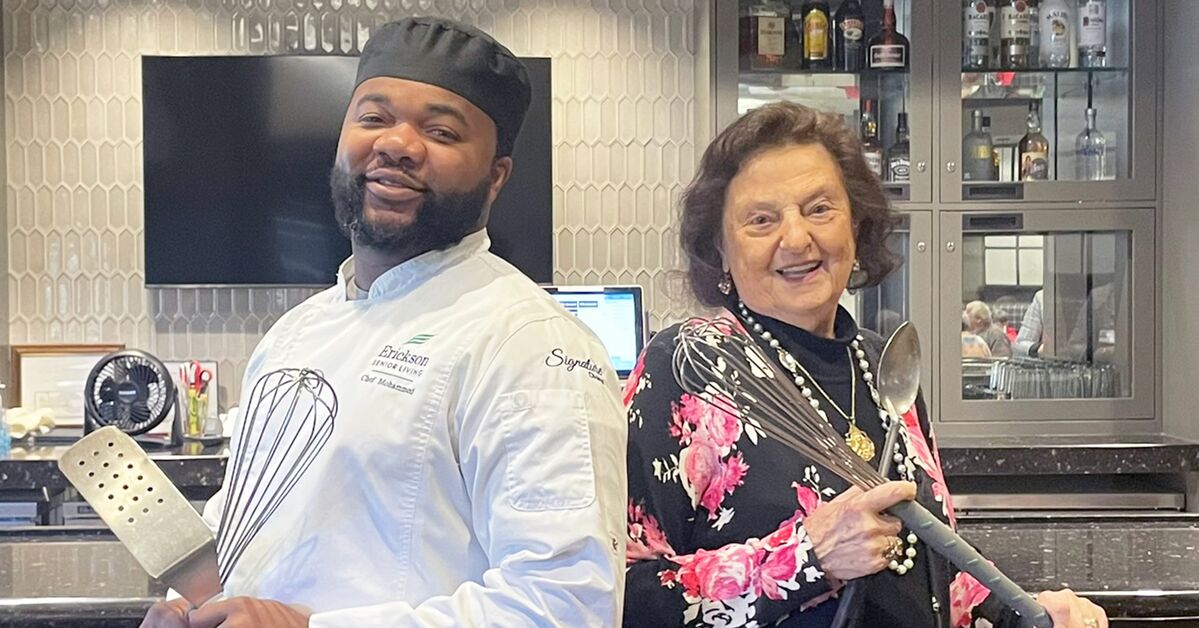 When Talib Mohammed was 19, he started working as a dishwasher at Seabrook, an Erickson Senior Living community in Tinton Falls, N.J.
As he was considering what career he wanted to pursue, he heard about Erickson Senior Living's training and tuition reimbursement program. Mohammed enrolled at the Culinary Education Center at Brookdale Community College, while he continued to work at Seabrook using the program.
He continued to perfect his skills in the kitchen and progressed up the ranks until he was named executive chef of the community's Princeton Restaurant in 2016.
"Seabrook has such an uplifting environment! My managers supported me while I completed my studies by working around my schedule," Mohammed, who enters his 21st year there, says. "When I think about all of the people who guided and helped me throughout my time in school and afterward, I'm filled with nothing but gratitude."
In fact, the community's supportive culture is a win-win for both staff members and residents. While staff enjoy a dynamic workplace with opportunities for professional growth and advancement, residents benefit from the services that caring, dedicated employees provide to create a true maintenance-free lifestyle. 
A friendship blossoms
While at the Fireside, Mohammed met resident Vera Ciavaglia, who proved to be a pretty impressive chef herself.
When Seabrook's version of the Top Chef competition was announced, they teamed up--and blew the competition away. Together, they created a soft crab recipe that took home the shiny blue ribbon. Since their achievement, Vera and Mohammed meet regularly to catch up.
"He's such a pleasure to talk to and be around!" says Vera, who moved to Seabrook with her husband Jim 21 years ago. "The staff here is top-notch, outstanding. They're there to help you with anything."
Living the mission
Now serving as executive chef at the Princeton Restaurant, Mohammed continues to serve Seabrook residents to the best of his ability, which is a core tenet of all Erickson Senior Living communities.
"Senior living should be considered a destination for career-driven people who possess a passion for serving others," adds Alan Butler, CEO of Erickson Senior Living. "We continue to innovate and train our workforce because the services we offer to residents are only as good as the people who provide them. I am confident that we have the best in the business working for Erickson."
His top priority, Mohammed says, is to provide residents with the highest quality experience, serving delicious meals and adjusting to dietary needs, as necessary.
"We are like personal chefs in their home," Mohammed explains, "so the beautiful thing about it is, you have the same patrons visiting. You really get to know them for who they are and what their likes are. They feel comfortable approaching us with critiques, and we can ask them their opinions about new things we do."
Mohammed says that the relationships he maintains with residents are what keep him fulfilled and driven at Seabrook.
"This is the greatest place to work, if you ask me," he quips. "Throughout my time here, the friendships I've made have flourished!"
A passion for service
Linda Grant, who has served as a communications specialist for 21 of the 24 years she's been at Seabrook, agrees that fostering relationships with residents is the best part of her job.
"Each day, I help greet anyone that walks through the lobby," says Grant. "I could be the first person they see that day, so I try to make them feel good about their day. A friendly gesture makes a difference."
Jim Macdonald, director of human resources at Seabrook, says he seeks out and selects applicants who embody Erickson Senior Living's mission and values--just as Grant does.
"We're looking for those employees that really have a passion for providing service and care," he says. "Skills can be taught, culture can't. We're looking for specific attributes that match the Erickson Senior Living way!"
"I really believe in what we do here," adds Grant. "It's a great place for residents to be. There's so much here that enhances their lives. They can continue feeling good about being here because we care for them, so much."
Invest in your future at Seabrook. From top-notch amenities and activities to affordable, maintenance-free apartment homes, you'll enjoy living your retirement to the fullest. Request more information today!
Back