Seabrook Residents Work Together to Launch Be Kind Campaign in the Community
Linda Esterson
August 10, 2022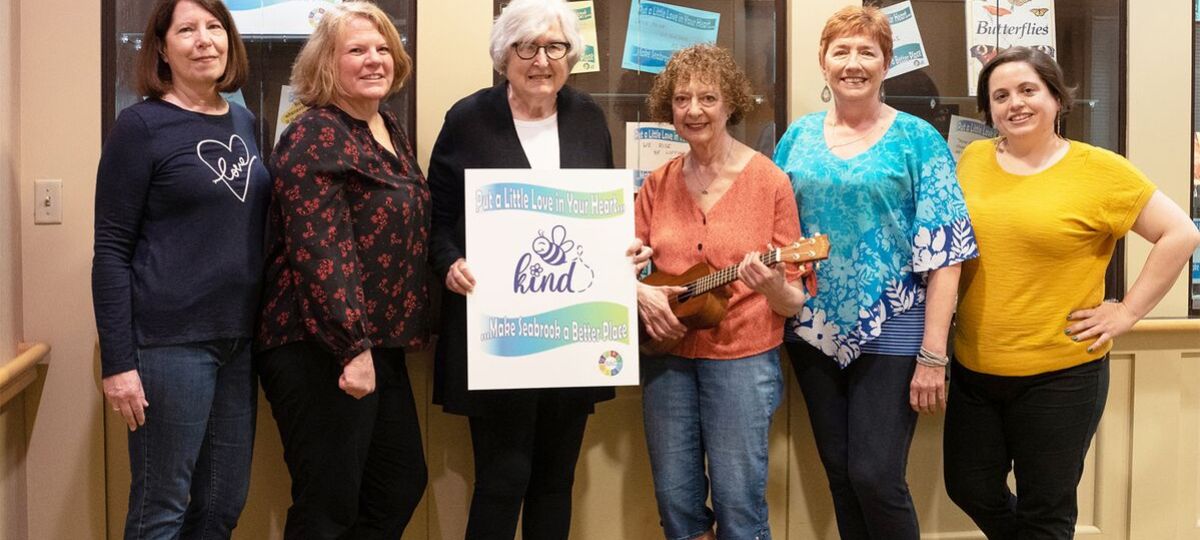 Now more than ever, the hallways at Seabrook, an Erickson Senior Living community in Tinton Falls, N.J., are bursting with kindness - all thanks to resident Lin Kaufer.
Lin, who serves as president of the Resident Advisory Council (RAC) at Seabrook, had wanted to inspire kindness and raise people's spirits after the difficulties of the last two years.
Recently, Lin was on her way to shop for clothes when she heard the Jackie DeShannon song "Put a Little Love in Your Heart" playing from her car's stereo.
"Instead of saying 'Put a little love in your heart and the world will be a better place,' I thought, we could change the word 'world' to 'Seabrook,' and then get people to sing it," she recalls. Then, when she walked into the store, she was greeted by a salesperson who was wearing a shirt that was adorned with a large heart with the word "love" running through it.
"It just hit me over the head," she says with a laugh.
Working to raise spirits
Overwhelmed with such love that day, Lin felt encouraged to launch a communitywide campaign about kindness, much like those promoted in schools and large corporations.
Lin conducted research, brainstormed with friends, and shared her idea with a few staff members at Seabrook. The Be Kind Campaign received positive responses all around.
When she asked for volunteers, three residents stepped up: Jo Grazide, Cindy Malmo, and Ann Oppenlander. Lin discussed her vision with the group and asked Jo, who heads Seabrook's ukulele group, about some players learning "Put a Little Love in Your Heart" as part of the campaign.
It turned out the ukulele group had learned the song just a few weeks earlier. "It was synchronicity," Jo explains. "Everything just came together!"
Making a music video
Lin then sent a note to RAC committee members, asking them to meet the following Monday to sing the song, accompanied by the ukulele club. To her surprise, more than 30 people appeared. Seabrook TV recorded the group singing - with adapted lyrics noting, "it's up to us."
"I was amazed at the enthusiasm," Jo adds. "We have a lot of trust in each other and a lot of motivation to help each other here."
The campaign officially kicked off when the video aired on Seabrook TV, says Lin. To inform her neighbors of her initiative, she wrote an article in the community's newsletter explaining its purpose.
"We have faced many challenges since the beginning of the pandemic. Kindness is a way to begin renewing our community," Lin wrote. "Our Seabrook Be Kind Campaign suggests light-hearted ways for us to be kind to ourselves and others. It's a friendly reminder that kindness to oneself, our fellow residents, and employees makes us happier and healthier and makes Seabrook a better place to live and work."
Sending a message
In addition, the climate-controlled walkway connecting Seabrook's Town Square and Village Center neighborhoods was adorned with more than 50 heartfelt messages, written and decorated by both residents and staff. In April, the messages were moved to display cases in both neighborhoods for continued impact.
The Seabrook TV Guide also shared weekly kindness suggestions, like "check on a neighbor or friend" and "find an opportunity to give someone a compliment."
Jo acknowledges that whether expressed through a "hello" in passing, a wave, or a quick phone call, kindness goes a long way.
"We all have the same goal - we want Seabrook to be as comfortable as possible," Jo says. "A friendly smile makes it feel homier.  For me, I don't expect to be greeted by every single person 100% of the time. But when it does happen, it does brighten your day."
Bee kind
The campaign also included a logo (above), featuring a bumblebee flying over the word "kind" with a flower dotting the "i." The logo appeared on materials distributed throughout the community, such as advertisements, newsletters, stationary for messages, and even on menus in Seabrook's restaurants.
Natalie Battifora, community resources coordinator for Seabrook, considers the Be Kind Campaign to be emblematic of the community's spirit.
"Supporting one another and being kind to each other has always been part of the Seabrook way," she says. "It's been inspiring to be a part of the Be Kind Campaign. It feels nice to be nice."
"It's been a success," says Lin, who purchased her own heart shirt as a symbol of her inspiration. "Everyone seems to be kinder."
To learn more about affordable, independent senior living at Seabrook, request your free brochure to get the scoop on amenities, floor plans, and so much more.
Back