Seabrook Residents Revel In The Great Outdoors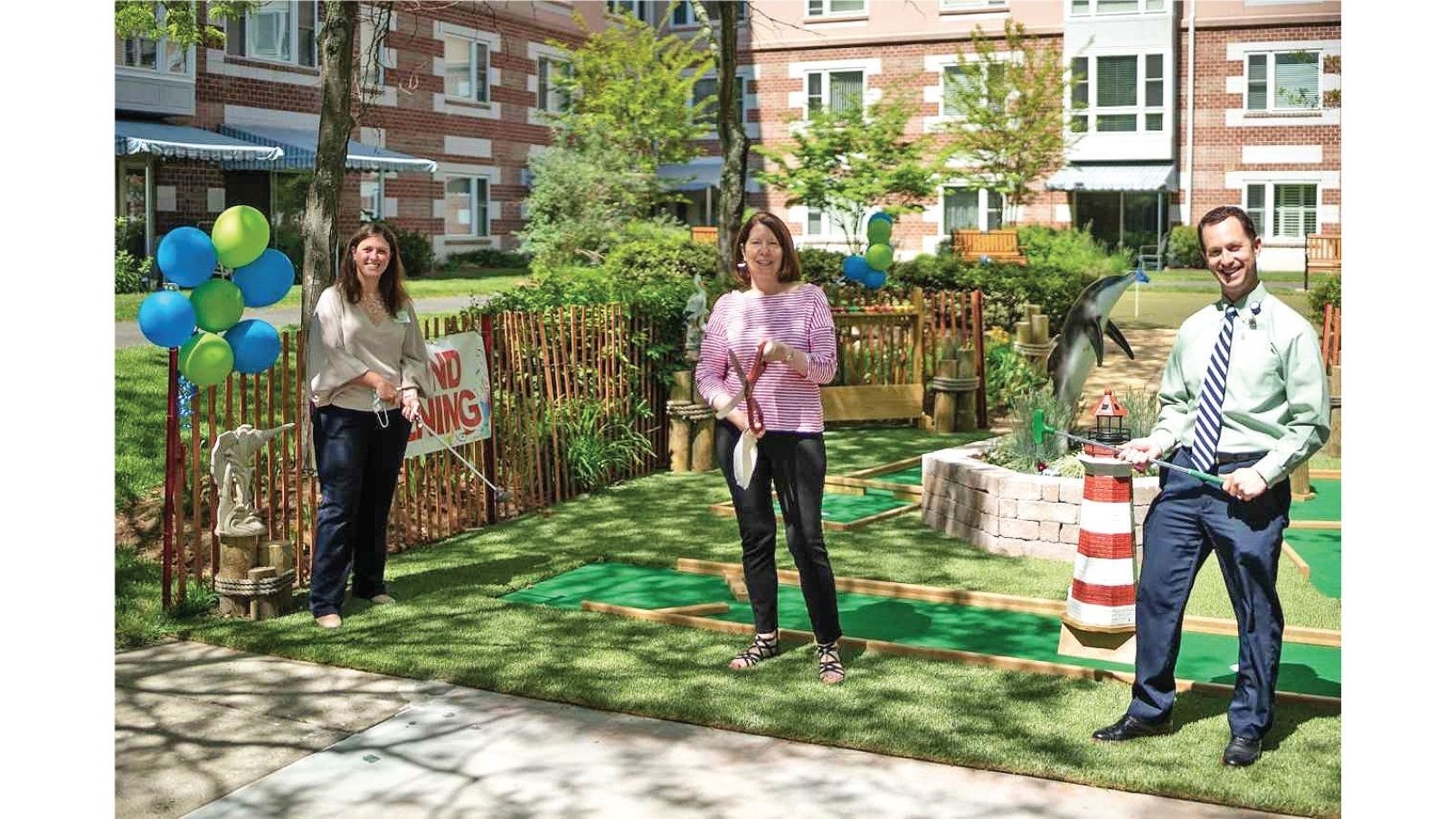 Getting outside to enjoy nature is one of the best things you can do for your health and well-being. If you want to experience better mental health, improved immune function and sleep, and even better relationships with loved ones, a dose of sunshine and fresh air is just what the doctor ordered. Residents at Seabrook, an Erickson Senior Living-managed community in Tinton Falls, N.J., have plenty of opportunities to take advantage of the great outdoors. Located just six miles from the Jersey shore in the Monmouth County neighborhood of Tinton Falls, Seabrook's 98-acre campus features professionally landscaped green space and gardens as well as well-maintained walking paths.
Connection through gardening
For residents with a green thumb, the Seabrook Community Garden offers them the opportunity to tend to flowers, plants, and vegetables. Resident Sandra Stander donated a rose garden to the community, and over the years, she's connected with many residents when they walk by and strike up a conversation with her about the roses. Jo Grazide became a member of the garden club this year and found that she grew as many friendships as she did plants.
"Along with flowers and herbs, I also harvested the friendships of many other residents, equally enthusiastic about their favorites and their successes," says Jo. "Every success is shared, and comments are always positive." Jo enjoys being surrounded by woods and being out in the fresh air while she gardens. "I know whenever I visit the garden, I'll see a chipmunk or sparrow and be a part of nature not available anywhere else," she says. Prior to moving to Seabrook, she had a third of an acre with several garden areas, and she's glad that she's still able to enjoy her passion on a smaller scale. "Seabrook was certainly the right choice as far as enjoying nature and all it provides," says Jo. "A small escape from the hectic day can be very relaxing."
Fun and games
The bocce courts are another popular outdoor venue at Seabrook. Bocce is a great way for residents to socialize as well as get some exercise and fresh air at the same time. Another new outdoor amenity on campus is a mini-golf course. The course celebrated its grand opening on May 13, and more than 30 residents and staff attended the festive ribbon-cutting ceremony. The course is a fun way for residents to let loose in the sunshine, and it also makes for a great activity when residents' family members—especially grandchildren— come to visit. A playground in the Village Center Courtyard is also a popular destination for the smallest visitors at Seabrook. As an avid golfer, Nancy Carley is already accustomed to practicing her swing at Seabrook's putting green. She brought her own golf club to the grand opening of the mini-golf course and looks forward to utilizing it often. The Seabrook Strollers is a walking group on campus that offers an easy, low-impact way to enjoy the beautiful grounds as well.
Open-air entertainment
Residents can also enjoy live entertainment outdoors. Throughout the summer, a Sunday night concert series is held on the Great Lawn. The events are free and do not require registration. The series kicked off with a special "Senior Prom" theme night in June with plenty of dancing to party favorites. The series includes concerts ranging from pop music to a string quartet from the New Jersey Symphony Orchestra. Other special events designed to get residents outdoors and moving are often held as well, such as a treasure hunt in celebration of Earth Day in April. Residents participated alone or in teams in The Great Seabrook Search to find "caches" hidden throughout campus. They used smartphones and the What3Words app. All participants received a prize and were entered into a raffle to win dinner and drink certificates for Seabrook's newest dining venue, the Essex Pub.
Farm fare
In addition, a farmers market sells fresh fruits and vegetables in the Village Center and Town Square throughout the summer months.
"Between outdoor entertainment, sports like bocce ball, gardening, and our new mini-golf course, there are so many ways for residents to take advantage of our beautiful campus," says Executive Director Phil Jean. "Our outdoor amenities are top-notch, and we're pleased to offer their many benefits to the community."
Consider being part of a strong and caring senior living community like Seabrook. Beautiful walking paths, gardens, resort-style amenities, an on-site medical center staffed by full-time medical professionals, and new friends await. Request a brochure or a visit now!
Back