Seabrook Residents Find the Key to a Healthy, Happy Life
Linda Esterson
October 28, 2022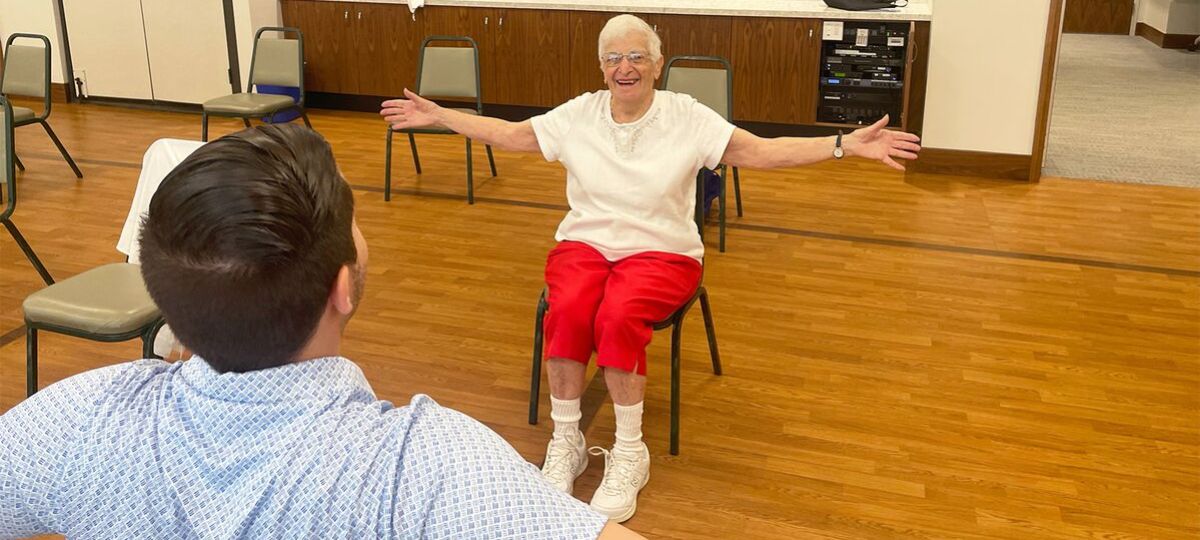 After moving to Seabrook, an Erickson Senior Living community in Tinton Falls, N.J., resident Be Yeamans committed to a regular exercise routine.
To get the most out of the equipment in the fitness center at the Village Center Clubhouse--one of two fitness centers at Seabrook--she began working with personal trainers.
A few years ago, she expanded her fitness routine by adding group exercise classes to her schedule. Now, you'll find Be at two exercise classes every weekday and one on Sundays, ranging from stretching and toning to weight training and Zumba. On Saturdays, she rests and rewards herself with a bubble bath.
Endless options
Be credits her fitness routine for her health and well-being. "I'm in much better shape now than when I came to Seabrook over seven years ago!" she says. "I look better and I feel better."
Like Be, many Seabrook residents take advantage of the myriad offerings at Seabrook.
An Edge Research Survey, conducted in partnership with Erickson Senior Living in April 2022, found that many of the top perceived benefits of continuing care retirement communities address health concerns. "Living in a community with amenities, activities, services, and social opportunities right outside your door is a top-tier benefit for 88% of Baby Boomers surveyed," according to the study.
With 17 different exercise classes to choose from, Seabrook residents are able to care for their physical health while making important social connections. Staff members teach a majority of the classes, although residents lead a few, such as chair yoga, Qigong, and line dancing.
A popular new program, Rock Steady Boxing, teaches noncontact boxing that is designed specifically for residents diagnosed with Parkinson's disease.
In addition to these group classes, residents also enjoy the new, state-of-the-art equipment at the fitness and aquatic center in Village Center, as well as the new satellite center that opened in Town Square last June.
"The Well-Being Fund has had a huge impact on the health and wellness amenities here at Seabrook," notes Fitness Manager Mark Maccaroni.
Dedicated to well-being
This year, Erickson Senior Living provided a multimillion-dollar investment, through its Well-Being Fund, to support the addition of enhanced health and well-being programs and services to residents.
Incorporating findings from the company's research partnership with Harvard University and the Benson Henry Institute (BHI) for Mind Body Medicine at Massachusetts General Hospital, these additions are designed to bolster physical, emotional, and social well-being of residents.
In 2021, residents at selected Erickson Senior Living communities participated in the Embrace Well-Being and Flourish study, which used the BHI's SMART (Stress Management and Resilience Training) curriculum to provide practical strategies for managing stress and improving resiliency.
Results of the study showed statistically significant changes, including increases in resilience, coping, and positive emotions, while decreases in distress and social isolation were seen.
"Through the Well-Being Fund, we are able to apply evidence-based research to further enhance the programs, amenities, and services available to better enable residents to achieve optimal health outcomes," notes Dr. Margaret Kimbell, vice president of community living for Erickson Senior Living.
Now, residents at all Erickson Senior Living communities have greater access to tools and strategies that support resilience and overall health and well-being. For example, Wellbeats, a new fitness app, allows residents to participate in on-demand and live exercise, yoga, and meditation classes from anywhere.
At Seabrook, fitness centers received NuStep and Matrix elliptical machines, recumbent bikes and treadmills, Echelon bikes, rowers and Reflect fitness mirrors.
The Well-Being Fund also contributed to enhanced indoor and outdoor amenities, such as a disc golf course, an upgraded miniature golf course, a new putting green, and an enlarged dog park. Indoor and outdoor meditation spaces are also in the works.
Participation in the community's offerings, Maccaroni notes, allows residents to live their retirement years to the fullest, as they're able to care for their physical, mental, and spiritual well-being.
Mind and body
"We offer programs that not only focus on the body, but the mind, as well. With the social connections that residents make, it keeps them engaged and stimulated," he says.
 "Making sure you stay strong, flexible, and sharp makes the activities of daily living much easier. That's really our goal here--to provide residents with more years of quality living."
Invest in your future self at Seabrook. From top-notch amenities to affordable, maintenance-free apartment homes, you are sure to live your retirement to the fullest. Request more information today!
Back