Residents Find Fun and Friendship in Seabrook Woodshop
Kate Streit
October 11, 2021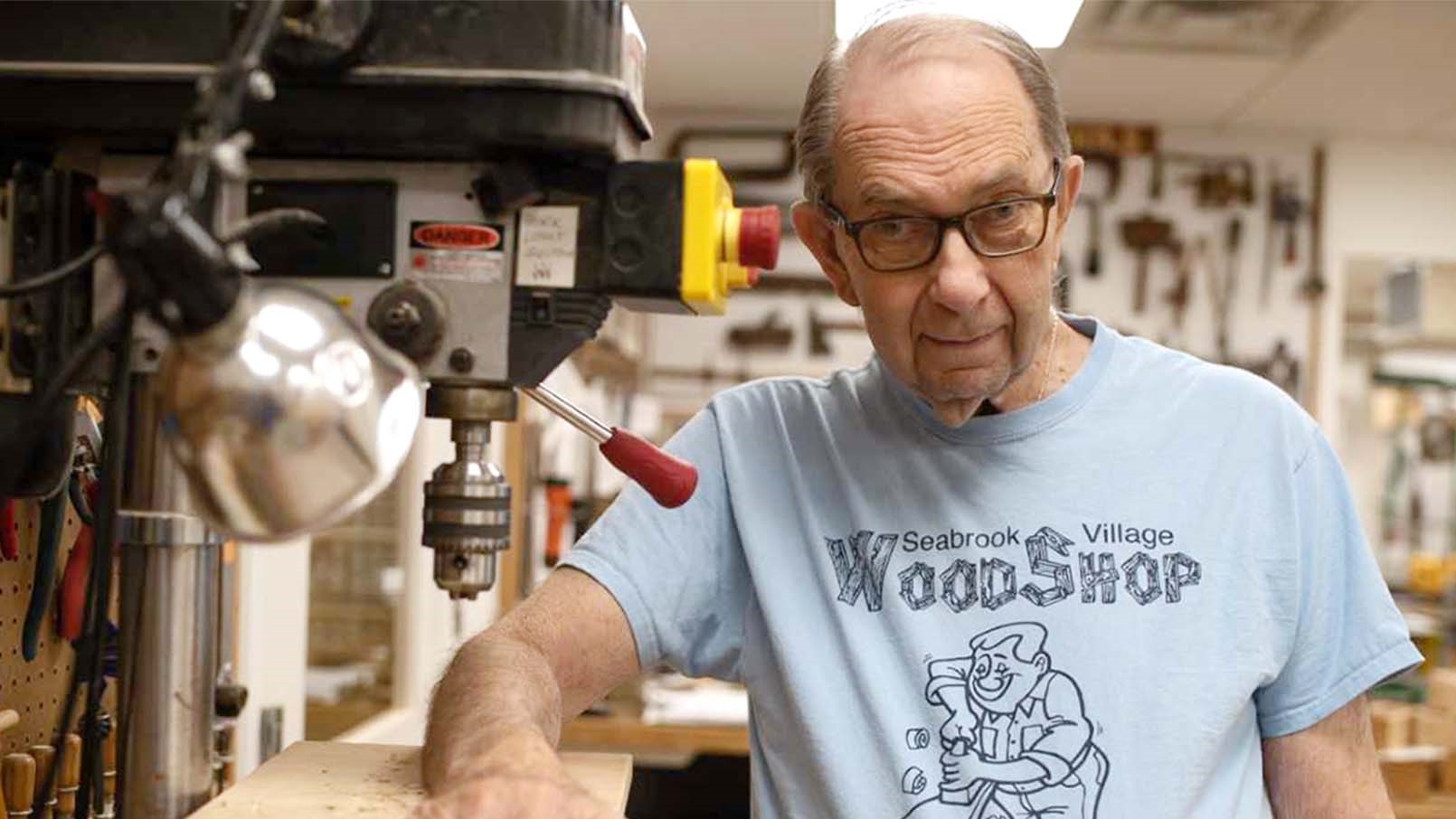 Jack Cunningham moved to Seabrook, an Erickson Senior Living community in Tinton Falls, N.J., in 2001. Soon after he was settled in, Jack joined the woodshop club with little-to-no woodworking skills, but a lot of ambition. Now, he's the longest-standing member of the club and has served as the president since 2013.
Jack hadn't done much woodworking prior to coming to Seabrook, but it quickly became his passion in retirement. He owned a saw and a drill before joining the woodshop club, but he'd never worked with some of the larger tools present in the shop, such as a bandsaw.
At Seabrook's woodshop, he has access to all the tools he could ever need, as well as a bountiful supply of screws, nuts, and bolts of all sizes and types. And, learning the tricks of the trade is made easy, as experienced members of the club are always willing to lend a helping hand to Jack and other novices that join the club.
Home away from home
The woodshop quickly became Jack's favorite place to spend time on campus. Jack says his wife could tell when he was coming back from the shop because his smile would sparkle of enthusiasm.
"Everyone always helps each other in the woodshop, and there's a great sense of camaraderie among members," says Jack. "We always joke around with each other and have a lot of laughs."
When Jack's wife passed away in 2001, the woodshop became his place of refuge. Soon, he was calling it a "home away from home"—a place where he could enjoy practicing newfound skills with supportive friends to ease his mind.
The woodshop is located in a community building rather than a residential building, so members can work in the shop 24/7, making woodworking a great activity for night owls and early birds alike. "I've been in the shop at 10:00 p.m. on a Sunday night if it suits me," says Jack.
The woodshop is also a resource for staff members, allowing residents to work closely with Seabrook's general services department. "General service employees will come into the shop in search of a specific piece of wood or even to borrow a tool or a certain screw," says Jack.
Creative outlet that helps others
"There are about 40 woodshop members with ranging skillsets—from a variety of prior careers—who help residents with routine repairs," says Jack.
Some of the most common projects include fixing lamp switches, repairing damaged furniture, and setting up furniture from kits. The shop asks that residents requesting repairs cover the cost of materials needed. Any further donations are added to the shop fund, which then goes toward the club's annual contributions to Seabrook's Resident Care Fund and Staff Appreciation Fund.
In addition to repairs, members have made a number of items for themselves and gifts for others, including birdhouses, pens and pencils, picture frames, ice cream scoops, and cabinets.
Another popular item is playing card holders. "We make a cube that allows bridge players to see which suit is trump, as well as holders that help those with arthritis play without pain," says Jack.
Residents also ask for other practical items, such as blocks to raise the head of the bed and magazine racks. Sometimes, the woodshop club gets more unusual and unique requests as well.
"One request that really stands out in my mind is when a relative of a resident came in and said she lives next to a state forest that is home to many foxes," says Jack. "She wanted a fox feeder that would allow the fox to run out of either side in case it got spooked. So, we ended up with a type of modified dog house, with openings at both the front and the back."
A commitment to excellence
When Seabrook opened in 1998, residents were promised a woodshop. Erickson Senior Living followed through on that promise, as the executive director at the time offered $500 of seed money, if it was matched by members. Bursting with excitement, each member decided to chip in $50. Today, their contributions are reflected in $50 initiation fees for woodshop members.
"Some clubs charge monthly dues, but we only ask for the initiation fee," says Jack.
Jack says members are happy to pay the initiation fee for all the enjoyment they get from the woodshop. He sees Erickson's commitment to creating the woodshop all those years ago as just one of the many ways the company goes above and beyond to ensure residents' desires are met.
Now that Jack has called Seabrook home for two decades, he cheerfully recommends Seabrook and other Erickson Senior Living communities to friends and family who are looking for the ideal place to begin their next chapter in retirement.
Community amenities like the woodshop are just a few of the reasons Seabrook is the perfect independent living community for seniors. Seabrook offers abundant amenities, hundreds of resident-run clubs and activities, on-site medical center, salons, on-site restaurants, an all-season pool, a bank, and a fitness center.
Request a brochure to take a closer look at Seabrook and the beautiful, maintenance-free apartment homes.
Back