Residents Enjoy the Freedom and Flexibility of Life at Seabrook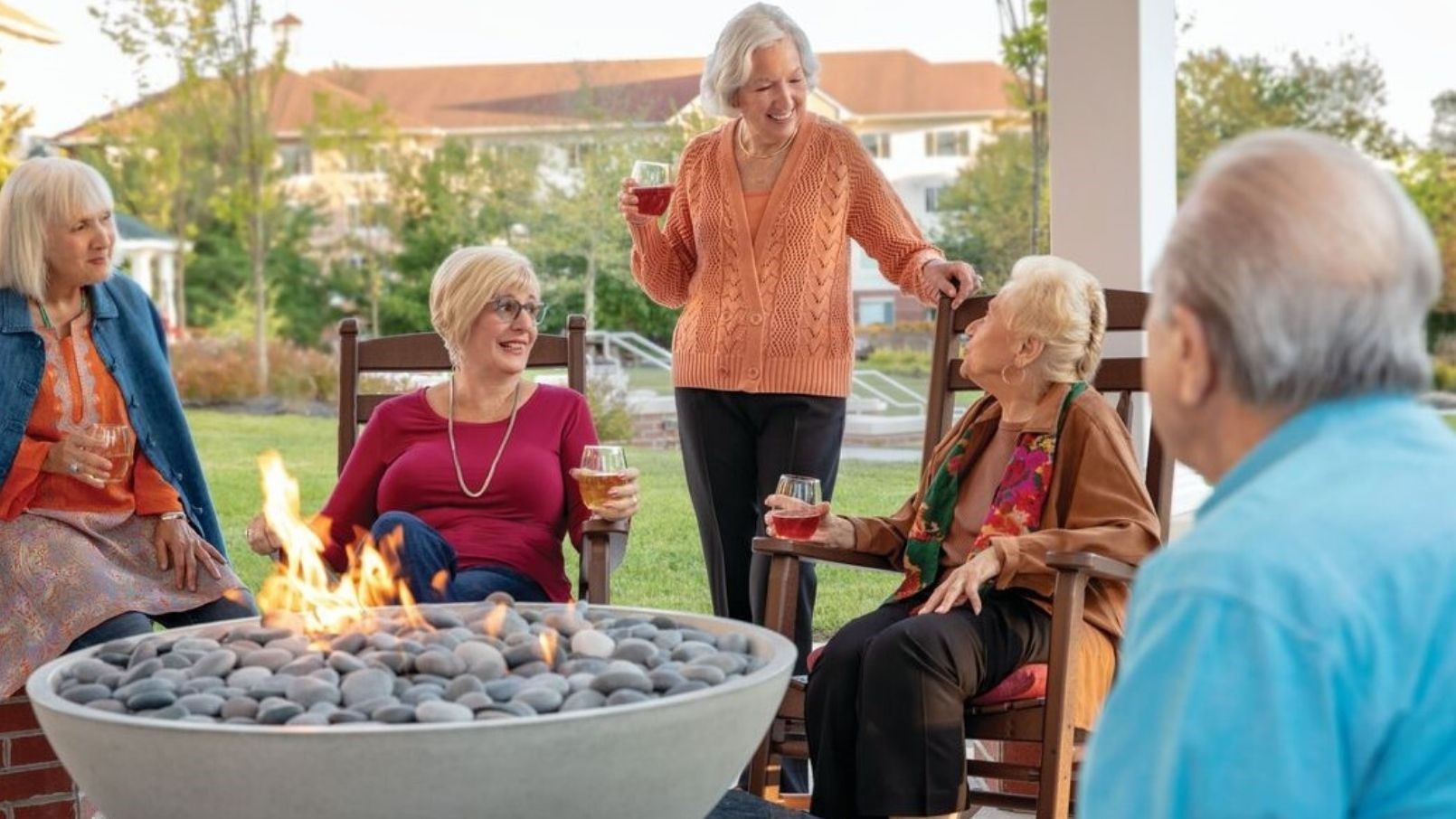 Retirement is all about living the good life and the freedom to pursue your passions, travel, and spend more time with family and friends. The residents at Seabrook, an Erickson Senior Living-managed community in Tinton Falls, N.J., have found all that and more. Margot and Lou Rivera moved to Seabrook in 2010 from their home in nearby Atlantic Highlands, N.J. Already familiar with the area and with a desire to stay local, the community was a clear choice.
An engaged lifestyle
The Riveras quickly became involved community members, with Lou serving on the Resident Advisory Council and the Philanthropy Committee for a number of years and Margot maintaining beds at Seabrook's community garden and running the German-American Club. Margot has also run the camera in Seabrook's in-house TV studio and cohosted a weekly program in which she interviewed a number of New Jersey state senators and members of the general assembly.
Activities outside your door
Another great benefit of life at Seabrook is the plethora of on-site amenities. With a fitness and aquatics center, theater, library, pharmacy delivery, bocce courts, miniature golf, and more, residents don't even have to leave campus to live life to the fullest. Seabrook's signature dining program features four on-site dining venues offering a variety of nutritious and delicious cuisine. The monthly service package includes a flexible dining plan, giving residents the choice to enjoy eating at both on-campus and off-campus restaurants and cooking at home.
While they're very busy at Seabrook, the Riveras still find time to pursue their hobbies and passions around the area as well. Margot and Lou both volunteer at the Monmouth County SPCA (Society for the Prevention of Cruelty to Animals), caring for cats and doing medical transports. Margot also serves as a Eucharistic minister and launched a program to make and deliver sandwiches to the Jersey Shore Rescue Mission, a nonprofit organization dedicated to serving the homeless population in Asbury Park, N.J.
Maintenance-free living
Like many Seabrook residents, the Riveras are happy to leave the hassles of home ownership behind. Between maintenance, upkeep, repairs, and budgeting, maintaining a large home can leave little time and energy for enjoyment.
"We love the freedom that living here provides," says Lou. "There are no lawns to mow or sidewalks to shovel."
In addition to ditching cumbersome chores, the Riveras also appreciate the peace of mind that comes from Seabrook's simple financial structure. A 90% refundable entrance fee secures residents' apartment home for the rest of their lives, and it's risk-free. If they ever decide to leave the community, 90% of the fee is returned to them or their beneficiaries. As soon as they saw the Lancaster floor plan on campus, they knew they had found their new home.
"The view is beautiful and one of the best features of our apartment home," says Lou.
Travel-inspired painting
Margot and Lou also love to travel and have been to destinations all over the world, including Germany, France, Russia, Malaysia, Cuba, and Costa Rica. Lou has been painting watercolors for over 20 years and frequently draws inspiration from his experiences across the globe. Several years ago, he began painting digitally with the aid of an Apple iPad Mini and the SketchBook app. His unique work has won him several awards, including two first place wins at the Monmouth County Seniors Art Show. He's also had his pieces accepted into shows and has sold a number of his works locally, including at the Art Alliance, the Brielle Township Library, and to his neighbors at Seabrook.
Enjoying life
"The Riveras are very representative of the engaged and meaningful lives our residents here at Seabrook live," says Community Resources Manager Natalie Battifora. "What makes our community attractive to so many is the freedom and flexibility to maximize their enjoyment of all our campus has to offer as well as their own personal outside interests."
Consider being part of a vibrant senior living community like Seabrook. Beautiful walking paths, gardens, resort-style amenities, an on-site medical center staffed by full-time medical professionals, and new friends await. Request a brochure or a visit now!
Back