Reaping the Rewards of a Worry-Free Retirement at Seabrook
Michele Wojciechowski
February 28, 2022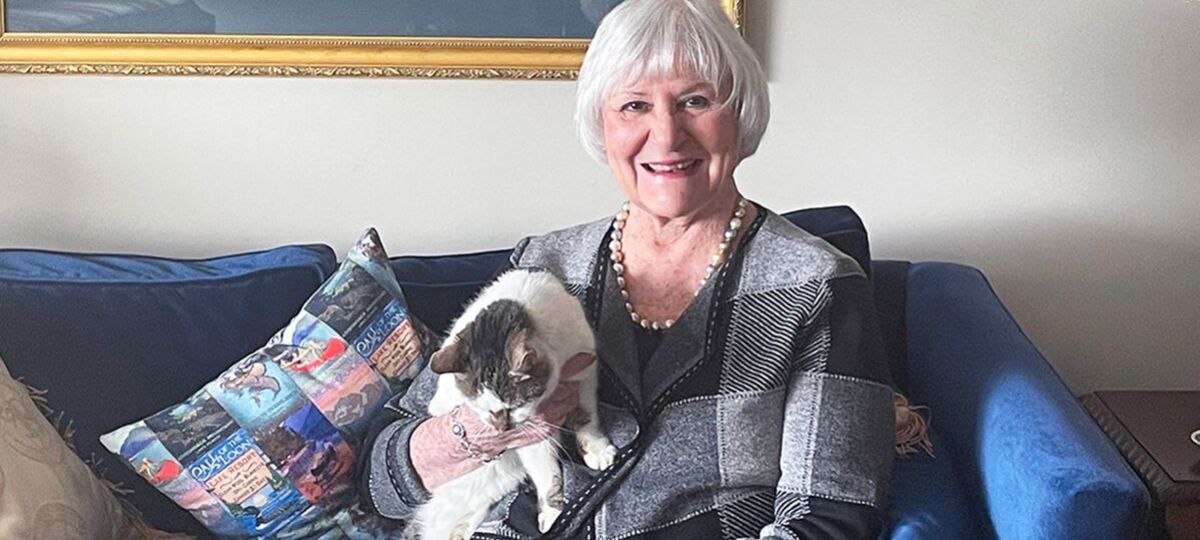 Recently, Linda Lee saw a photo of her old house in upstate New York, covered with snow. Linda, now a resident of Seabrook, an Erickson Senior Living community in Tinton Falls, N.J., doesn't miss those below-freezing days at all.
"Last year, I was in my house for three days - there was no snow plow," she recalls.
And because her house was older, Linda was always worried about upkeep - buying a new roof or septic tank was constantly looming over her head.
"But I don't have to worry about that now!" she says.
Worry-free living
Thanks to Seabrook's maintenance-free apartment homes, Linda enjoys a carefree, active lifestyle on her own terms. When Linda isn't out and about, she loves spending time in her two-bedroom, one-bath apartment home with her cat Misty.
"I love it. It's very bright and very quiet. And I have great neighbors," says Linda.
She adds, "I feel very smug when I look at my former backyard, full of snow, and know that I can just sit in my warm apartment home," she jokes. "And I don't have to risk going down an icy driveway! I can just put my garbage outside my door - they pick it up and take it for me."
Linda isn't the only resident who appreciates the personalized service offered at Seabrook, says Senior Resident Services Manager Michelle Aguilar. "If something breaks down or a plumbing issue arises, general services is just a call away. They're known for arriving and fixing any issue in a timely matter. They can take care of the simple stuff, too, like replacing a lightbulb."
An additional benefit of Seabrook's maintenance-free living is the monthly service package, which bundles expenses like electric, water, and cable, into one bill.
"There are no unpredictable expenses," says Aguilar, "which allows residents to manage their budgets with ease and confidence. This gives residents and their family members peace of mind. We often hear from families that moving to Seabrook is the best decision their parents made."
Linda agrees. "This is exactly what I should have done," she says. "It was a good decision."
Making new friends
When Linda moved to Seabrook, she didn't know a soul there. But that didn't last long.
As someone whose family moved around a lot when she was a child, Linda took some time getting to know aspects and people within her new environment.
"People shouldn't worry if they don't know anyone. The people here are so friendly, and it's great! That's one of the wonderful parts about this place," says Linda. "I know that you need to sit back a little bit and see what's around, but then it's important to join things."
Now, she enjoys lunch and dinner with her new friends on a regular basis and likes visiting the Count Basie Center for the Arts.
So much to do
There are more than 100 resident-run clubs and groups to choose from at Seabrook, says Aguilar, "Not only that, but we also have hundreds of volunteer opportunities available."
She explains that people can volunteer to work at the on-campus TV station, help other residents with their tablets or phones, or even take tickets at the auditorium - there's something for everyone.
"We really look at people's unique gifts when they want to give back to the community," says Aguilar.
A resident group called Seabrook Active Learners offers educational courses of all types. For example, if someone has a passion for Ireland and wants to teach others about it, they can work with one of our residents who will teach them how to put together a syllabus. Based on what the resident wants to share, they can teach a number of sessions or just do a onetime lecture.
And year-round, Seabrook brings in live entertainment - twice each month - to the auditorium.
"Residents pay a small fee to come and hear musical entertainers. The ones we invite really vary - everything from the 'Rat Pack' and 'Jersey Boys' kind of music to the Yale Whiffenpoofs," Aguilar says.
The money raised from ticket funds covers the cost of the summertime Sunday night concert series, which runs from June through September.
It's your choice
"The beauty of being in independent living setting is that residents can be as involved or not involved as they want. They can really move at their own pace," says Aguilar.
"You could be busy every minute of the day," agrees Linda. "That's not my style, but you can be!"
Invest in your future at Seabrook. From top-notch amenities and activities to affordable, maintenance-free apartment homes, you'll enjoy living your retirement to the fullest. Request more information today!
Back