Needle Arts Groups Channel Creativity at Seabrook
Written by Linda Esterson
May 5, 2022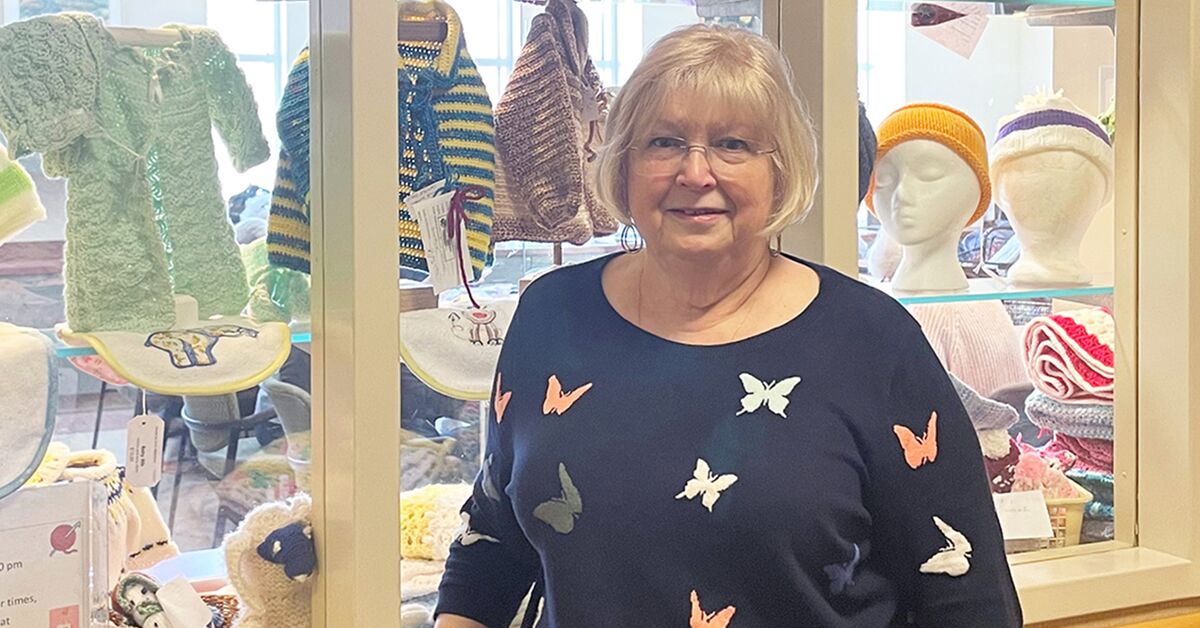 Residents of Seabrook, an Erickson Senior Living community in Tinton Falls, N.J., appreciate the many amenities available to them right on campus - the fitness and aquatic center, walking paths, and gardening areas where they can plant whatever they like.
But they also have an opportunity to participate in - or start - clubs that reflect their own hobbies and interests. At Seabrook, 100-plus clubs meet regularly for activities like card games and mah-jongg, gardening, literature discussion, meditation, and Tai Chi. These clubs and activities are independently run by residents, and with new groups forming regularly - like the recently added ukulele club - you are sure to find something you'll enjoy.
Some of Seabrook's clubs even offer residents a chance to channel their creative energy, particularly with "needle arts," which includes activities such as knitting, crocheting, quilting, needlepoint, embroidery, sewing, and more.
Using their needles
The Not Just Knitters and Crocheters Group is a co-op of Seabrook artisans that meets weekly, providing members an opportunity to socialize while they work on their individual projects.
"The companionship and shared life experiences are a very important part of the group for most of us," says Marianne Cusa, who moved to Seabrook 18 months ago. "I joined the group as a way to meet people. Having shared interests makes it easy to make suggestions, ask for help, and even have discussions that are personal."
For the past seven years, the Not Just Knitters and Crocheters Group have created hand-crafted items to be sold during special events. Proceeds are donated to the Resident Care Fund, which assists residents who face financial challenges, despite careful planning.
Over the years, the group has raised more than $43,000 by selling items like tooth fairy pillows, teddy bears, baby hats, scarves, blankets, sweaters, and quilts - all at prices below retail. The group held a major sale in September that netted nearly $2,000 for the fund. It gives residents a chance to purchase unique, one-of-a-kind gifts for family members without leaving the community.
Machine learning
Last October, Marianne created a new group to offer her expertise - as well as her collection of sewing machines - to those in the community that are interested in learning how to sew, knit, and crochet.
Marianne volunteered her time teaching an outside senior group how to sew for about 10 years. She brought her 15 sewing machines, that she accumulated by volunteering, with her when she moved to Seabrook. Marianne had also brought yards of fabric, 20 pairs of scissors, hundreds of spools of thread, and the like for her group - enough to fill the two-car garage in her previous residence. She quickly became known around Seabrook as the "lady with the sewing machines."
Marianne's new group meets two times a week in the creative arts center in Town Square. Residents learn knitting, crocheting, embroidery, and needlepoint on the first day, and quilting and sewing on the second.
Staying active, stitch by stitch
"I just want to help. I'm somebody who wants to teach," Marianne says. "It's important to keep our minds and our hands moving. By moving when knitting, you're exercising your hands and your mind."
Projects created in Marianne's new group are often donated to the Not Just Knitting or Crocheting Group, so they can be sold to benefit the Resident Care Fund. During the holidays, for instance, some group members made placemats and mug rugs for holiday gift-giving.
"I moved here because I knew they would take good care of me, but also because there was so much going on," she says. "I figured I could help by teaching sewing and keeping people busy. If you're busy, you're going to live longer. So, by keeping them busy and interested in doing things, it helps me too. We're enjoying each other's company and learning something at the same time."
To learn more about affordable, independent senior living at Seabrook, request your free brochure or schedule a visit to get the scoop on amenities, floor plans, and so much more.
Back