Good Times in the Great Outdoors at Seabrook
Linda Esterson
August 1, 2023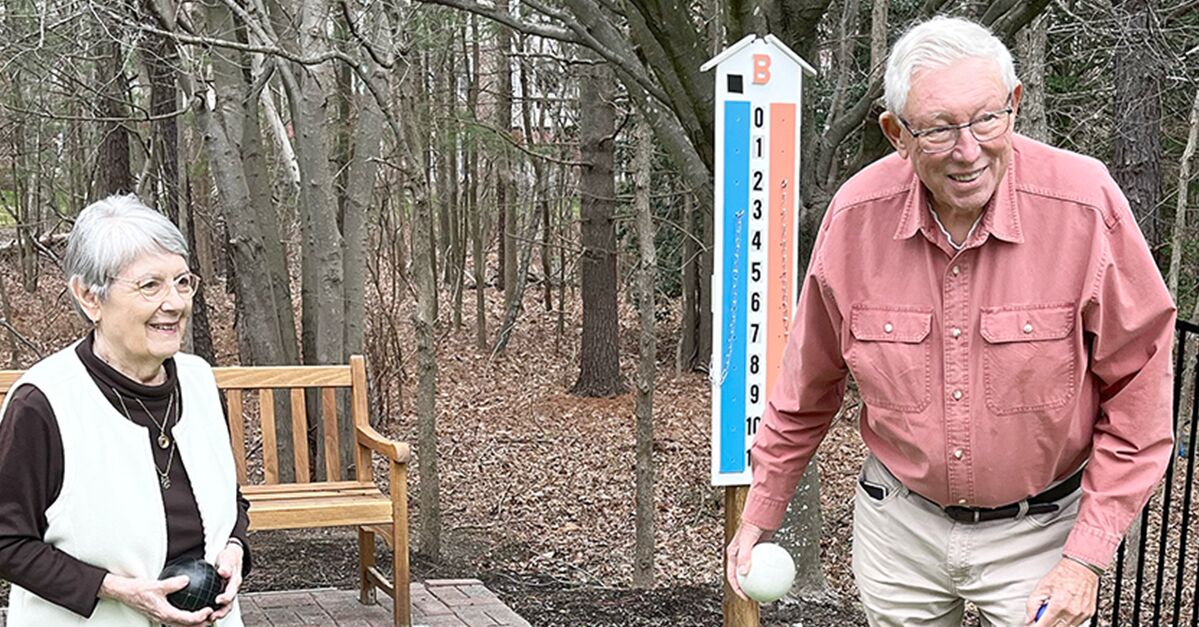 On any given day at Seabrook, an Erickson Senior Living community in Tinton Falls, N.J., is bustling with activity. Residents are walking, biking, playing mini golf, taking outdoor fitness classes, and soaking up all that the beautifully landscaped, 98-acre campus has to offer. 
Resident Wally French enjoys cycling the community's perimeter-a challenging yet satisfying ride, he notes. He enjoys being in nature while getting a nice workout.
"Viewing the flowers and trees makes it stimulating and enjoyable at the same time," says Wally, who moved to Seabrook nearly two years ago. "Being active is important to me. At Seabrook, I can take part in the activities I love and meet new people!"
The benefits of spending time outdoors are well documented, as recent studies confirm that being outside at least two hours a week leads to better physical health and cognitive well-being. 
Research also shows that seniors who frequent the outdoors feel more energized, have greater focus and stamina, and recover from injuries more quickly. 
Healthy and happy
"Nature has a strong connection to overall health and happiness," agrees Fitness Manager Mark Maccaroni. "The more that residents engage in activities outside, soaking up the fresh air and sunshine, they feel more positive. Being outside is a mood booster-it makes everyone a little bit happier."
Seabrook's maintenance-free apartment homes only add to the active lifestyle that residents enjoy, inside and outside. 
"Without the time-consuming responsibilities of yardwork and chores, residents relish the chance to participate in a variety of outdoor activities," he says. 
At the seven-hole miniature golf course, which opened last summer, there are men's and women's tournaments as well as an intergenerational mini golf league, welcoming young visitors to compete alongside their grandparents and great-grandparents. 
More tournaments were added this summer, including a staff versus residents matchup, to build camaraderie through friendly competition.
The professionally designed putting green, boasting PGA-level slopes and angles, kicks off every April with a putting contest with both men's and women's divisions.
"Golf is such a fun sport. The pace allows residents to engage, socialize, and build friendships with one another while participating," Maccaroni adds. 
Big on bocce
Jim and Carol Bicket were originally attracted to Seabrook's apartment home designs and wide range of dining experiences, but the variety of activities available became a motivating factor for their move as well. 
Before moving to Seabrook seven years ago, Jim never stepped foot on a bocce court. But with some encouragement from a friend, Jim took up the sport and hasn't looked back. Now, he serves as coleader of the Seabrook Bocce League.
Given its popularity, the league runs for seven weeks in the spring and fall. More than 40 residents are divided among eight dedicated teams. 
"It's a great way to get a little exercise and spend time outdoors in the fresh air," Jim says. "Plus, it's a nice way to meet new people!"
Great places to gather
In addition to the putting green and bocce courts, one of Seabrook's most visited outdoor gathering spaces is the Great Lawn-a venue complete with a stage, seating, lighting, and gazebo. 
The Great Lawn is home to weekly concerts, from early June to mid-September, as well as seasonal fitness classes featuring chair yoga, stretching, and meditation. 
The community's newly updated dog park, which is quickly gaining popularity, welcomes two- and four-legged residents. Canine companions love playing in the large, fenced-in area while owners sit and chat.
"Many residents have dogs on campus, so they head to the dog park to bond with other dog owners and their pets," Maccaroni adds. "It's an interest they have in common, so they develop friendships just as easily as their dogs do!"
Residents also enjoy a deck on the outdoor pond, equipped with chairs and benches to relax and take in the view of native wildlife. Meditations sessions filmed there are aired on Seabrook TV, the community's in-house television station. 
The path to well-being
Surrounding the pond is a wide gravel path that totals one-quarter of a mile. There, residents like Jim go on their morning walk, often completing four laps to achieve a full mile. 
"I enjoy walking, so I get out there to get in my exercise and take in the peaceful scenery and fresh air," says Jim. "I recognize other residents who walk regularly-we always greet each other with a friendly wave."
Thanks to resident-led efforts and investments in outdoor spaces, an increasing number of Seabrook residents are finding ways to spend time in nature, which is proving to be an integral part of their active, worry-free lifestyles.
To learn more about the ways residents are enjoying the great outdoors, request more information today!
Back