Exemplary Service Makes Seabrook Stand Out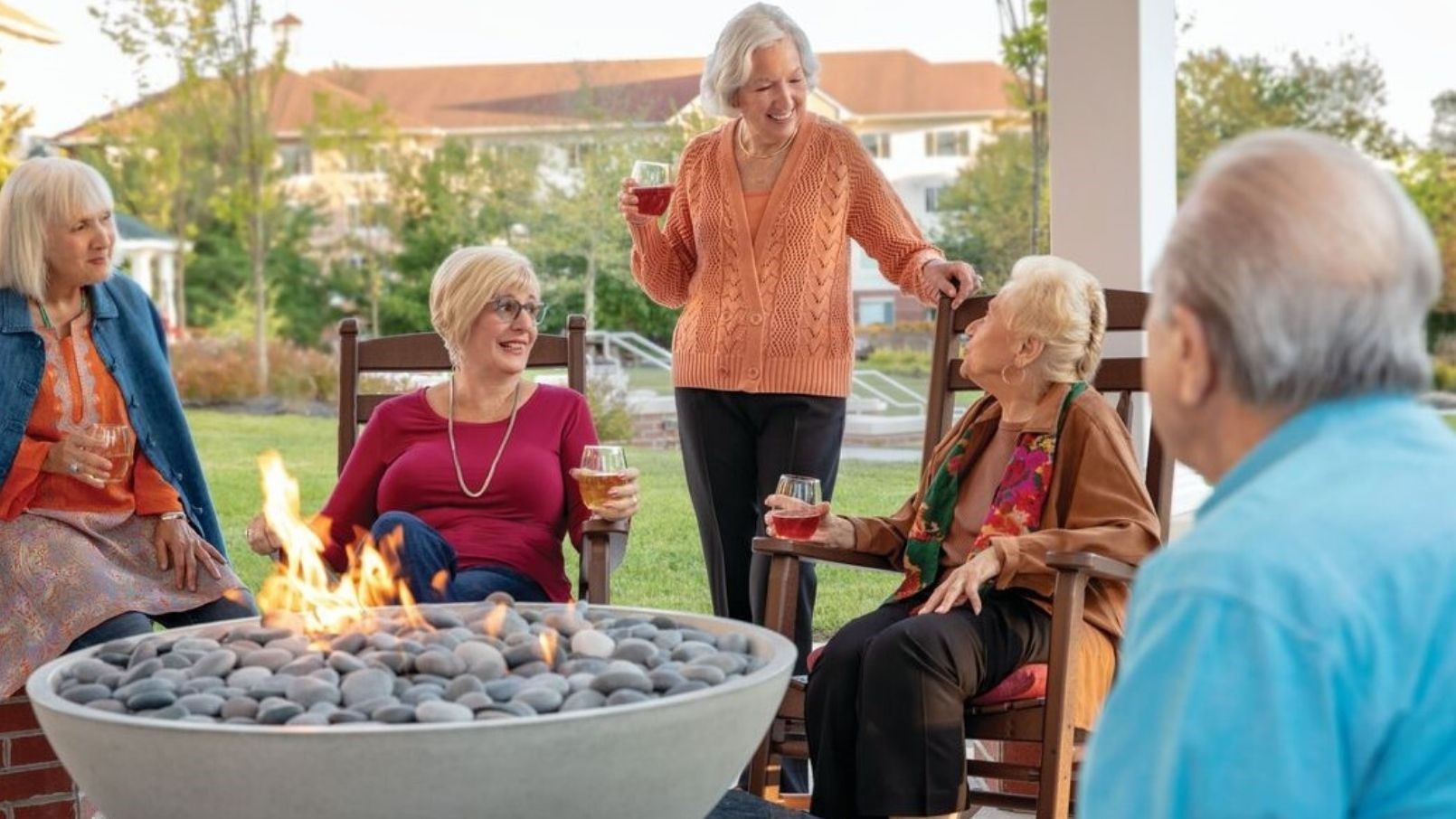 Wayne and Pam Steadman have moved 17 times over the course of their 53-year marriage. When they moved to Seabrook in 2016, they were more than ready to make it their last. Nearly five years later, they couldn't be happier to call the Erickson Senior Living community in Tinton Falls, N.J., home.
The Steadmans chose a corner apartment home that provides more windows and natural light.
"The second bedroom is used as office space for projects, and when our grandchildren visit, Seabrook provides a rollaway bed," says Wayne.
Excellent service
From the beginning of their moving process, the Steadmans say they received excellent customer service from Seabrook staff. Erickson Realty and Moving Services helped them ensure the furniture they purchased would fit, making moving day so much easier.
Staff also helped the Steadmans select movers, and the staff of Custom Interiors made some recommendations they loved, including recessed lighting options, shelving options, and window treatments.
"They were all installed and ready by the time we moved in," says Wayne. "The most important part of Seabrook is the residents themselves," says Wayne. "Many have become our friends, and many are more like family. It's important to know that when your feet hit the ground in the morning, there are so many things you can do and people you can enjoy activities with."
Wayne has served on the Resident Advisory Council, on the finance committee, and as the resident director on the Seabrook Board. He regularly uses the fitness center, plays in two poker groups as well as pickleball and bocce. Pam is active in the Seabrook Advanced Learners group, two Seabrook TV shows, and she also writes short plays.
"There are so many opportunities for residents to remain active and develop new skills," says Wayne. "All it requires is the initiative to become involved."
A stress-free lifestyle
In addition to the friends they've made and the activities they enjoy, the Steadmans also love that their life at Seabrook is worry-free.
"Before we moved to Seabrook, we lived in a condo, and plumbing problems or a broken appliance meant calling up an outside contractor, waiting, and a significant cost," says Wayne. "Here, just one phone call results in immediate results, and there is no extra expense. General Services always responds promptly to any issues to resolve them, ensuring that larger problems don't develop. It reduces our stress level, which is a key reason we moved here."
In 2020, the excellent customer service the Steadmans have relied on at Seabrook was put to the test.
Ahead of the curve
"Their management of the pandemic has really confirmed our decision to move here," says Wayne. "They have been ahead of the curve every step of the way to keep residents safe while meeting all federal, state, and local guidelines, ensuring we had food, mail, prescriptions, entertainment, and up-to-date information on the situation."
With the arrival of the vaccine, they continued to be impressed with Seabrook's competent execution.
"While others have struggled to get vaccinations, management, in partnership with CVS, was able to get continuing care residents and employees fully vaccinated in January," says Wayne.
Early vaccine access
As of early March, more than 94% of independent living residents have been fully vaccinated.
"We hear from many of our residents, family members, and prospects that Seabrook really stands out in the local senior marketplace for going above and beyond in meeting the expectations and needs of residents for exceptional customer service and outstanding amenities," says Executive Director Phil Jean. "We hire people who share our values of diversity and inclusion, friendliness and enthusiasm, integrity, teamwork, and respect. Our residents receive an outstanding level of service that empowers them to live their fullest lives."
For four consecutive years, Seabrook was voted "Best Adult Community" by Asbury Park Press readers.
The Steadmans are grateful for the plentiful the opportunity to have so many wonderful friends. "I look forward to the many ways we will continue to make Seabrook the very best place to live and work," says Jean.
Consider being part of a strong and caring senior living community like Seabrook. Beautiful walking paths, gardens, resort-style amenities, an on-site medical center staffed by full-time medical professionals, and new friends await. Request a brochure or a visit now!
Back