Enjoying the Opportunity to Socialize at Seabrook
Linda Esterson
January 10, 2023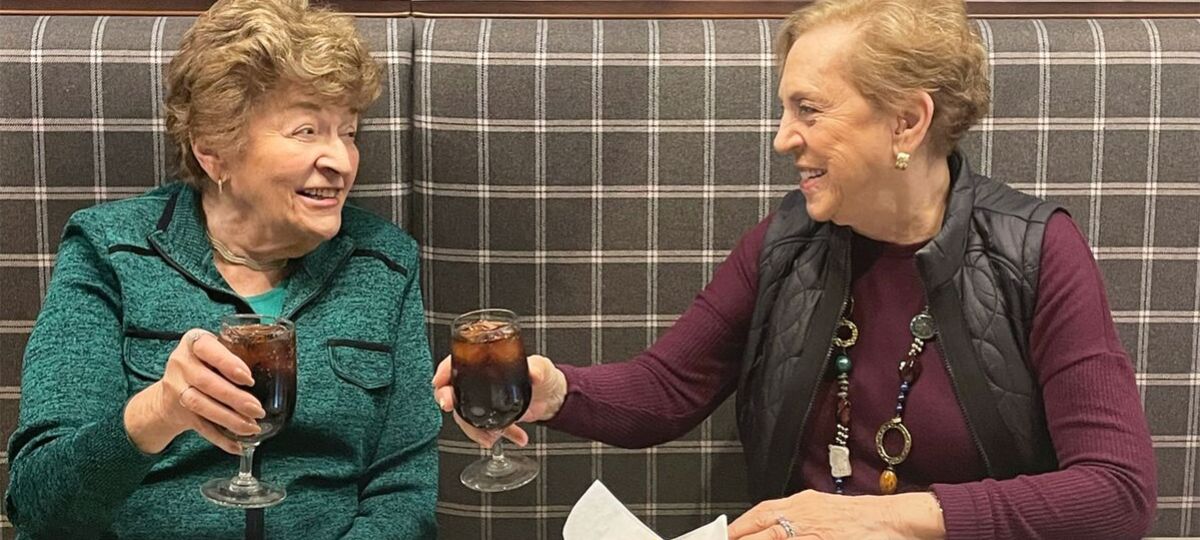 After living in Florida for ten years, Bob Nogueira's children and grandchildren convinced him to move back home to New Jersey.
So, the former high school principal started looking for a warm and welcoming retirement community with lots of activities--and found just what he was looking for at Seabrook, an Erickson Senior Living community in Tinton Falls, N.J.
Living in a vibrant community like Seabrook can open doors to making new friends and building relationships with people who share similar interests--and who live just a short walk away! Residents like Bob thrive off of the strong relationships they've built through clubs, activities, and day-to-day interactions. 
A common thread
Since moving to Seabrook, Bob has pursued several of his hobbies.
"There's so much to do here!" says Bob. "No matter what your interests are, there's something for you. For me, it was joining the woodshop, practicing tai chi, and playing pickleball--things that I was already doing in Florida."
Because of Bob's dedication to the woodshop, he was elected as vice president of the group.
"Living in a community, you're guaranteed to find someone with something in common," says Bob. "It's easy to talk to anyone! I've struck up conversations with people with similar backgrounds, and that makes it easy to develop friendships."
In fact, Bob grew so close with some woodshop friends that they decided to start a barbershop harmony group. Now 14 members strong, the group meets weekly.
Friendships new and old
"Having enjoyable social connections is an important yet often overlooked aspect of personal health and well-being," says Dr. Matt Narrett, chief medical officer at Erickson Senior Living. "From a robust calendar of events and dozens of clubs to sharing a meal together with friends, communities like Seabrook are designed to maximize social engagement opportunities for residents."
Michelle Aguilar, director of resident life at Seabrook, couldn't agree more. She notes that by offering an extensive array of activities and 100-plus clubs, Seabrook's active environment serves as a great catalyst for building relationships.
"I've seen friendships start on the putting green, on the bocce courts, at the dog park, and at the miniature golf area. Music is very prevalent on campus, so lots of people come to our concerts to not only listen to the performers, but also to talk with fellow music lovers," says Aguilar. "Our events really bring people together--those who share the same passions."
Neighbors are so close, explains Bob, that it's not uncommon for people to pick up each other's mail, feed their friend's cats when they're away, pick up medications, and drop off dinner when they're sick.
And for certain residents, like Bob, former neighbors become neighbors once again. Eileen O'Neill, who lived next to Bob for 35 years, now lives at Seabrook. He's also bumped into two former coworkers from the school where he worked.
Connecting with people
Joan Krengel, who moved to Seabrook with her husband about seven years ago, also appreciates the community's active lifestyle.
She's made tons of new friends by dining with neighbors at the on-site restaurants, serving on the resident life committee, and playing bridge and mah-jongg.
"People are extremely friendly. My arm gets tired from waving," she jokes. "I'm happy to connect with people. Sometimes, you just have a feeling to talk about something and, magically, that will connect you with the person."
Seeing how happy Joan was at her new home, it didn't take much convincing for Lois Barrett, Joan's close friend of 60 years, to move to Seabrook. "She was living in a house by herself," Joan says. "I told her how great it was here."
Since moving to the community four years ago, Lois enjoys dinners and walks around the community's expansive grounds with her new friends and Joan.  
Making life brighter
"For our residents, having peers to talk to is important. Whether you're facing the loss of a spouse or you're getting ready to welcome your first grandchild, someone has most likely already experienced it," explains Aguilar. "Friendships also give you purpose--they make your life brighter and even more fulfilling."
Invest in your future at Seabrook. From top-notch amenities and activities to affordable, maintenance-free apartment homes, you'll enjoy living your retirement to the fullest. Request more information today!
Back