Concerts at Seabrook's Great Lawn
Linda Esterson
October 13, 2022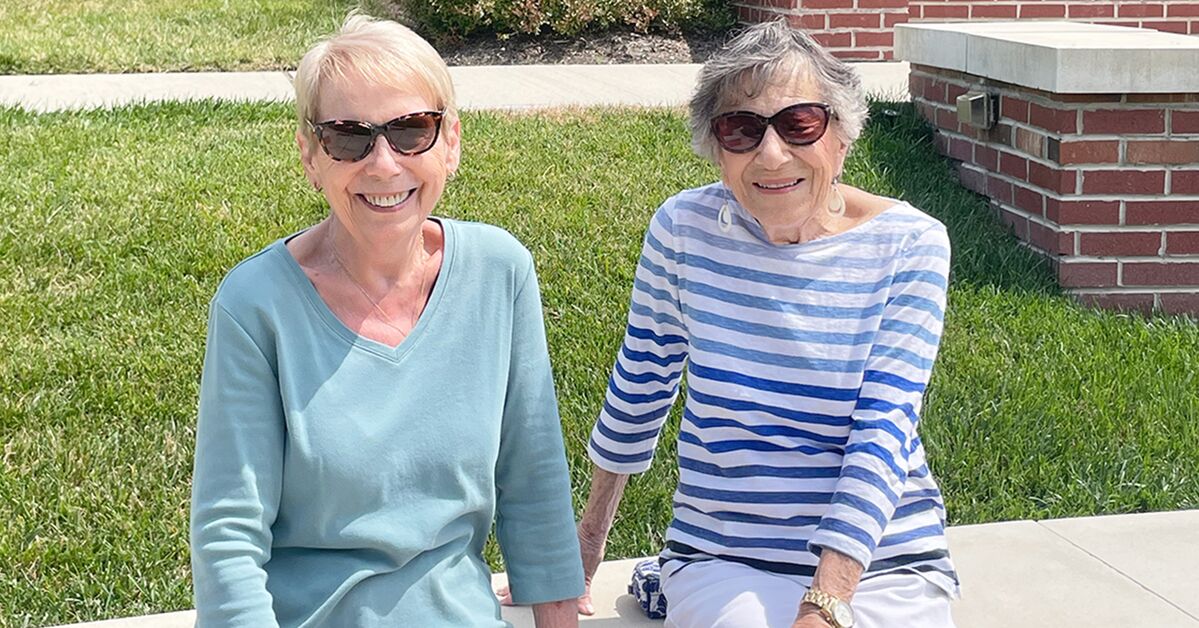 On a warm Sunday evening, Paula Benanti sits in an outdoor amphitheater with her friends, listening to a five-piece band play classic, Big Band favorites. Before long, they're all on their feet, dancing along to the beat.
This is a weekly occurrence at the Great Lawn, where concerts are held from early June to mid-September at Seabrook, an Erickson Senior Living community in Tinton Falls, N.J. A wide range of musical genres is covered, from jazz and classical to swing and rock and roll, representing each decade from the 1920s to the 1960s.
Concerts at the Great Lawn date back to 2019, when the spacious outdoor venue--complete with a stage, seating, lighting, and gazebos--opened.
Every concert is free of charge for residents, who are encouraged to invite family members and friends to enjoy the sounds of popular local groups, like Sentimental Journey, a 17-piece jazz ensemble; Strictly '60s, a '60s rock band; Living Proof, a Jersey Shore cover band; and patriotic performers like the Dixielanders, Patriotic Pops, and St. Peter's Brass Band.
Taking requests
If residents have suggestions about the musical genres or specific bands they'd like to hear, the Resident Advisory Council and the Seabrook Resident Services staff are all ears.
"It was just wonderful when they started to have concerts in the summer," says Ruth Pontier, who moved to Seabrook over five years ago. "The variety of music is marvelous--everything from marching bands to steel drums to the Big Band sound."
These outdoor concerts are just one part of Seabrook's jam-packed events calendar. Weekly performances, held at the newly renovated auditorium in the community's Town Square, draw large crowds, as well. Musical groups, magicians and dance troupes, and Seabrook's Lifelong Learning Program--offering educational presentations for residents--frequently take the stage.
"I love music, and I love to dance," says Paula, a five-year Seabrook resident. "I've always been in tune with music, and it's something that keeps us active. We not only have something to do on Sunday evenings--especially when it's a beautiful evening and the sun is setting--but it's therapeutic."
A healthy hobby
In fact, research supports the positive impact that music has had on Paula. Studies show that listening to music can reduce anxiety, blood pressure, and pain. Some studies even suggest that listening to music enhances quality of sleep, brightens moods, elevates mental alertness, and improves memory.
A 2020 survey by AARP's Global Council on Brain Health--a collective of scientists, clinicians, scholars, and policy experts--found that adults who perform or listen to music are more likely to consider their overall health, brain health, and cognitive function as excellent or very good.
"People get up and start moving in a conga line, or if it's a march, they just get up and march," Ruth explains. She notes that even for residents with limited mobility, "Their hands are clapping, their arms are waving, and their toes are tapping to the music." These residents can also take the shuttle service, which transports residents from all over the community directly to the amphitheater, for convenience and ease.
Some residents bring along their canine companions, Ruth says. "They seem to enjoy it too. They like being out there with everyone."
Spiritual value
Describing the concerts as uplifting and energizing, Ruth sees the Great Lawn performances as mentally and emotionally beneficial, as well. "It just lifts your spirits to be able to experience this," Ruth explains. "People come alive with this music--you can tell by the changing of the seasons. It's just a wonderful experience."
For many residents, the live music takes them on a trip down memory lane. "It evokes feelings," Paula notes. "There are many pleasant memories you can relate to, through different songs from the stages of your life."
Meeting new people
Tiffany Kenny, coordinator of resident services at Seabrook, explains that the summer concerts also promote socialization for community members.
"Fun events like these are what encourages people to get outside, spend time with one another, and enjoy each other's company," she says. "They grab something to eat for dinner and then come outside for a Sunday evening concert together. I truly believe it plays a part in our residents living happier, healthier lives."
To learn more about affordable, independent senior living at Seabrook, request your free brochure to get the scoop on amenities, floor plans, and so much more.
Back