Chefs Serve Up Creative Fare at Seabrook's Restaurants
Linda Esterson
September 15, 2022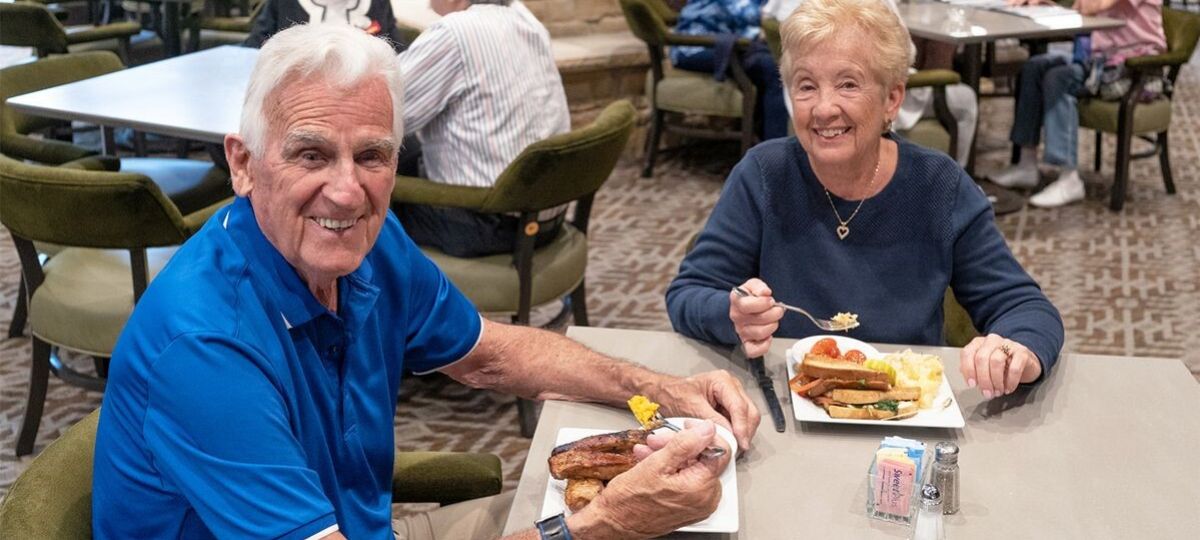 "Variety is the spice of life." This saying sounds like it might have been written specifically for the residents of Seabrook, an Erickson Senior Living community in Tinton Falls, N.J. With on-campus restaurants serving everything from fine dining entrees to pub favorites and grab-and-go sandwiches, residents have many choices to keep mealtime interesting.
Signature Dining
"Thanks to our Signature Dining program, which emphasizes preparing cooked-to-order dishes, Seabrook residents enjoy delicious meals and extraordinary service each time they dine," says Mary Beth Sheehan, director of dining services. "It also allows our talented chefs to utilize their creativity and better meet the needs of residents."
"Our ultimate goal is to create the highest quality food that is made from the freshest ingredients and is delivered in a pleasing presentation--and exceeds federal nutrition guidelines," adds Executive Chef Bill Zucosky. 
"You know you're having a healthy meal here," agrees Seabrook resident Maureen Sullivan, who moved to the community over nine years ago.
Residents like Maureen can preview menu selections and nutrition information for all entrées served through My Erickson®, an app accessible to all community members via a smart device. In addition, Seabrook's culinary staff works with residents individually to meet their dietary needs, whether it be providing low-cholesterol or low-sugar options, avoiding allergens, or meeting vegan and vegetarian preferences.
"We are constantly evolving with our recipes. Meeting dietary needs is a priority--while still being creative and catering to different tastes," says Zucosky.
Venues and menus
"Our menus change frequently, as well," says Sheehan. "Each restaurant has its own distinct personality, featuring unique weekly specials and international dishes."
The Fireside--a formal, fine-dining environment--provides a number of chef-prepared entrées, as well as a selection of soups, salads, and desserts. The Princeton, designed with quaint seating areas, makes it a popular place for residents to enjoy dinner and drinks with friends. 
Essex Pub features an eclectic menu of soups, salads, sandwiches, and more. Residents often catch up here over a drink from the full bar near the cozy fireplace. Tides Café--open for lunch, dinner, and takeout in a casual, neighborhood-style setting--has an extensive menu, ranging from hot grilled sandwiches to freshly baked pizza. This fall, construction begins on a fifth restaurant, adding a casual dining experience with a pub-like feel.
Maureen is one of many residents to appreciate the community's variety in cuisine. "I've cooked full meals since I was 16 years old. Now I can relax and enjoy it! There are so many choices--much more than at home. The food is absolutely amazing."
Sheehan notes that at Seabrook, meal options are not limited to the restaurant setting. "Fun, themed meals and social events--like summer barbeques, happy hours with musicians, women's teas, and men's breakfasts--ensure that residents will always find something new to try," she adds.
A delicious partnership
To personalize and perfect the dining experience at Seabrook, culinary staff members welcome and encourage resident input. The Resident Advisory Council's dining committee--acting as a voice for community members, regarding their comfort and satisfaction--frequently holds forums with Seabrook staff to communicate feedback and suggestions.
"Dining is something that residents do every single day, so we want to make sure that they have what they need for every meal," says Jen McNamara, Seabrook's executive director. "As leaders, we love to walk around the restaurants and talk to residents. It's just one of the ways we come together as a community--to connect with each other."
An opportunity to mingle
For many Seabrook residents, dining is a social activity they look forward to--a time to convene with friends in a comfortable, welcoming environment.
"The social aspect feeds into our mission, our vision, and our values," McNamara explains. "Our residents meet with family and friends around the table and chat about what they did for the day. They get the latest news and hear about upcoming events in the community. Of course, the culinary piece is huge, but so is the social aspect of it."
Maureen and her husband Tom consider the Essex Pub to be their favorite, spending time with neighbors and friends there on a regular basis. They also enjoy the Fireside and Tides Café, especially if they host their grandchildren for meals.
"Everyone's so friendly here," Maureen says. "We never sit alone."
Invest in your future at Seabrook. From top-notch amenities and activities to affordable, maintenance-free apartment homes, you'll enjoy living your retirement to the fullest. Request more information today!
Back