The Two-Bedroom Hastings Floor Plan is a Popular Choice at Riderwood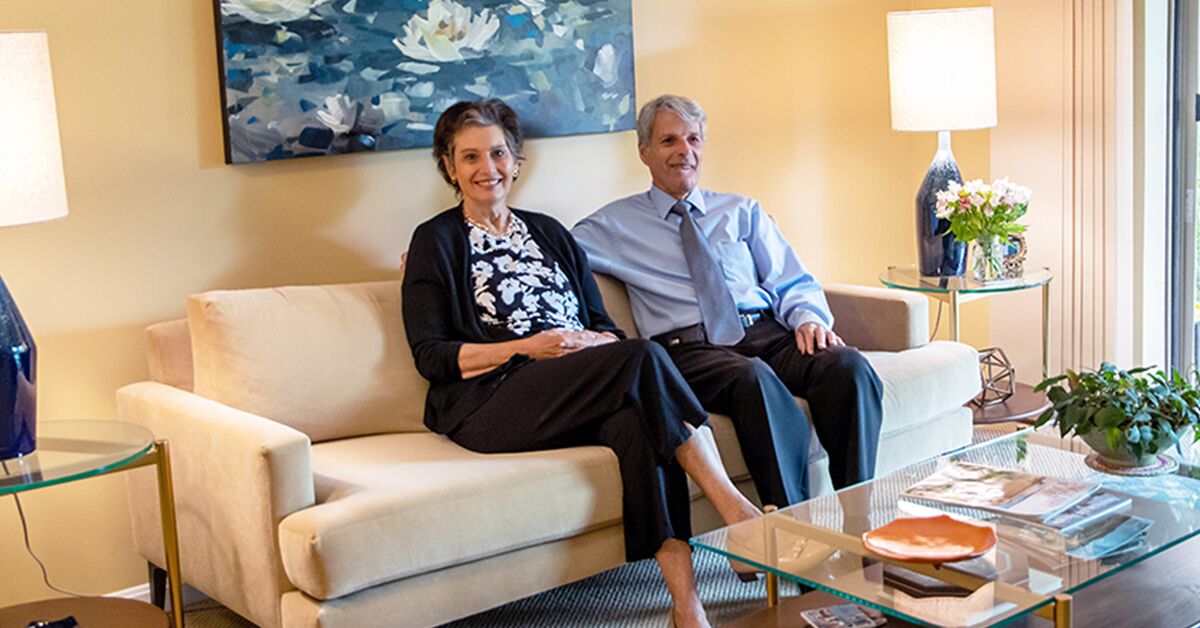 Yale and Nicki Stenzler knew exactly which apartment home layout they wanted to live in when they decided on Riderwood, an Erickson Senior Living community in Silver Spring, Md.
In fact, they moved even sooner than they had expected--once the Hastings floor plan they wanted became available. "We are very glad we did!" says Yale.
The Hastings is one of Riderwood's most popular floor plans, boasting an airy, open living and dining area with a spacious bedroom on either side. With patio and balcony options available, the design is perfect for those who like to entertain or spend time outdoors.  
Space and storage
"The Hastings has ample storage space for our clothing and personal items, including a large walk-in closet in the main bedroom and a good-sized closet in the second bedroom," says Yale. "We also find that we have a lot of counter space and storage options in the kitchen."
The Stenzlers use their second bedroom as a multipurpose space. "Because the two bedrooms are separated by the living room, one person can go to sleep while the other person watches TV, listens to music, reads, or uses the computer in the second bedroom," he adds.  
With an active social calendar, the couple finds their home to be the perfect place to wind down after a busy day. Together, Yale and Nicki enjoy swimming, playing pickleball, creating ceramics in the community's dedicated crafts studio, and participating in activities for Riderwood's Jewish residents.
"We also like dining in the on-site restaurants. They offer great food," says Yale. "We find time to walk around campus; join the hiking club; attend science lectures, foreign films, and music concerts and performances at the Encore Theater and the chapel; and visit the woodworking shop. There's so much to do here!"
Since moving to the community in June 2022, they've made the most of their maintenance-free lifestyle. "The sooner you move to Riderwood, the sooner you can enjoy the comforts of carefree retirement living!" says Yale.
Music to his ears
Clinton Marshall also chose a Hastings layout when he moved to Riderwood in June 2021.
"I appreciate the fact that there is ample room in our apartment home for everything we need, without feeling cramped or cluttered. The large main bedroom closet is a major asset," he says. "I can honestly say that it is a perfect fit for me. I wouldn't want any additional space."
The spacious floor plan also gives Clinton enough room to pursue his lifelong love of music.
"I was a music teacher for many years," he says. "I use my second bedroom as my music library--it stores my many recordings, music scores, and reference books. Music is a part of my life every single day at Riderwood."
And since he has an eat-in kitchen, Clinton was able to use the dining area for his grand piano.
"It's a good spot for sharing music with guests," he says. "Soon after I moved in, I had a party on the Fourth of July for my neighbors. It was a great way to meet new people and enjoy some patriotic music together."
Out and about
Like the Stenzlers, Clinton has immersed himself in community life by taking advantage of the amenities and activities right outside his door.  
"I am very active in the Opera at Riderwood," he says. "We show a complete opera, at no charge, to about 100 residents every Friday afternoon. I also teach a class titled Opera Forum that meets once a week. This class is an opportunity for residents to discuss the opera they watched the prior week and to hear a brief introduction to the opera we will be showing the next week."
Clinton also stays active by playing pickleball and walking around the beautifully landscaped, 120-acre campus every day.
Sage advice
For those considering a move to Riderwood, Clinton offers some firsthand advice.
"At the risk of sounding like I'm on the sales team, sign up for the priority list," jokes Clinton. "You have absolutely nothing to lose, and the benefits will help you come to the proper decision about when and where to move."
"Also," he continues, "schedule time to participate in the Live the Life experience, [which allows priority list members to stay overnight at the community and enjoy the same restaurants, activities, and amenities that current residents do]. In my opinion, this is the best way to determine whether Riderwood is the best fit for you."
To learn more about senior living at Riderwood, request your free brochure to get the scoop on amenities, floor plans, and so much more.
 
Back