Riderwood Residents Find the Key to a Healthy, Happy Life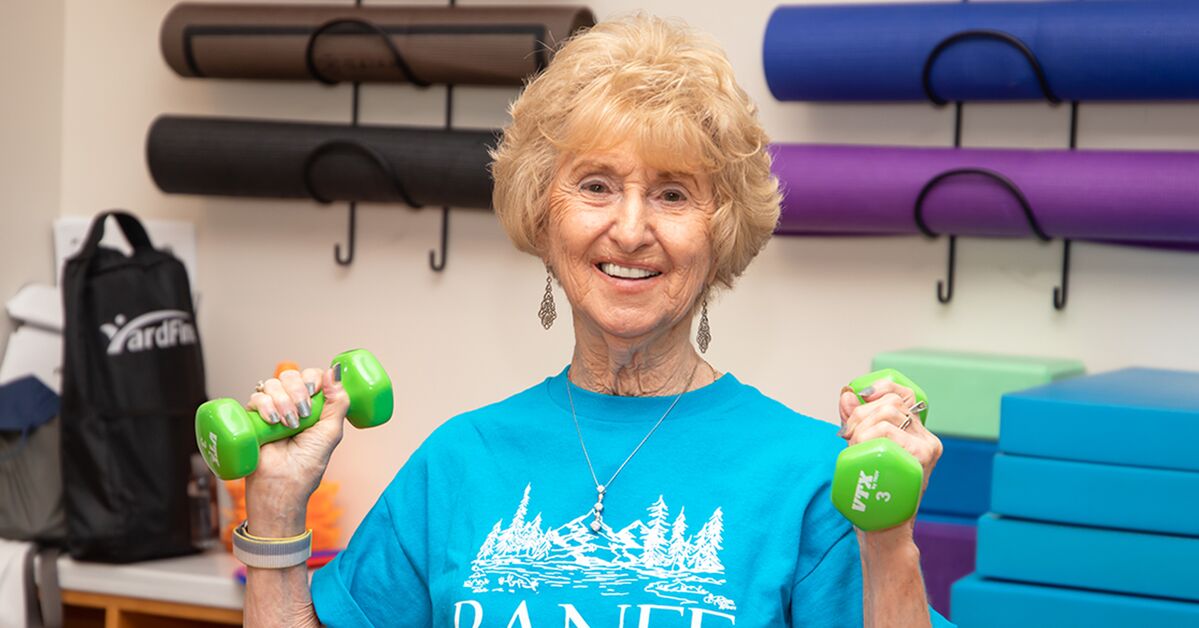 Staying on the go is nothing new for Anita Dunn, a resident of Riderwood, an Erickson Senior Living community in Silver Spring, Md.
"Before coming to Riderwood, I lived a very active life in Florida," she says. "I spent my time enjoying three or four activities a day, including a variety of clubs, tennis, and travel. It was important to me to move to a community where I could enjoy the same active lifestyle, and Riderwood has exceeded all my expectations."
Taking advantage of Riderwood's amenities and resources, which are designed to support all facets of well-being, Anita says she is happier - and healthier - than she would have been had she stayed in her former home.
Jumping in
It's easy to explore your interests and make friends at Riderwood, thanks to the wide range of clubs and activities, which reflect the community's diversity.
"When I moved in, I made the decision to jump in with two feet," says Anita. "I made a list of activities that interested me. I joined the pickleball group, played mah-jongg and canasta, and joined the 1940s Club. I meet new people at each activity I attend!"
Anita also enjoys taking classes at Riderwood's new state-of-the-art fitness and aquatics center several times a week. The two-story, 25,000 square-foot center boasts a large studio for personal and group training, a pool, a pickleball court, and a flex space for dancing and other activities.
A holistic approach
Riderwood's pastoral ministries staff helps residents foster spiritual wellness by creating opportunities for worship within 20 different faith and spiritual traditions. Each week, a variety of faith-based groups provides services for residents, as well as their family and friends.
As an active member of Riderwood's Jewish community, Anita attends Friday night services, study groups, and special holiday events. "The Jewish community at Riderwood is very active and inclusive," she says.
Riderwood residents - including Anita - enjoy access to the on-site medical center, staffed with full-time, certified professionals that specialize in senior health care. "I appreciate the convenience of the medical center," says Anita.
Further supporting the wellness of the Riderwood community, this year, Erickson Senior Living provided a multimillion-dollar investment, through its Well-Being Fund, to support the addition of enhanced health and well-being programs and services to residents.
Incorporating findings from the company's research partnership with Harvard University and the Benson Henry Institute (BHI) for Mind Body Medicine at Massachusetts General Hospital, these additions are designed to enhance the physical, emotional, and social well-being of residents.
"Through the Well-Being Fund, we are able to apply evidence-based research to further enhance the programs, amenities, and services available to better enable residents to achieve optimal health outcomes," notes Dr. Margaret Kimbell, vice president of community living for Erickson Senior Living.
Seeing the investment
Thanks to this investment, residents at all Erickson Senior Living communities now have greater access to tools and strategies that support resilience and overall health and well-being. Examples include Wellbeats, a new fitness app which allows residents to participate in on-demand and live exercise, yoga, and meditation classes from any location.
At Riderwood, the fitness centers recently received new, state-of-the-art equipment, including a smart mirror and Echelon fitness bikes.
"The Well-Being Fund also helped us certify two of our fitness staff members in Rock Steady Climbing, a boxing program specifically for people with Parkinson's disease, as well as the corresponding equipment such as gloves, wraps, and punching bags," says Fitness Manager Paula Butler.
The Well-Being Fund is also supporting renovations to a number of Riderwood's indoor and outdoor amenities, including meditation spaces, the dog park, and the outdoor recreation center that will feature a new putting green and driving range.
Looking ahead
As she looks forward to the New Year, Anita feels energized by the amenities and activities that are designed to help her reach her personal wellness goals.
"I am unbelievably happy with my decision," Anita says. "I live a very social life that includes as many people and activities as I can fit into my day. Everything I need is right here - from friendly neighbors and delicious restaurants to the wonderful medical center and staff. And my children are all happy that they no longer have to worry about me, should I become ill. They know I'm well cared for here at Riderwood."
Invest in your future self at Riderwood. From top-notch amenities to affordable, maintenance-free apartment homes, you are sure to live your retirement to the fullest. Request more information today!
Back