Riderwood Residents Enjoy Fresh Air and Fun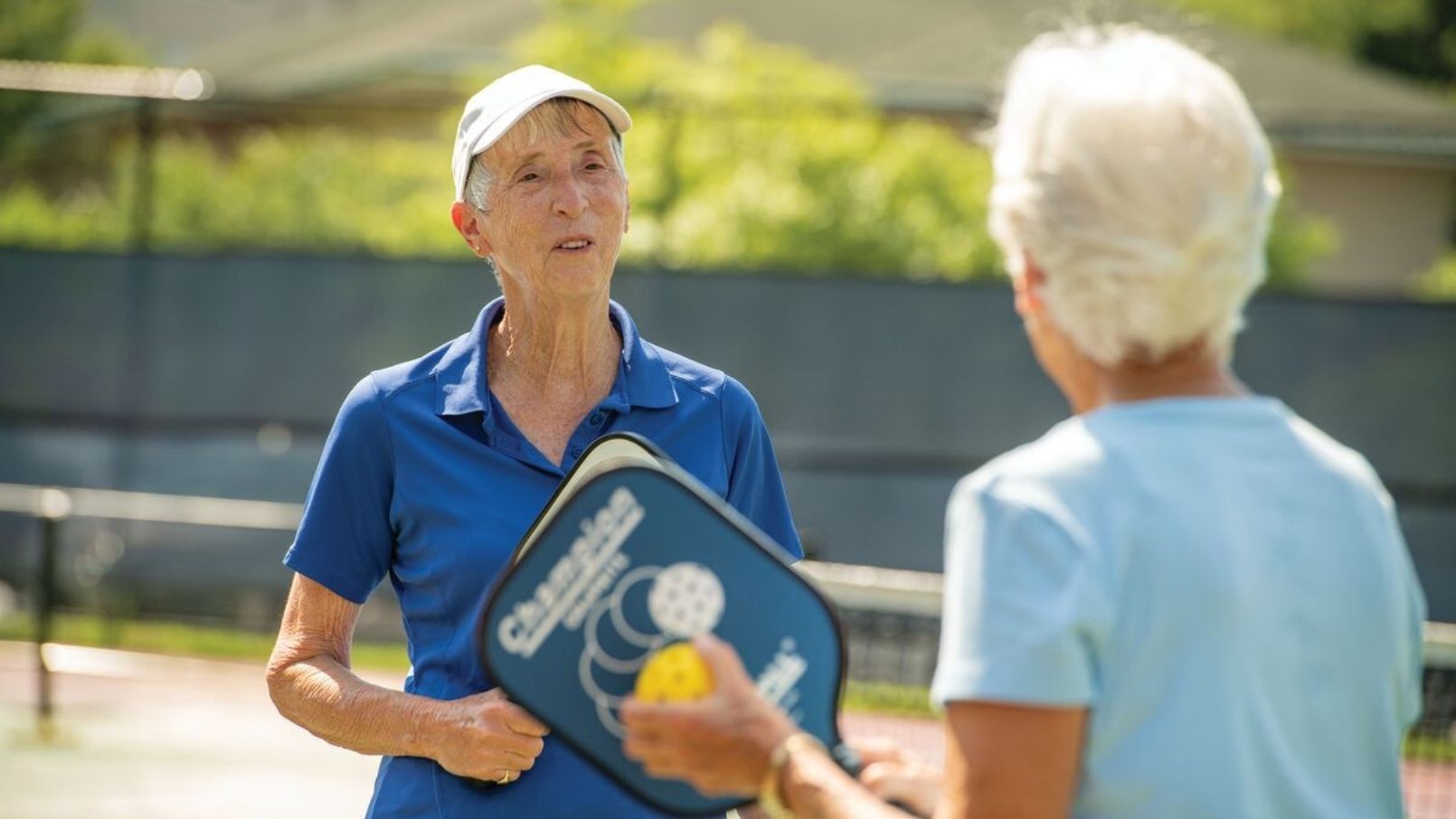 According to a study published by the American Journal of Preventative Medicine, "A growing body of research suggests that exposure to nature and time outdoors provides numerous health benefits, and an improved sense of well-being." For community members at Riderwood, an Erickson Senior Living managed community in Silver Spring, MD., the opportunities to reap the numerous health benefits of outdoor activity are limitless. Whether it's playing tennis, planting a garden, or enjoying long walks on the beautiful 120-acre campus, the community is brimming with amenities to meet all interests. "The popularity of our Riderwood's outdoor activities illustrates our residents' desire for healthy activities that promote both physical fitness and socialization," says Lori Simpson, resident life director. "As a community, we are committed to providing and maintaining opportunities for our community members to do just that."
Taking root
While having fun is the key objective, the added health benefits of time outdoors is icing on the cake for Riderwood community members. According to a research study at the University of Minnesota, "seniors who spend ample time in blue and green outdoor areas, such as grassy parks or on the edge of koi ponds, enjoy increased feelings of connectedness and renewal."
One of the most popular outdoor activities on campus, the Riderwood gardening club, provides a "green" outlet for fresh air and socialization on the beautiful campus. "I enjoy gardening for many reasons," says Mary Chor, community member and president of the Riderwood Garden Club. "Gardening is a stress reliever: an opportunity to be creative and experiment; a fun way to exercise while spending time with like-minded people; and, my favorite, the chance to get some dirt under my nails." According to Mary, about half of the Riderwood gardeners raise vegetables, while the other half grow flowers and shrubs. The bounty from the gardens is generously shared among neighbors.
Earlier this year, the club hosted their annual open house, teaming up with the Riderwood quilt club for a day of exploration, including a scavenger hunt highlighting many of the whimsical ornaments adorning many of the gardens. In addition to time with their hands in the soil, members of the garden club meet monthly to learn from experts in the field. This summer, Tom Meney, curator of the Gotelli Conifer Collection at the U.S. National Arboretum addressed the club. "This is an exciting time for our club as we continue to explore new ways to celebrate our love of gardening," says Mary. "We recently started a monthly happy hour as well as a listserv as a means of sharing tips and exchanging plants."
Relishing the fresh air
For those who enjoy friendly competition, the Riderwood pickleball club offers the perfect excuse to compete while reaping the many benefits of outdoor activity. "I never heard of pickleball before moving to Riderwood," says club president Bruce Donaldson. "I passed some neighbors playing, and as a former tennis and racquetball player, I was intrigued. I was warmly welcomed into the group and have been playing ever since. The health benefits associated with the game are an added bonus to the fun and socialization we derive from playing." Meeting to play a combination of mixed doubles and doubles pickleball, the players utilize two indoor courts in the new Wellness Building as well as four outdoor courts. "Over the last year, we really saw a big increase in the number of players wishing to play outside," says Bruce. "As a result, we've marked our tennis courts to create the four pickleball courts. It's a very popular place to play."
Something for everyone
This year, with the goal of extending their time together, Bruce formed a pickleball social committee responsible for organizing fun, team-building events for the group. "To date, we've hosted several luncheon and outdoor happy hours," he says. "Plans are currently in the works for a club dinner." In addition, the club recently hosted its first club tournament on the outdoor courts. Sixteen mixed doubles teams, chosen by lottery, competed both for fun and a trophy. Community members Cynnie Hood and Pat Knight won top honors, followed closely by Sarah Bishop and Jack Hessler. "Everyone had a great time and the event generated new interest in the club," says Bruce. "As a result, plans are underway for a second tournament this fall." "Riderwood is a great place to live and I'm grateful for the many opportunities to enjoy time with my neighbors," says Mary.
Don't wait to begin exploring vibrant senior living at Riderwood.  Request more information today.
Back