Out and About at Riderwood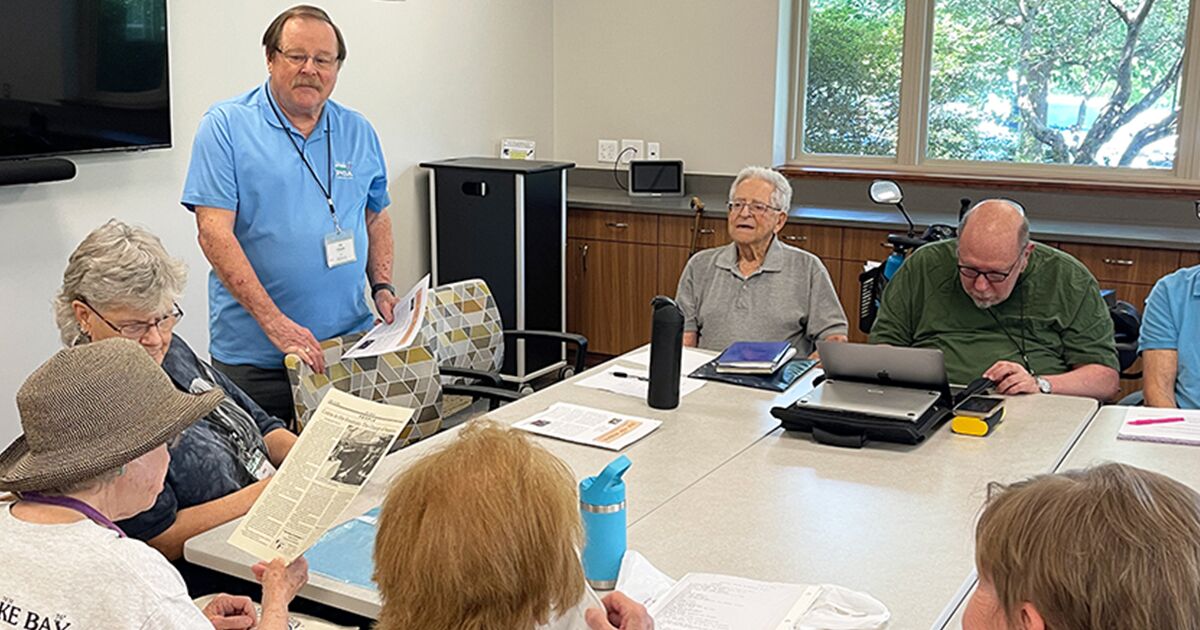 "My friends jokingly say I am always involved with something, but they're right," says Ed Vilade, a resident of Riderwood, an Erickson Senior Living community in Silver Spring, Md. "I balance my time between activities on and off campus. I enjoy being busy, so I do what I can to fit it all in."
At Riderwood, Ed keeps busy by singing in two choirs and participating in a number of clubs and groups. In the larger community, Ed performs with an opera company, takes voice lessons, and plays golf with friends.
"Ed's experience exemplifies the way Riderwood residents enjoy the best of both worlds," says Sales Director Josh Runkles. "There's so much to do on campus, but Riderwood's enviable location in Silver Spring, Md., makes it easy to access both Washington, D.C., and Baltimore, Md., for sporting events, arts and entertainment programs, and retail and dining options."
An artist's heart
Ed and his wife Alice moved to Riderwood seven years ago from nearby Bethesda, Md. 
"At the time, I was singing in a chorus and one of the members, who was living at Riderwood, invited me to come over and sing," says Ed. "Alice and I liked what we saw. We looked around at a variety of retirement communities, but Riderwood was our top choice. We really liked the activities and the people."
After settling into their apartment home, Ed dove into community life. He joined two chorus groups at Riderwood: The Gentleman Songsters, a men's chorus performing Broadway show tunes and favorite classics, and the Village Early Music Ensemble, a coed group singing musical selections from the 15th to 18th centuries.
Always looking for opportunities to exercise his love of performing, Ed also joined Riderwood's play reading group. 
"Residents audition to perform in a play reading," he says. "I've performed in two productions and am currently directing a reading of Under Milk Wood, a 1954 radio drama by Welsh poet Dylan Thomas."
In addition, Ed serves as chair of the Writers Guild, overseeing the publication and distribution of the group's periodic publication, Tales from Riderwood, filled with resident-written memoirs, fiction, and poems. 
"I also work with Caring Connections, a joint effort between residents and staff members to educate residents on the important financial, medical, and legal issues we must confront to ensure peace of mind as we grow older," he adds.
Casting a wide net
In addition to his numerous on-campus activities, Ed juggles a full calendar of endeavors in the larger community. 
On Wednesdays and Saturdays, he joins a group of his Riderwood neighbors for a round of golf at Montgomery County Parks' Northwest public course. But it's his lifelong passion for the performing arts that keeps him the busiest.
"I was an aspiring actor and singer as a young man--I even had a few paying gigs," he says. "Fifteen years ago, I began performing with the Victorian Lyric Opera Company, appearing in approximately 40 shows."
Recently, Ed performed in the company's productions of Gilbert and Sullivan's H.M.S. Pinafore and The Sorcerer. He is currently busy rehearsing for Johann Strauss II's Die Fledermaus.
"I keep performing because they keep casting me. I may be the oldest tenor in captivity!" he jokes. "I can still hit a B, so I'm the designated top note performer."
To keep himself in first-class performing condition, Ed travels to Rockville, Md., each week for voice lessons. "I wouldn't be singing without the lessons," he says. "My teacher ensures I sing with the proper technique."
Many of Ed's neighbors appreciate the opportunity to see him on stage. For his most recent production, more than two dozen community members traveled together--via Riderwood's shuttle service--to the F. Scott Fitzgerald Theatre in Rockville to see him perform.
The world at his feet
Remarkably, Ed also finds time to embark on at least two multi-week trips each year. This summer, the couple went on a boat tour of the Great Lakes, and they're looking forward to their upcoming trip to Scandinavia to celebrate Ed's birthday.
"We love to travel, and living at Riderwood makes it easy to do so," he says. "We inform security, hire a cat sitter, and head out the door. We've been to Australia, New Zealand, Antarctica, all over Europe, and around the U.S." 
Looking forward to the New Year, Ed plans to continue traveling, performing, and contributing to community life at Riderwood.
"The best part about being busy is enjoying enriching experiences," he says. "I am very happy here!"
To learn more about the benefits of moving to a community filled with interesting things to do, request more information today.
Back