Medical Professionals Enjoy Life to the Fullest at Riderwood - They Earned It!
By Kelly Shue
February 25, 2022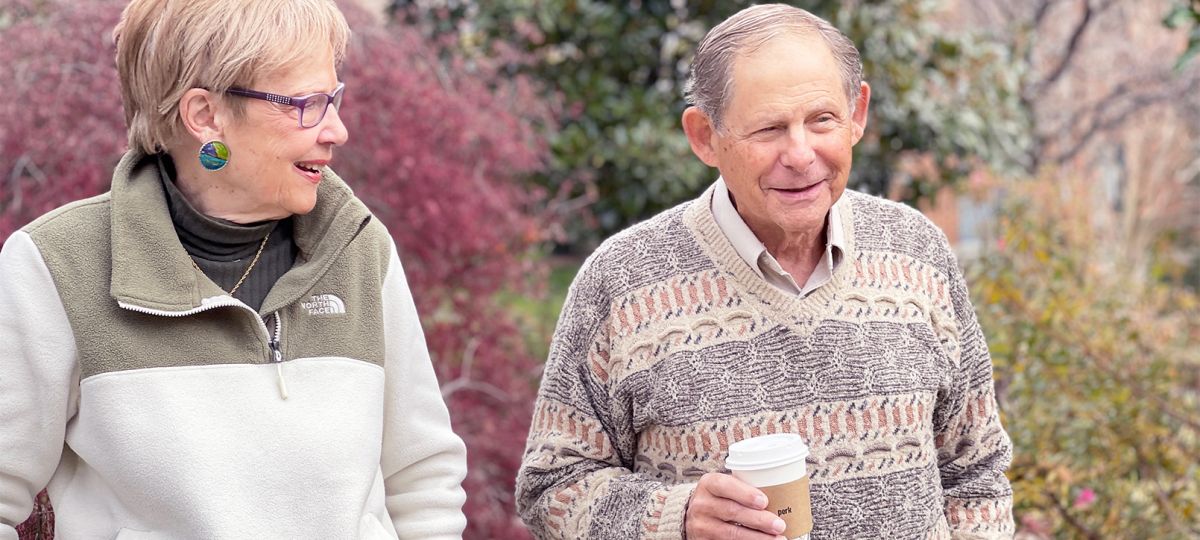 As residents of the Washington, D.C., area, for more than four decades, to be exact, Jon and Cathy Tuerk knew they couldn't part ways with the nation's capital they call home.
Fifteen years before they expected to move, they began looking at retirement communities in the D.C. area to plan ahead.
"We both knew we wanted to move to a continuing care retirement community [CCRC], so we began exploring our options," says Cathy. "That is when we first visited Riderwood. We both really liked what we saw." In December 2020, the couple became Riderwood residents.
Just like the Tuerks, many seniors have found that Riderwood is the perfect choice for those looking to enjoy a financially secure and active lifestyle with opportunities to learn, grow, socialize, and pursue their passions.
A plan takes shape
In 2012, the Tuerks moved from their single-family home in Chevy Chase to a Columbia Heights apartment in Washington, D.C. However, the couple's desire for diverse living ultimately became one of the many reasons they chose, eight years later, to move to Riderwood, an Erickson Senior Living community in Silver Spring, Md.
After witnessing the devastating effects of the pandemic within their Columbia Heights community, the Tuerks scheduled a visit to Riderwood. "We strongly felt that although it was sooner than we first planned, it was a good time to make our move," says Jon.
"Riderwood was helpful with the planning and moving process," says Jon.
The Tuerks note that they were drawn to Riderwood's strong financial standing, levels of medical care, and the wide range of activities.
Unbeatable value
"Personally, I was drawn to Erickson Senior Living's commitment to affordability - particularly for nurses and teachers. I'm a nurse myself! When we looked at other communities, that was always on my mind," says Cathy.
"Financially, moving to Riderwood was very reasonable," says Jon. "And what's more, we have a home for life. I like to think of our move to Riderwood as an insurance policy. No matter what happens to our health, many levels of care are available to us."
At Riderwood, the monthly service package bundles monthly and quarterly expenses for each apartment home - like electric, property taxes, water, cable, and Wi-Fi - into one predictable bill, allowing residents to balance their budgets with confidence. Plus, because the community functions on a 'pay-as-you-go' basis, Cathy and Jon cover those additional levels of care only if or when they need it.
As a physician, Jon notes that, "The on-site medical center and pharmacy provide a great advantage. We are both healthy now, but who knows what the future holds." He further explains that it's important to consider the benefits of being part of an established community that is staffed with on-call, trained professionals. "For us, the answer was Riderwood."
Riderwood's affordability also comes from the range of apartment home options. Whether you're looking for a quaint one-bedroom or a spacious two-bedroom floor plan, there's an apartment home for every need and budget.
Social activities
No longer worrying about the what-ifs of the future, the Tuerks enjoy taking full advantage of their new maintenance-free lives as Riderwood residents.
"It was important to us to become part of a community that represents a lot of different ethnic groups and nationalities," says Cathy. "We saw Riderwood as a diverse community in every way, shape, and form."
"There are so many activities here," she continues. "We are very busy and having a great time. The activities are just as diverse as the people. We are members of Riderwood's strong Jewish community and are so pleased at the variety - and openness - of all the faith offerings."
"It's so easy to make friends, especially when joining a club," says Jon, who is a member of both the Yiddish and French speaker groups.
And Cathy is proud to be the first female member of Riderwood's railroad club.
"The people living here are wonderful," she says. "It's remarkable to talk to neighbors about their amazing life experiences. There's a real feeling of family here."
Family ties
"I was very active in the LGBTQ+ community as a parent," says Cathy. "I'm very happy to find the support of an active LGBTQ+ community here at Riderwood. It's representative of the diverse community we are so happy to have found."
The couple's son Joshua and daughter Jennifer are pleased to see their parents so happy and well cared for.
"They are both very supportive of our decision," says Cathy. "They view our move as a gift to them. They will never have to make a decision for us."
Invest in your future at Riderwood. From top-notch amenities and activities to affordable, maintenance-free apartment homes, you'll enjoy living your retirement to the fullest. Request more information today!
Back