Josh Runkles Brings Wealth of Experience as New Sales Director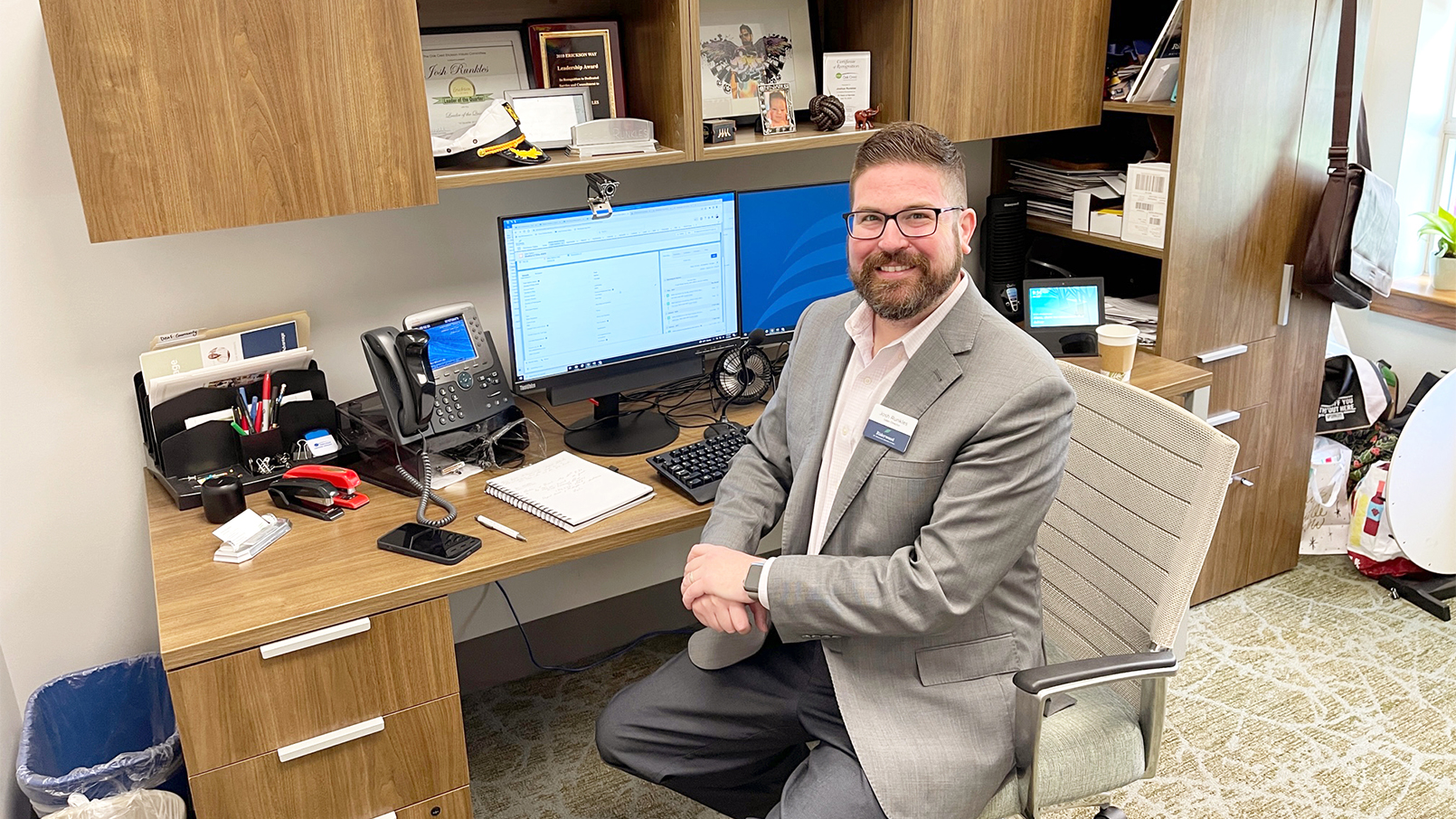 Riderwood is pleased to welcome Josh Runkles as the community's new director of sales.
But Runkles is no stranger to the unbeatable benefits of the Erickson Senior Living lifestyle. In 2005, Runkles joined Oak Crest, the Erickson community located in Parkville, Md. And since that time, he's helped thousands of people make the most of their retirement years.
"I am honored to join the remarkable team of professionals at Riderwood, as we work together to bring the Erickson Senior Living lifestyle to as many seniors as possible," he says. "I look forward to sharing this vibrant lifestyle - and unmatched senior living experience - with both our current and prospective residents."
Where it all began
Runkles was originally hired as Oak Crest's TV production coordinator and TV/AV Manager.
"It was a great introduction to life at an Erickson community," he says. "Oak Crest's TV studio is the center of communications for the campus. Working with both staff and residents, we produced a variety of programs, including a yearly telethon that raised over a half million dollars for the Benevolent Care Fund. I was so fortunate to work with lots of residents. I love getting people involved, and in doing so, I can remove many of the myths of what retirement may look like to certain people."
During his tenure as TV/AV manager, Runkles also worked with the Oak Crest sales team at a variety of events. Through this collaboration, he discovered his true passion.
"I found it thrilling to walk with people through the hallways and witness their reaction when seeing the community for the first time," he recalls.
"During these interactions, I enjoyed sharing personal experiences and highlighting the relationships between residents and staff. Many retirement communities offer a range of amenities, but it is our culture - influenced by each resident - that makes Erickson Senior Living stand apart. It is my passion to share that culture with others."
Smooth transition
With this in mind, Runkles moved over to the sales office, becoming Oak Crest's sales manager. "It provided lots of hands-on training for my new role as sales director," he says. "I spent time shadowing and filling in, as needed, for the sales director at Oak Crest. Through this dedication to our values and strong leadership, I gained experience handling a variety of responsibilities."
Prior to accepting his role as Riderwood's sales director, Runkles cherished the opportunity to work with the community's former sales director, George Mishraky.
"He is a terrific mentor, who provided me with a wonderful introduction to life at Riderwood," Runkles says. "I fully intend to carry on his legacy and the passion that he put into every interaction."
Full steam ahead
Looking forward, Runkles is most excited about meeting and engaging with people who want to know more about the community.
"The best way to share Riderwood's lifestyle with prospective residents is to provide opportunities where they can experience life on campus, while engaging with our current residents and staff," he explains.
To that end, Runkles and his sales team have taken steps to expand Riderwood's Live the Life program, in which prospective residents stay on campus for two nights, meet residents, and engage in a number of campus activities.
"In addition to our one-bedroom Live the Life suite, we recently opened a new two-bedroom suite, allowing us to accommodate more people," says Runkles. "I really like the idea of hosting two prospective residents or couples at the same time. That way, they can meet and dine with each other and, hopefully, form a bond before they move in."
Another facet of Runkles' leadership is open communication. "I believe it's important to understand why our current residents chose Riderwood," he says. By encouraging residents to share their ideas and feedback, "this will ensure that we continue to meet both their needs and expectations, as well as those of our future residents."
Runkles and his team are already poised to act on some feedback. After hearing the desire for an additional bath, the sales team decided to convert some one-bedroom, one bath apartment homes into one bedroom, one and a half bath styles.
In all his efforts, Runkles is grateful to work so closely with such an experienced sales team.
"Together, our team has 100 years' worth of Erickson Senior Living work experience," he says. "I am extremely thankful for this dedicated team that puts their whole heart into what we do, each and every day!"
Family man
When not at Riderwood, Runkles loves spending time with family - his wife Jamie, a labor and delivery nurse at Johns Hopkins Bayview Medical Center, his son Ethan (12), and his daughter Quinn (8).
"Together, we enjoy watching movies, listening to music, and going to the park," he says. "My wife and I try to attend as many live music shows as we can. We also like planning getaways to Cape May, N.J, and trying out new restaurants."
Given the welcoming, supportive culture at Riderwood, Runkles feels like his family has grown exponentially in just the past year. 
"Last year, we witnessed a record number of campus visits," he says. "It's a great place to be, and it's an exciting time for Riderwood. I encourage anyone interested in learning more to schedule a visit this summer."
To learn more about affordable, independent senior living at Riderwood, request your free brochure to get the scoop on amenities, floor plans, and so much more.
Back