Good Times in the Great Outdoors at Riderwood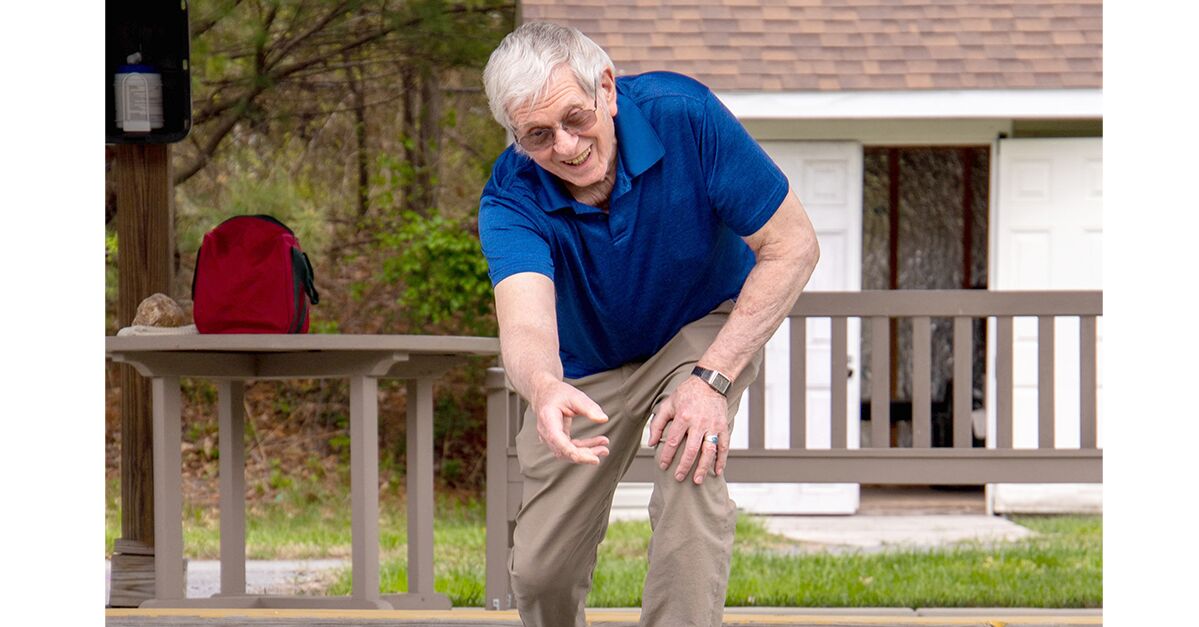 "Adults over 70 who spend time outdoors experience fewer sleep difficulties and enjoy improved mobility to perform daily activities," according to the Journal of Aging and Health. "Time outdoors also lowers blood pressure, reduces stress, improves mood and focus, helps in healing, and supports graceful aging."
Erickson Senior Living offers safe, accessible outdoor environments that encourage residents to get active and socialize, enhancing their overall well-being.
At Riderwood, the Erickson Senior Living community in Silver Spring, Md., residents reap the many benefits of time spent outdoors by connecting with friends and participating in an array of activities.
"Having an array of outdoor amenities is a key component to driving resident activity and maximizing their well-being," says Resident Life Manager Christopher Taydus. "There is so much to do outside on our campus."
Walk in the park
With 120 acres of scenic green space, Riderwood boasts a wide range of flowering trees and plants, well-maintained walking trails, and several ponds.
"I am a regular walker," says resident Henry Heilbrunn. "Every morning, throughout the four seasons, I look forward to a walk around campus. The three miles I track, all within the beautiful, gated campus grounds, go by quickly."
Henry notes that, most days, he passes neighbors walking their pups, golfers practicing their swings, and bocce and pickleball players in action.
Resident Sulocha Fernandopulle appreciates the flora and fauna she strolls by on her walks around campus.
"I enjoy all the outdoor walking paths," she says. "Riderwood has two lakes with walking paths around them. The path around Mallard Lake is rustic and always hosts some kind of wildlife. Blue herons are frequent visitors, as are red-winged blackbirds. We often see Canadian geese and deer at the end of the path, too."
Gardens galore
Green thumbs appreciate the Riderwood Garden Club, which tends to 168 garden spaces-some of which are fairy, rose, and bonsai themed. Home-grown vegetables, flowers, and herbs are generously shared among neighbors.
"I enjoy gardening for many reasons," says resident Mary Chor, president of the Riderwood Garden Club. "Gardening is a stress reliever. It's an opportunity to be creative and experiment, a fun way to exercise while spending time with like-minded people, and, my favorite, the chance to get some dirt under my nails!"
Even those who do not tend to a garden space, like spending time among the harvest.
"Walking through the community gardens is delightful, as there is something growing all the time," says Sulocha.
Sporting fun
For those with a competitive spirit, softball is just the beginning of Riderwood's long list of outdoor activities.
Last year, Erickson Senior Living provided a multimillion-dollar investment through its Well-Being Fund to support the addition of enhanced health and well-being amenities and services to residents in its communities across the country.
At Riderwood, funds were used to refresh the dog run and expand the outdoor recreation center to include new pickleball courts, a putting green, and a driving range.
Resident Jack Hessler, president of the Riderwood Bocce Club, utilizes the two bocce courts from mid-April to mid-November.
"Bocce is a perfect activity for many retirees because it requires no exceptional athletic ability," says Jack. "Everyone gets in some great exercise while enjoying fresh air and the wonderful outdoor ambience that Riderwood provides. Lots of people just show up and play when they can."
He adds, "The fact that bocce is an activity my wife Elaine and I can do together is a bonus!"
Al fresco options
After a busy day of soaking up the sun, residents relax and dine al fresco at the bistro in the Town Center Clubhouse and at the pub in Lakeside Commons Clubhouse.
"And even in the colder weather, residents gather around the firepits on the patio of our Wellness Center to enjoy s'mores and hot cocoa," says Taydus.
"Throughout the year, you'll find numerous residents participating in a variety of outdoor activities," he adds. "Outdoor campus-wide events include our annual Harvest and Summer Festivals, which feature live music, food trucks, arts and crafts, a photo booth, and a petting zoo."
Get outside!
Thanks to resident-led efforts and investments in outdoor spaces, an increasing number of Riderwood residents are finding ways to spend time outside, which is proving to be an integral part of their active, worry-free lifestyles.
To learn more about the ways residents are enjoying the great outdoors, request more information today!
Back