Design Your Dream Dwelling at Riderwood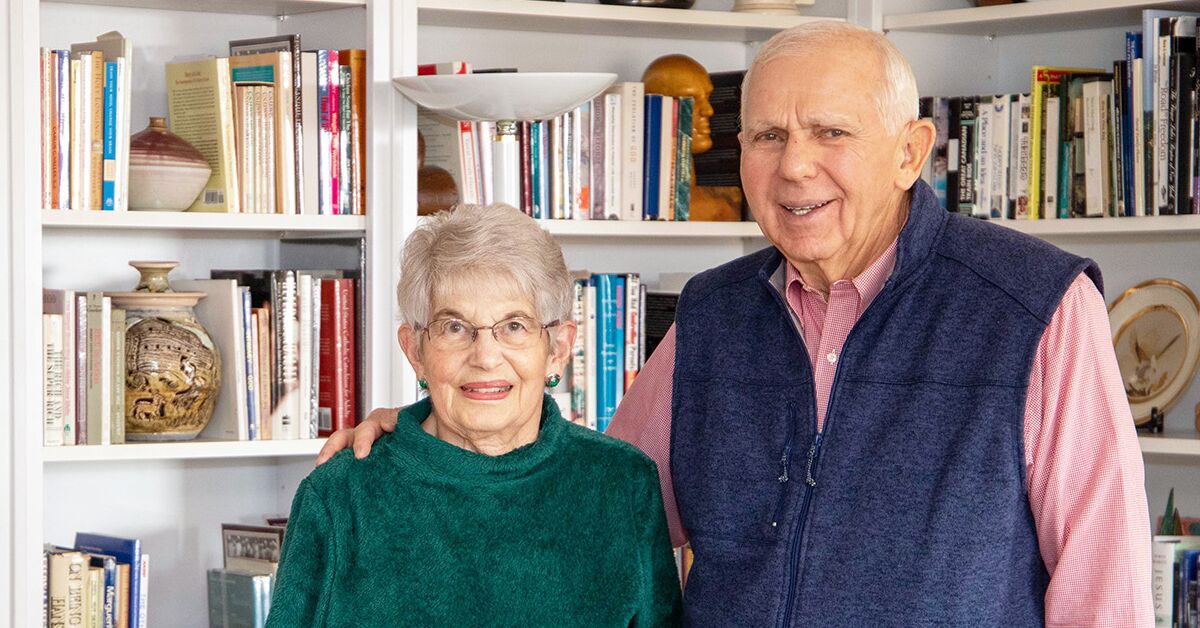 When Dr. Jim David and his wife Sue found a deluxe two-bedroom, two-bathroom apartment home at Riderwood, an Erickson Senior Living community in Silver Spring, Md., they were sold.
"It was the ideal apartment home for our lifestyle," says Jim. "Now, our home is beautiful, meets all of our needs, and is in the middle of a community filled with wonderful people and lots to do!"
What made their decision to move even easier were the impressive finishes in their residence.
"It's just like living in a house," says Sue. "After you live in it for a while, you begin to notice things you'd like to update or change. We were so pleased that we were able to make changes in our apartment home!"
Kara Wells, Riderwood's planning and moving consultant, works with residents to make their apartment homes exactly the way they want.
"Whether creating an office, art studio, or guest room out of a second bedroom, or simply adding special touches such as crown molding and window treatments, we are here to help," says Wells.
Customize your space
After researching seven other senior living communities in the area, the Davids realized that Riderwood checked all of their boxes.
"At the time, we were deciding between Riderwood and Charlestown, [another Erickson Senior Living community in Catonsville, Md.]," says Jim. "We listed all the things we wanted. We sent that list to both communities, and it was Riderwood that responded with the perfect apartment home - one that met all of our criteria and was readily available."
And to their benefit, they had already joined the community's priority list, so they had right of first refusal on their desired apartment home.
The couple's residence boasts a bright, open floor plan; a large kitchen; and a den, which they transformed into a shared office.
"We added bookshelves to cover one wall by the dining room," says Jim. "We also wanted the cabinets in the primary bath to be the same height as those in the kitchen, so we had taller cabinets installed."
And finally, he notes "we replaced the carpeting with new flooring."
"We were very pleased with the work and all the help we received!" says Sue.
A little refresh
After six years in their apartment home, the Davids recently decided that it was time to freshen up their living space.
"We wanted to upgrade the granite in our kitchen and bathrooms. We also added a custom backsplash in the kitchen," says Jim.
The Davids chose to work with the same preferred contractors, vetted for quality by Riderwood, that helped them with their first renovations.
"It worked out so well," says Jim. "Because they work with Riderwood, the contractors had all the original drawings and information on our apartment home. We are very happy with the quality of the work and the end result!"
More outside your door
Sue and Jim agree that what's outside their door, including an array of clubs, activities, and amenities, greatly contribute to their fulfillment at Riderwood.
Jim participates in the community's Neighbors In Deed program, which offers assistance to residents on an as-needed basis. "It's such a great program," he says. "Residents can call to get help on whatever they need."
As a retired psychotherapist, Jim has also given several talks on Riderwood-TV and continues to write articles for a variety of publications.
Together, they participate in Call to Community, serving as coordinators for their residence building. In this capacity, they work with each floor coordinator to welcome incoming residents and plan social events, making it easier for everyone to socialize and meet new people.
The couple also hosts a weekly Christian meditation group on Zoom, cohosts a peripheral neuropathy support group, and are active within the Riderwood Catholic community.
"We also go to the pool three times a week and participate in two bridge groups, a wine dinner group, and the 40s club," says Sue. "I've begun letter writing for a new gun safety organization too!"
'Living the good life'
At Erickson Senior Living communities, residents like Jim and Sue appreciate the opportunity for new beginnings - and the ability to create beautiful spaces where they can live the carefree retirement they've always imagined.
"It's a wonderful way to retire," says Sue.
"We are definitely living the good life," adds Jim.
Invest in your future self at Riderwood. From top-notch amenities to affordable, maintenance-free apartment homes, you are sure to live your retirement to the fullest. Request more information today!
Back