Collaboration and Communication Are a Recipe for Success in Riderwood's Restaurants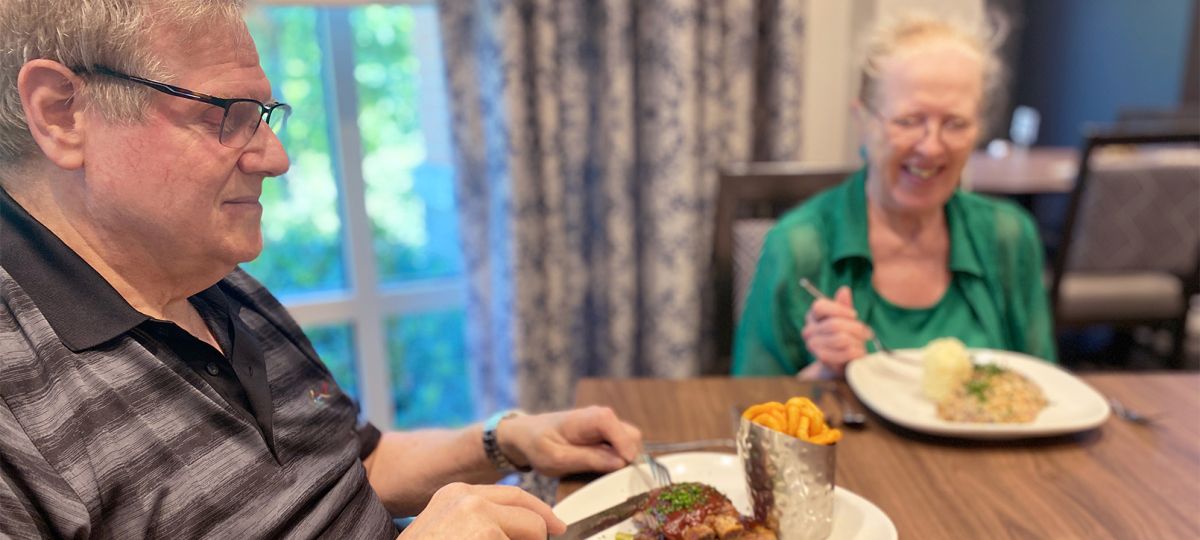 "The food here is delicious!" says Riderwood resident Diane Matuszak. "My favorite entrée is the rack of lamb, followed by the beef bourguignon." She also enjoys the friendly, attentive staff members, who make every meal an experience to be savored.
For resident Neil Copeland, "The best part of dining at Riderwood is the variety. The menus offer something for everyone - poultry, seafood, meat, and vegetarian. My favorite restaurants are the Seasons at Town Center, Hilltop Table at Montgomery Station, and Overlook at Lakeside Commons. They present a modern, comfortable atmosphere."
Neil and Diane both serve on the Resident Advisory Council's dining committee at Riderwood, an Erickson Senior Living community in Silver Spring, Md., giving them a say in menu selections at four full-service and four fast-casual restaurants on campus.
The popularity of these restaurants is largely due to the community's Signature Dining program, which emphasizes preparing high-quality, made-to-order meals. Other impressive elements of the dining experience at Riderwood include customized recipes, meals created with fresh ingredients by culinary professionals, and opportunities to socialize.
Service with a smile
"With Signature Dining, the chefs and the student servers are committed to the highest degree of culinary integrity," says Executive Chef Chad Wisner.
Riderwood chefs appreciate the opportunity to showcase their creativity while meeting the various needs and tastes of residents.
"Signature Dining acts as a bridge between my passions for food, people, and teaching," says Wisner. "It allows the culinary team to leave their mark not only on Riderwood, but on the senior living industry as a whole, as Erickson Senior Living raises the bar for how we take care of our residents."
Tastes around the world
While Riderwood's talented chefs make it their priority to create healthy, delicious dishes that meet different dietary needs, they also strive to reflect the diversity of the community in their entrée selections.
"Both our staff and residents are well-traveled and food-centric," says Wisner. "As a result, we are able to be expansive in the kind of cuisine that we serve. In addition, Riderwood's diversity sparks rich conversations about food, culture, and life experiences. It's exciting to offer creative menus that showcase different cultures."
The dining services team often also works hand-in-hand with the community's diversity, inclusion, and belonging committee, which seeks to recognize diversity through special events and programs.
"Each month, we host special food-featured events," says Wisner. "These special events are a lot of fun and provide staff the opportunity to think outside of the box."
Powerful partnership
The dining services team also collaborates closely with the resident-led dining committee to ensure that feedback from community members is taken under consideration.
"I think we have an excellent relationship, between dining staff and the committee," says Diane.
Diane, Neil, and their fellow committee members meet with Wisner on a monthly basis. "Our committee continuously observes the community's dining options and receives input from other residents," says Neil. "We then share this information, in an effort to enhance everyone's dining experience. Our goal is to be the voice of the residents - to make sure that their opinions are represented and effectively communicated to management."
"Our culinary team puts a lot of thought into the food we deliver to our residents," says Wisner. "Our meetings with the dining committee generate important feedback that drives our final decisions. In addition, our chefs visit residents as they dine, hearing in-the-moment feedback that we use as part of our menu creation process. This is very important to our residents."
First-hand experience
For those interested in tasting Riderwood's dining options for themselves, Sales Director Josh Runkles encourages reserving a spot at one of the community's monthly informational luncheons. "Our luncheons are a great way for guests to enjoy many of the same menu items our residents choose from daily," he says.
Currently, luncheon guests enjoy a savory three-course meal beginning with a baby fall greens salad, topped with oranges, craisins, and toasted almonds, and finished with a drizzle of champagne vinaigrette. The star of the show - the grilled filet mignon entrée - is served with a brandy-infused demi-glace, cauliflower mashed potatoes, and roasted butternut squash. The meal concludes with a fresh fruit of the forest pie. "I believe it's so important to learn about the many delicious options available to residents," says Diane. "These luncheons are a wonderful treat."
Invest in your future at Riderwood. From top-notch amenities and activities to affordable, maintenance-free apartment homes, you'll enjoy living your retirement to the fullest. Request more information today!
Back