The Benefits of a Stay in Riderwood's Live the Life Suite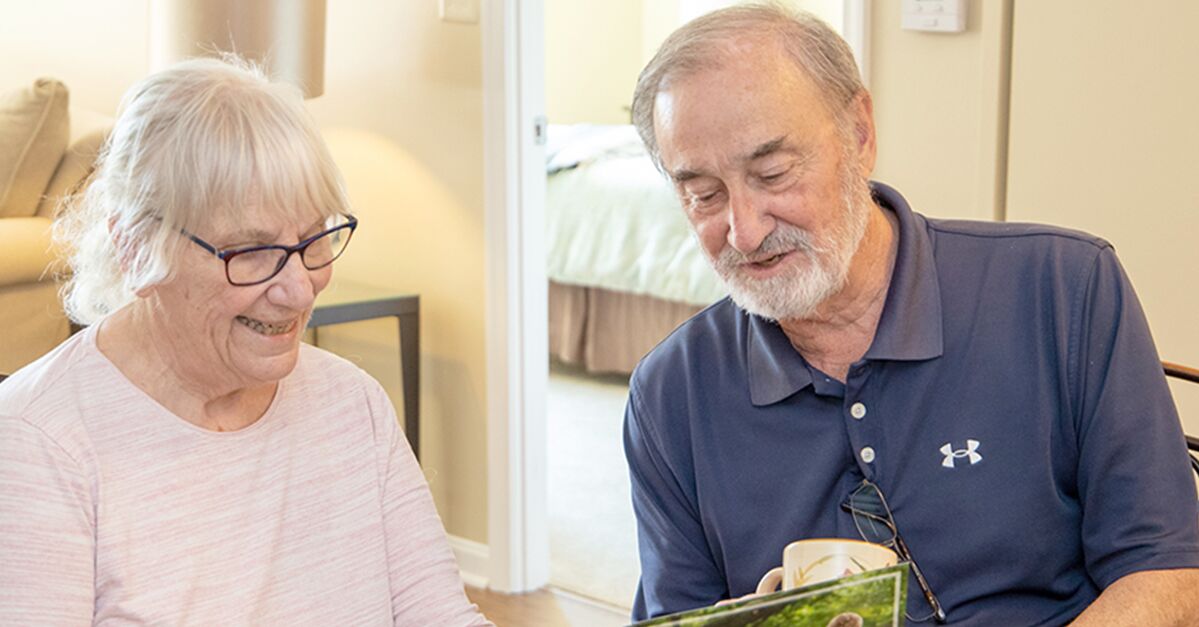 John "Skip" and Gail Plate haven't yet moved into their new apartment home at Riderwood, an Erickson Senior Living community in Silver Spring, Md., but they've already experienced the community's vibrant lifestyle firsthand-staying overnight in a Live the Life suite.
Riderwood priority list members like Skip and Gale gain right of first refusal on their desired apartment homes before the general public and access to exclusive events and perks, such as the Live the Life experience.
"We really wanted to see what it was like to live there," says Gail. "Our stay confirmed that Riderwood is where we want to be!"
A great experience
The Plates' journey to the sought-after community began years ago, when Skip's mother moved to Oak Crest, another Erickson Senior Living community, in Parkville, Md.
"My mom lived at Oak Crest for 18 years," says Skip. "We loved everything about the community, and most importantly, my mom loved it! It's a beautiful place to live. She was very active there until she passed away at 98."
The couple's knowledge of and experience with Erickson Senior Living is what led them to learn more about Riderwood.
After attending several informational events and seminars and conferring with members of the Riderwood sales team, the Plates decided on a two-bedroom, two-bath apartment home design.
Eager to immerse themselves in community life, the couple decided to enjoy an overnight stay in the Live the Life suite.
Living the life
"It was wonderful!" says Gail. "We really got a feel for the community. We swam in the pool and visited some of the activities and groups that we learned about at previous priority list events-the social aspect of Riderwood was a huge draw for us. We found everyone to be very welcoming and helpful."
"We walked a lot," says Skip of the scenic, 120-acre community. "At first, it takes a minute to figure out where you are going. After that, we had it all worked out."
During their stay, the Plates also dined with current Riderwood residents at two of the community's on-site restaurants.
"We were joined by two very nice couples," says Gail. "They were very honest, chatting about their experiences. We enjoyed the excellent food and experiencing the service. Seeing what daily life is like on campus was priceless!"
Home sweet home
By staying in one of the Live the Life suites, which have the same floor plans as apartment homes offered at the community, Gail and Skip got the opportunity to imagine what their future space would look like.  
"Our stay helped us visualize the transition from a four-bedroom house to an apartment home," explains Skip. "I could see how moving to a one-floor home has its advantages."
Decoration inspiration
"It was beautifully decorated," adds Gail, who left with a different perspective-more appreciation, even-on some of her furniture. "Prior to our stay, I thought I wanted to buy all new furniture for our new home. But, we decided to move with some pieces we had. It'll make it feel like home instantly."
Following their stay, the Plates worked with the sales team to establish moving plans, design a furniture layout, and make customizations to their apartment home, including new flooring, cabinets, and paint.
"I am very particular," says Gail, with a laugh. "I've remodeled our house several times. There are certain things I wanted in our apartment home, such as taking out some closets, and removing some doors. Everyone has been very helpful, emphasizing that we can personalize our space-this is our new home."
Looking ahead
With their move just weeks away, Skip and Gail are excited that they will be able to continue meaningful traditions with their family.  
"We're looking forward to hosting family dinners and game night here," says Gail. "And, our grandkids are nearby, so we'll still be a part of all their activities too, including driving them to their dance lessons and baseball practices."
"From my mom's perspective, she wished she moved sooner," notes Skip. "We are taking her advice-living here longer and enjoying it all. My advice is, if you are thinking about moving, you should do it. Life's too short to put it off!"
To learn more about senior living at Riderwood, request your free brochure to get the scoop on amenities, floor plans, and so much more.
 
Back