Welcoming New Sales Director Ryan Doherty
Jill Dutton
January 26, 2023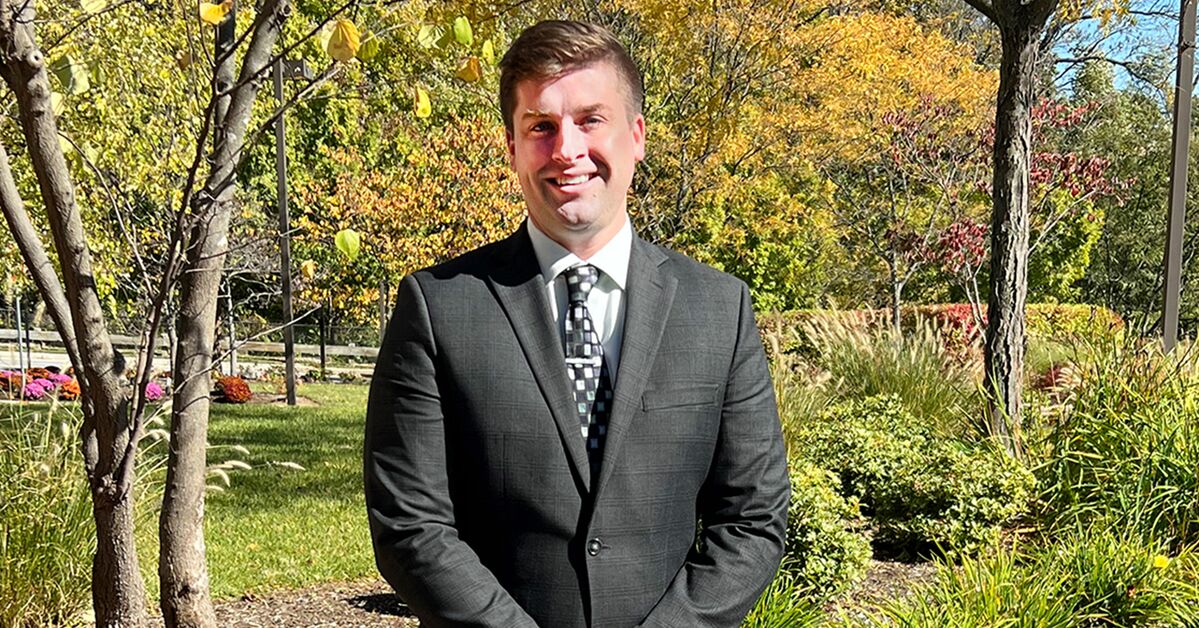 Ryan Doherty has been promoted to sales director at Maris Grove, an Erickson Senior Living community in the Brandywine Valley of Pennsylvania--continuing a career he began with the company 15 years ago while still in college. 
Climbing the ladder
Doherty started his career in senior living at Ann's Choice, the Erickson Senior Living community in Bucks County, Pa., in 2007. He worked full-time with the community's dining services, first as a cook and then as a supervisor, all while attending Temple University.
After earning a degree in business administration with a major in marketing, he became the administrative assistant for not one, but two teams at Ann's Choice: dining services and resident life.
"It was a hybrid role where I spent half of my time with dining services and the other half with resident life," Doherty says. "It was a great opportunity because I got exposure to the interworking of different departments within the community, which helped me a lot in the long run."
Later, he circled back to dining services full-time, fulfilling the role of manager for the Garden Restaurant.
A few years later, he joined the sales team as senior sales associate before moving up the ranks to sales counselor. He worked as a sales counselor at Ann's Choice for six years, helping more than 2,500 people choose the community's worry-free lifestyle. Then he was promoted to  sales director at Maris Grove.
As a sales counselor, Doherty always went above and beyond, taking on the lion's share of sales appointments, managing the priority and waiting lists, and keeping an inventory of apartment homes.
In his new position as sales director, he's overseeing the sales team's numbers as well as developing and maintaining interdepartmental relationships.
"Attaining annual goals is my driving factor," he says, "but helping my team be successful, in whatever ways they need, is even more important to me."
And when Doherty was helping his wife's grandmother move to Ann's Choice six years ago, he gained firsthand insight into what impact the sales team can have on prospective and new community members.
"It was incredibly rewarding, to see how our staff went all out to help make the move as easy and seamless as possible," he notes. "It inspires me to be better every day."
Doherty remembers that, in his first few days working in the dining department, he knew he had joined the right company.
"In the interactions I had with residents, and seeing how happy they were in the lives they provided for themselves by moving to the community, I remember being blown away," he says. "I knew then and there that this was a great opportunity and a great environment for me."
Working in sales was appealing, explains Doherty, because it meant that he could be part of providing that higher-level experience and personal service.
Doherty also notes that while there are a few differences between Ann's Choice and Maris Grove, he was pleased to see the same positive, vibrant culture at both communities.
"There's a true sense of belonging that Erickson Senior Living instills in its communities. A warm welcome is offered to both new employees and new residents," Doherty says.
Excited about the future
"I couldn't be more excited to be at Maris Grove," Doherty says. "Because I worked at Ann's Choice--just on the other side of the Philadelphia area--I've always had a lot of interaction with the Maris Grove team. So, I feel like this is a home away from home already. When I heard about this opportunity opening up, it seemed like the perfect fit because I felt so comfortable already."
After 15 years, Doherty knows his career is moving in the right direction.
"From the very beginning of my career with Erickson Senior Living, I knew that I wanted to be in a position where I could make the biggest impact," he says. "In this role, I think I'm ready to make a difference!"
To learn more about affordable, independent senior living at Maris Grove, request your free brochure to get the scoop on amenities, floor plans, and so much more.
Back