The Value of Friendship at Maris Grove
Jill Dutton
January 9, 2023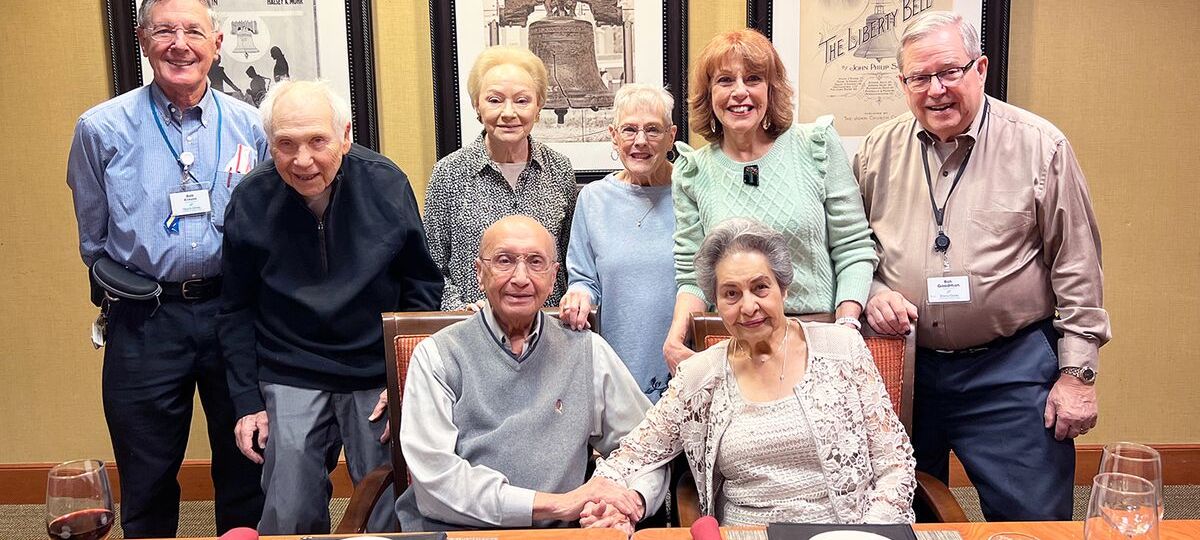 When Barbara Miller moved to Maris Grove, an Erickson Senior Living community in the Brandywine Valley of Pennsylvania, she was delighted to discover that her apartment home was new--as well as all of the neighbors in her building.
"I feel fortunate to have made so many friends in my building," Barbara says. "We all bonded because we had this life-changing move in common. We were all new and looking for friends. So, between the welcoming feeling in my building and having a brother who lives here, I felt right at home."
Her brother, who moved in just a year before she did, introduced Barbara to even more people.
"I found everyone here to be extremely warm and intelligent," Barbara says. "There's a goodness in the quality of people I meet and the stories we share. I immediately started to bond with the people I met."
The power of connection
"Having enjoyable social connections is an important, yet often overlooked, aspect of personal health and well-being," says Dr. Matt Narrett, chief medical officer at Erickson Senior Living.
"From a robust calendar of events and dozens of clubs to sharing a meal together with friends, our communities are designed to maximize social engagement opportunities."
Missy Scheer, community resources manager at Maris Grove, couldn't agree more.
"Each day, I see people making new connections and socializing with existing friends. It's often over a common interest, such as card games. Other times, it's just for a chat in the hall," notes Scheer. "Everyone is so friendly and welcoming to people who have just moved in, and if current residents see someone new in the hallway, they'll stop and introduce themselves."
A popular way of meeting new people, says Scheer, is through the Maris Grove Connectors. "In this program, we pair resident volunteers with those who have just moved in to share a meal together and participate in the same activities. It's a quick way to get acquainted with a lot of faces!"
Express yourself
For Barbara, joining clubs is her favorite way to meet like-minded neighbors. "The clubs at Maris Grove are delightful! They offer us ways to connect with people and express ourselves."
While Barbara has written poetry for years, she never had a place to share her work with others--until now. The poetry club at Maris Grove meets monthly to read poetry that members have written or enjoy the works of a favorite poet.
"It's a wonderful little group," she says. "There's no critiquing. It's just a pleasant hour where we expose ourselves to all kinds of poetry--that's a lovely resource to have as an artist."
Barbara's poetry, well-loved by many, is featured frequently in the monthly Maris Grove newsletter.
And as a longtime board member of Tri-County Concerts, a classical music organization, Barbara wanted to bring her love of classical music to the community.
"Tri-County Concerts, which has been in business for 82 years, sponsors young professional soloists who play around the world," Barbara says.
"When I first moved here, I didn't think there would be enough interest in a classical music club, but recently, a woman who was a music professor and opera singer started the club--80 people showed up for the first meeting! She's a charming woman with a big personality."
Barbara and the classical music club held their first concert this past October. 
A busy social calendar
With such a busy social calendar, Barbara keeps a detailed list of activities she has planned. Monday nights are reserved for group dinners with her floor mates, she says, but any other time, you can find her at club meetings, attending lectures, or visiting her brother and sister-in-law in Rose Court.
Scheer says she enjoys seeing how easy it is for residents to make connections.
"Friendships are a key part of living at Maris Grove, and it's all thanks to the community's active lifestyle," says Scheer. "I see people who do not know anyone when they move in quickly fill their calendar with activities."
"It's just the most wonderful place on earth to find a support system," notes Barbara. "I'm a widow, so if I'd never moved, I would have been alone in my house. I never could have been able to connect with all the friends that I have here."
Invest in your future at Maris Grove. From top-notch amenities and activities to affordable, maintenance-free apartment homes, you'll enjoy living your retirement to the fullest. Request more information today!
Back