Upgrades to Brinton Clubhouse Create Opportunities for Connection
Jill Dutton
November 3, 2023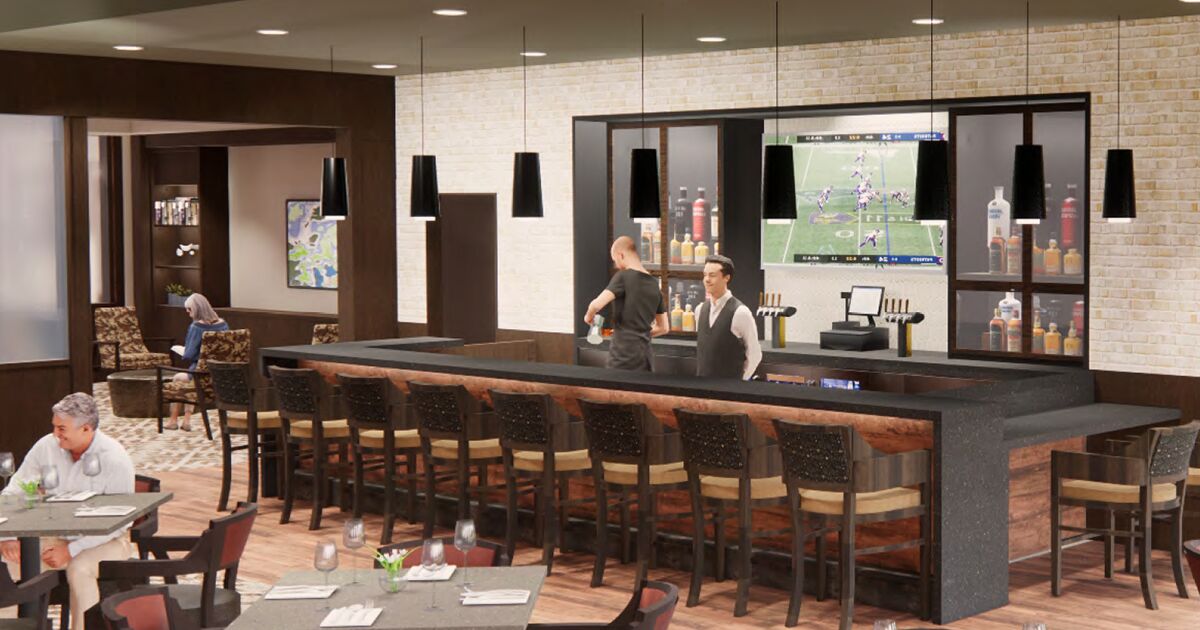 Pete Bellavin, a resident at Maris Grove, an Erickson Senior Living community in the Brandywine Valley of Pennsylvania, maintains a very busy schedule. 
When he's not working on "warm glass" projects in the crafts studio, he's attending Italian American club meetings, serving as treasurer of the bird club, and growing vegetables and flowers in his dedicated space in the community garden--and somehow finds time to chair the Resident Advisory Council's dining committee! 
The committee--completely resident-run--consists of 14 members, each representing a different neighborhood of the community. In his role as dining committee chair, Pete meets with the Dining Services team twice a month to find out what's going on around campus. 
Recently, Pete has been discussing some big news with the Dining Services team: A host of renovation projects are underway at the Brinton Clubhouse, including enhancements to the on-site restaurants. 
"We're bringing a new energy to the Brinton Clubhouse with updated finishes and contemporary designs," explains Sales Director Ryan Doherty. "Staff and residents are excited!"
Resident input
Maris Grove's restaurants, serving made-to-order meals crafted by professional chefs, are hubs of social activity. Whether catching up with friends or meeting a new neighbor, residents savor delectable meals and meaningful conversation at the dinner table. 
"Our restaurants are an integral part of the active, engaged lifestyle we offer," notes Doherty. "Residents are pleased to see that our dining venues are being reimagined to create modern, lively environments." 
The new Coeburn Cafe, a bright and airy casual cafe in the Brinton Clubhouse, will offer lunch and dinner options.
The existing Millstone Restaurant will undergo a transformation to divide the space into two separate dining venues--one a traditional restaurant and the other a pub-style venue, featuring an updated menu that correlates with the modern design. The names for both new venues will be decided by residents.
"We appreciate having the opportunity to provide input into these decisions," says Pete, who's also been tasting new menu items and trying out seating options. "We're testing them to give feedback, regarding the comfort and usability of the chairs. We've offered suggestions based on the restaurants' renderings as well." 
Do what you love
Maureen Heckler, executive director of Maris Grove, notes that the clubhouse will be renovated in two phases. The first phase, which began earlier in the year, includes an overall refresh of the first and second floors. 
"The new carpet, furniture, and decor planned for these spaces are stunning," she says. "Phase I also includes the creation of the second restaurant."
Phase II, starting in 2024, will expand both floors and bring an array of top-notch amenities. The new fitness studio, boasting state-of-the-art exercise equipment and facilities, will enhance residents' active and healthy lifestyles. A lounge with billiards tables, an indoor-outdoor fireplace, and a balcony overlooking the courtyard will be the perfect place for neighbors and friends to socialize. 
"Whether you're looking for relaxation or recreation, Brinton Clubhouse will have you covered!" jokes Doherty. "So far, resident responses have been fantastic. The new clubhouse will create even more opportunities for residents to do the things they love."
Investing in the future
These enhancements were born out of a vision to improve upon existing amenities, create even more inviting spaces that encourage social interaction, and pave the way for a new generation of residents. 
To meet retirees' burgeoning demand for an active lifestyle, existing Erickson Senior Living communities across the nation--just like Maris Grove--will benefit from over $500 million in upgrades and renovations.
"Brinton Clubhouse's renovations stand as a testament to Erickson's commitment to fostering an enriching and engaging environment for all its residents," says Doherty. "We're also expanding the marketplace, where residents can pick up pantry staples such as bread and milk. The on-site CVS Pharmacy will be updated as well." 
With all these changes on the horizon, Maris Grove residents have a lot to look forward to. 
"It's all very exciting!" says Pete. "We appreciate all the consideration and planning that went into these renovations."
To learn more about senior living at Maris Grove, request your free brochure to get the scoop on amenities, floor plans, and so much more.
Back