Staying Active and Social at Maris Grove
Dorrie Anshel
February 18, 2022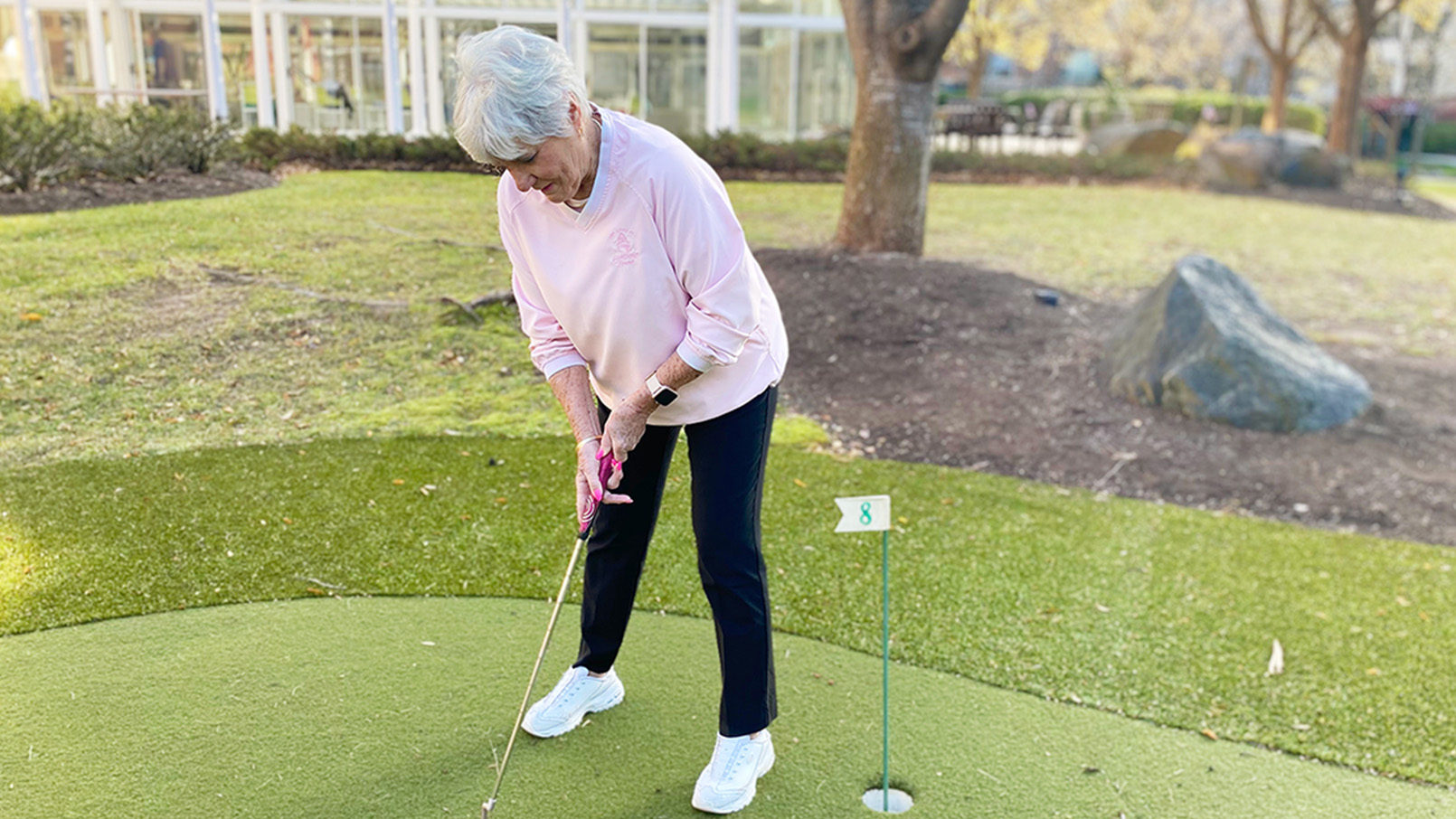 Ask any community member at Maris Grove about their previous career, and you're likely to hear a story of loyalty and service, culminating with the proverbial gold watch. For a significant number, those stories revolve around DuPont - a company whose legacy and influence remain strong at this Erickson Senior Living community in Brandywine Valley, Pa.
Such was the case for Yvonne Suarez, whose late husband Tom, a doctor in organic chemistry, spent his career in research at DuPont. After he passed away in 1999, Yvonne had to decide whether to remain in her large house in Wilmington, Del., or to find a new community that would support her goals as an individual - to live an active, social, and engaging life.
At Maris Grove, just seven miles from her house in Delaware, she found the perfect formula for vibrant retirement living, and she couldn't be happier.
A transcontinental journey
While much of Yvonne's story sounds typically American, she grew up in Argentina, where she was raised by her British father and her mother, whose parents were of English and Spanish descent.
"To this day, I'm still not sure which language I spoke first!" she laughs.
With both her and Tom being bilingual, the couple had a tremendous advantage when they emigrated to the U.S. together in 1961.
While Tom got his dream job as a research chemist in the States, Yvonne found her true calling as an interpreter. She volunteered in Wilmington, Del.-area schools and at the Nemours Children's Hospital for 21 years.
Yvonne, who played tennis competitively all her life, later made a living out of the game as well. She owned a successful shop called Yvonne's Tennis Boutique.
"It was a wonderful way for me to keep my hand in the game, so to speak," she says, with a smile.
'This is it'
"I loved it and continued right up until the time I discovered and moved to Maris Grove," she says, reflecting back on her volunteer days.
"I enjoyed living in Wilmington, so I knew I wanted to stay in Delaware," she adds. "Plus, there was nothing comparable to Maris Grove. As soon as I toured the community, I thought, 'This is it.' The location is close to my sons and perfect for maintaining my lifelong friendships."
And once she discovered the large number of former DuPont employees who chose Maris Grove, "That was all I needed to know," Yvonne remarks. "They are careful decision-makers, and I thought, 'If they like it, I know I'll find the things that matter to me.'"
Those things included an active lifestyle, excellent health care, and a sound financial structure.
"I'm an active person who likes to keep moving," she says, harkening back to her days as a tennis player. "If you're bored here, it's your own doing, because there's always something going on!"
Yvonne also found the availability of high-quality, senior-focused health care on campus appealing.
"Thanks to DuPont, I know good health care," she says. "I think the care offered at the medical center is as good as anything we received at DuPont," she says.
Finally, the 90% refundable entry deposit was a benefit she couldn't overlook. "I always planned to leave something to my sons, so knowing that money will be returned is very attractive to me," she says.
An easy transition
Once Yvonne sold her house - with help from a real estate agent recommended by Maris Grove - she took significant strides toward embracing her new life.
Since moving to Maris Grove last March, Yvonne has started playing golf, bocce, billiards, and board games with her neighbors. She also joined the Ambassadors and the Connectors, two groups that help new community members adapt to life at Maris Grove.
"Moving as a single person posed some unique challenges, so I love to help others make a smooth transition," she says.
"On my second day here," she recalls, "I told my neighbor that I was determined to find my way around independently. She replied, 'You have to lose yourself to find your way.' She meant it literally, but that's something I've done my entire life - start over, find my way, embrace new experiences, and trust that things will work out."
Yvonne has nothing but amazing things to say about the community she now calls home: "I'm thriving here, with lots of friends and activities to keep me busy all day. I love Maris Grove and couldn't be happier with my decision." 
To learn more about affordable, independent senior living at Maris Grove, request your free brochure to get the scoop on amenities, floor plans, and so much more.
Back