Siblings Move to Carefree Maris Grove, Strengthening Their Connection
Jill Dutton
October 13, 2022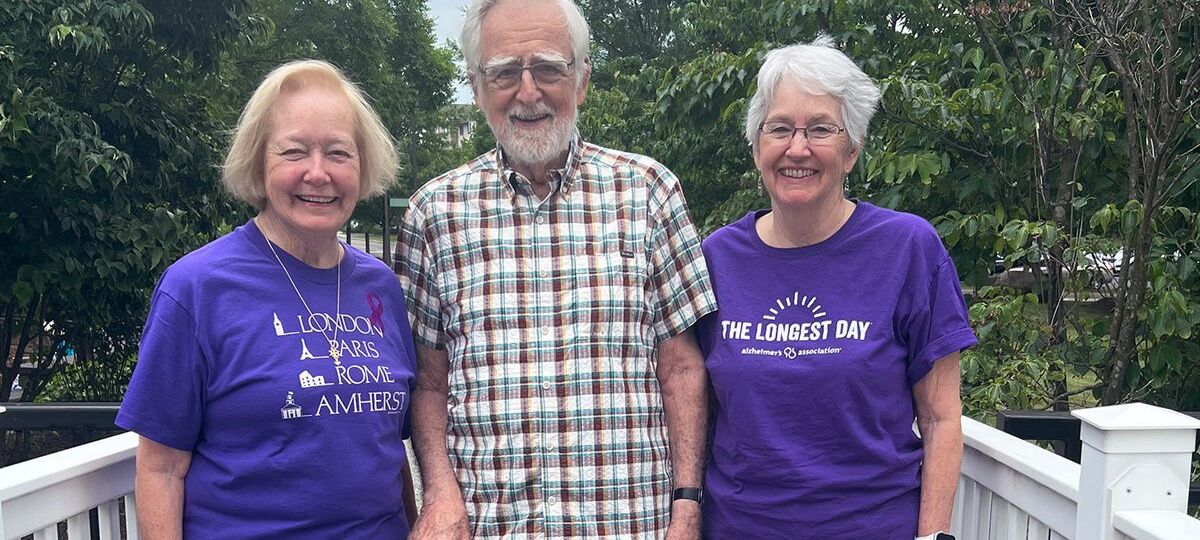 Even though she's the youngest, Connie Amend was the first of three siblings to move to Maris Grove, an Erickson Senior Living community in the Brandywine Valley of Pennsylvania.
"In 2005, before they even broke ground, my sister Dale, who lived four miles away from Maris Grove, called me," Connie recalls. "She said, 'Guess what? Delaware County just gave an approval for our new continuing care community. Next time you're back visiting, you might want to sign up for the priority list.'"
Dale Megill had already signed up herself. And even though she knew it would be a while before the timing was right for a move, Connie knew she wanted to be on the priority list too.
Coming together again
Connie and her husband Bill moved to Maris Grove first in 2015, coming from California. Next, in 2019, Dale and her husband Bob moved from nearby Concord Township. Then, their oldest brother Dick Roberts and his wife Priscilla moved from Colorado in 2021, bringing three of the four siblings together at Maris Grove.
Their brother John and his wife Susan live in North Carolina, but they visit the rest of the family at least once a year.
"One nice benefit of us all being here at Maris Grove is we've been able to spend holidays together, which we've not done since Dick finished college," Dale notes.
"Since our children and grandchildren come here to visit, we've had more time to get reacquainted with them, and the cousins with each other. And brother John is now able to visit all three of us in one trip!"
Connie says, "My sister is literally 40 feet down the hall from me. It's the closest we've lived since we shared a bedroom as teenagers."
While Dick lives in another residence building, his apartment home is still only a short walk way. Dale adds, "We're able to support each other in ways we never could before."
Enjoying a worry-free lifestyle
Connie, Dale, and their husbands enjoy a standing date for Friday night dinners in one of the community's restaurants. The sisters also make a point of visiting Dick and Priscilla at least once or twice each week - they'll often stop by his apartment home while they're out on their walks.
The sisters, who brought a love of singing with them, were eager to join the chorus at Maris Grove. The chorus includes 40 to 50 residents, Connie says, and performs two concerts each year.
The sisters were thrilled that they wound up standing next to each other for the performance. The concert involved ten rehearsals that provided a much-enjoyed chance to connect with one another. This fall, they will begin rehearsing for a Christmas concert.
The sisters' love of performance led them to another activity on campus - The Players, a theater group led by resident Marian Ellis.
A theater veteran
"Marian has been writing original musical comedies for the last 30 years," says Connie. "She usually writes during the spring and summer, and then we start practicing in the fall to put on a play in November."
The theater group enjoys meeting to practice their acting and projecting skills, Connie says, as well as to learn their roles.
Connie says that joining clubs and activities - in addition to spending time with family - enabled them to meet people and make friends.
"It's a large community here, and we didn't know a soul. How do you get to know people? You join things. So, I joined The Players and the chorus. It was a great way to get to know people," Connie says.
There's plenty of socializing for all three siblings, she adds. "Whether it's dinners at the restaurant, one of the clubs or groups, seeing people in the hall, or even walking the grounds, it's great to chat with people and stay connected."
A chance to connect
All three siblings appreciate being able to enjoy the amenities together - and have a place where their brother can visit them all at once.
"We just had dinner in the private dining room a couple weeks ago because my brother's daughter and son-in-law were visiting from Paris, and his granddaughter from Denver. Dale's older son was there as well. It was great that the 10 of us could sit down and have a family dinner together," Connie says.
To learn more about affordable, independent senior living at Maris Grove, request your free brochure to get the scoop on amenities, floor plans, and so much more.
Back