Service that Goes Above and Beyond at Maris Grove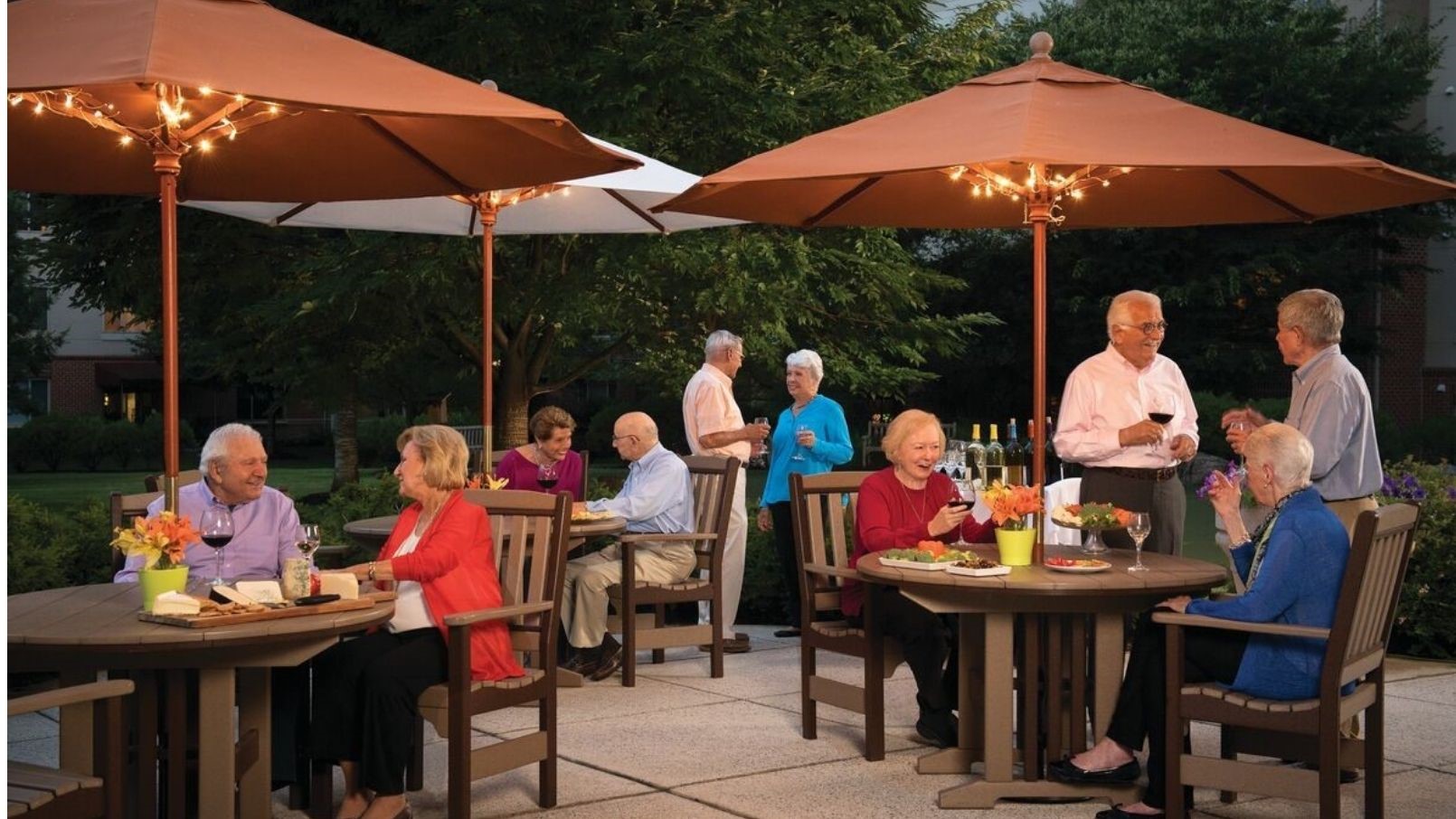 "Personal attention is at the heart of our culture," explains Maureen Heckler, executive director of Maris Grove, the Erickson Senior Living community in Pennsylvania's Brandywine Valley.
"Every encounter, no matter how brief, is an opportunity to demonstrate that we understand our residents' needs and will do what it takes to meet them, not just during challenging times, but every single day," she says.
That superior level of service has earned Maris Grove accolades from residents, as well as a number of outside sources. The community was named the area's "Best Adult Community" by the Delaware County Times in 2019 and has won the "Top Workplace" award for six straight years from the Philadelphia Inquirer.
Enhanced quality of life
Dick and Anne Kendall count themselves among Maris Grove's highly satisfied residents. After seeing several communities, the Kendalls moved to Maris Grove in 2017.
"The other communities were just too small," recalls Dick. "Here, we have six restaurants to choose from, with activities spread across the campus. We felt that a larger campus with more people, amenities, and clubs would enhance our overall quality of life. We have not been disappointed."
Before committing, the couple joined the priority list and visited the campus regularly.
"We liked it so much, I asked the sales office, 'Can we take our vacation here?'" Dick laughs. They made many friends and could easily envision a rich and engaging social life. "Everyone was so warm and friendly," says Anne. "We knew we'd be comfortable here."
Just as important, they found the staff eager to help, across the board. Their tour of the on-campus medical center was especially impressive.
"The staff spent 90 minutes with us, talking about their services and answering our questions," says Dick. "Since they treat only Maris Grove residents, they can provide an extremely high level of care and personal attention."
A personal level of care
Initially, the Kendalls continued seeing their primary care doctor off campus. But when he retired—and, coincidentally, moved to Maris Grove—Anne suddenly found herself without a way to get the quarterly injection she needs to manage a medical condition.
"We called the medical center and explained the situation," says Dick. "Even though we were not regular patients, they were right on it. They wanted to make sure that Anne got the treatment she needed."
Anne could have gone to a nearby hospital, but that would have required a 14-day quarantine afterwards, something they hoped to avoid. The medical staff made some calls and found a facility right across the street where Anne could get the shot from the safety of their car.
Dick says, "The medical staff handled it beautifully for us, and we could not be more grateful. That experience sums up everything you need to know about the customer service at Maris Grove—it's exceptional in every way."
Excellent customer service
When it comes to customer service, Susan Mattes is used to going above and beyond, but never more so than during the past year. As the resident services manager at Maris Grove, Mattes says she was gratified to help residents celebrate the high points, delivering anniversary and birthday cakes, balloons, and candles provided by loving family members.
They helped community members become FaceTime and Zoom super users—often with their own cellphones—so they could connect virtually with loved ones. They delivered thousands of cards, meals, packages, and pieces of mail every week. They even carted a resident's dog to and from the groomer.
Mattes says with a smile, "It lifted everyone's spirits, including ours, to know that we were making a difference. Now that our on-site vaccination clinics are complete, everyone is looking forward to an even brighter future."
Early vaccine access
The excellent health care program helped enable Maris Grove to act quickly to gain access to vaccines for COVID-19, and 96% of Maris Grove community members received the vaccine by early March. Now, three years after their arrival, the Kendalls are as happy as they day they moved in.
"The staff always goes above and beyond for everyone," says Dick. "You simply will not find a more caring place to live."
Consider being part of a strong and caring senior living community like Maris Grove. Beautiful walking paths, gardens, resort-style amenities, an on-site medical center staffed by full-time medical professionals, and new friends await. Request a brochure or a visit now!
Back