Residents Enjoy a Vibrant Lifestyle and Unmatched Financial Value at Maris Grove
Jill Dutton
September 12, 2023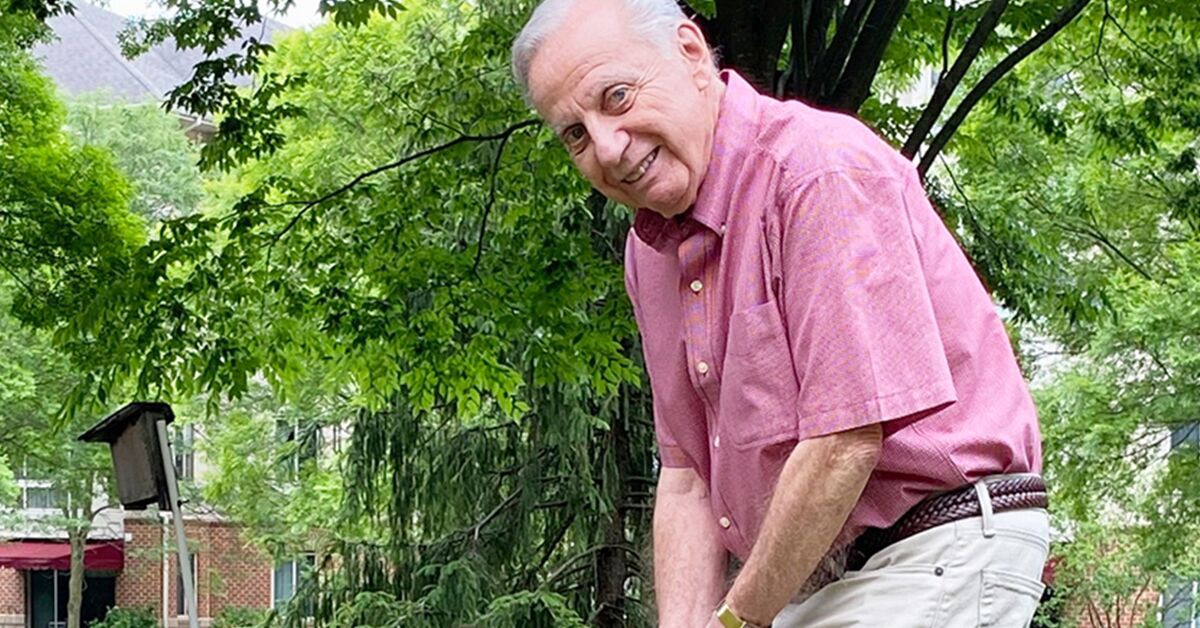 When Stan and Adele Ross were contemplating a move to retirement living, they carefully considered all the financial implications before deciding on Maris Grove, the Erickson Senior Living community in the Brandywine Valley of Pennsylvania.
"I did a thorough analysis of what it would cost to continue living in our house versus moving to Maris Grove," explains Stan. "And I went beyond that to consider lifestyle factors that were important to us." 
He also compared Maris Grove to a number of other retirement communities nearby, finding that, once again, moving to Maris Grove was the smarter choice. 
Financial freedom
Erickson Senior Living and its growing national network of communities are known for financial strength and stability, evidenced by the economies of scale that help keep costs down.
Thanks to an affordable monthly service package, residents like Stan and Adele are able to manage their budgets with ease. 
"It's great not having to worry about those things that you worry about with a house. I like not having to stress about the roof needing to be replaced or the heater going out, among other maintenance issues," Stan says. "Plus, I think consistency is important. It's helpful to know what to plan for on a month-to-month basis, with no surprises."
In addition to maintenance and repairs, the monthly service package covers all utilities, except phone and internet; a meal plan at the community's six restaurants; access to the fitness and aquatics center; regularly scheduled transportation; 24-hour security and emergency response; and much more. 
"It's a sensible financial decision when compared to staying in a house," agrees Sales Director Ryan Doherty. "With the monthly service package, you don't have to worry about issues like rising heating or cooling prices. Everyone here has a sustainable monthly bill that covers a wide range of amenities and services. It's consistent and convenient."
Peace of mind
At the heart of Maris Grove's financial structure is the 90% refundable entrance deposit,* which guarantees that, if or when you leave the community, your investment will be returned to you or your beneficiaries. 
And the community's Home for Life promise--sustained through the Benevolent Care Fund that assists eligible community members who, through no fault of their own, outlive their resources--provides additional peace of mind. 
Bill Potter, who joined the community in 2022 after his wife Lynne passed away, also recognized the financial value of a move to Maris Grove. 
"There's peace of mind in knowing that the 90% refundable entrance deposit will go to my kids someday," he explains. "Other communities I researched offered zero refund of the deposit. Financially, Maris Grove is a much better deal. And it's just a beautiful place to live."
High value
Since moving to Maris Grove, Stan, Adele, and Bill have made the most of their investment by utilizing the community's amenities, which are continuing to evolve and grow.
With a current $4 billion expansion plan and $450 million investment to update and enhance existing communities, Erickson Senior Living strives to increase value for all residents.
At Maris Grove, recent changes include remodeling the Brinton Clubhouse to liven up the restaurant and add a game room and fitness studio.
Stan and Adele appreciate the community's thoughtful, modern design and easy walkability. "The campus is beautiful and it just feels good living here," says Stan.
He continues, "We were particularly pleased to see that climate-controlled walkways connect the various buildings on campus, so it's nice to know that on a snowy January night, we don't need to go outside to walk to dinner. That was very appealing." 
'So much to do'
"What was appealing to me," says Bill, "was the activity level here. There's so much to do! It just made sense. I knew it was the right decision to move to Maris Grove."
He enjoys dining with neighbors and having the option to invite friends or family for meals. 
"In other communities, if you don't use the meals, you lose them. I love that I can use mine for family too," he says.
Bill also takes advantage of the many activities and clubs by participating in the Maris Grove Players, the Italian-American Club, and the German-American Club, as well as groups for Wii Bowling, clay working, and gardening.
"I'm enjoying a very active lifestyle," he says. Bill serves as a resident ambassador, meeting with people who are considering moving to Maris Grove to explain the community's advantages. 
To learn more about the benefits of moving to this maintenance-free community, request more information today. 
*As per the Residence and Care Agreement.
Back