'Myrna's Gallery' Showcases Impressive Artworks
Leslie Feldman
January 20, 2022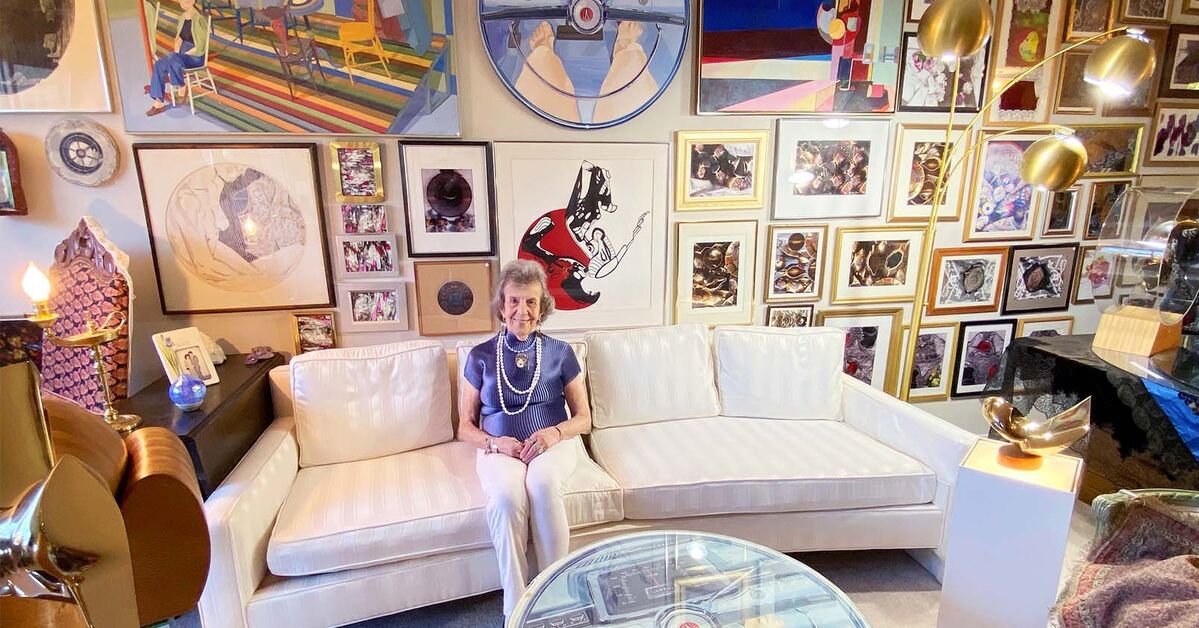 Many people who move to Maris Grove, an Erickson Senior Living community in the Brandywine Valley of Pa., choose to customize their apartment homes. But Myrna Bloom may be the first to create a full-blown art gallery in hers.
Myrna has over 200 of her paintings and prints on the walls, hung salon style. Her sculptures, displayed on tables, round out the presentation.
A unique style
You can see Myrna's affinity for color, contour, contrast, and reflection in her work. Working two-dimensionally is challenging, she admits, but she tries to present all three-dimensional subjects accurately, whether they're alive or designed and manufactured.
"Despite concentrating on my model, it's humor or elegance to me, its juxtaposition to other objects and the space around. The result is a final image that is generally different from what the camera's eye would see," Myrna explains.
"Color and the reflectivity of polished surfaces are of deep personal interest to me. I often draw inspiration from the magic of mirrors and qualities of the sun," she adds. "Each shape and volume, its edges and contours, are intended to contrast as well as harmonize with its shiny surface."
Her move to Maris Grove was an endeavor all on its own, with 89 large cartons full of artwork—each of which was packaged with care. Opening each carton, unwrapping each piece, and thoughtfully arranging her collection of artwork was an undertaking.
"Initially, I had help, but being very particular about placement, I made adjustments well after my move in—about five months," says Myrna.
"This presented quite a challenge to my physical strength, endurance, and my decision-making capability. Necessarily, I took my time, and I am pleased with the results."
A successful career
Her earliest work, Myrna says, involved drawings of singer Perry Como. After her two sons were born, she took an art class in the evenings—her first formal introduction to creating art.
"I went to a painting class and loved it," she says. "I lived for that class every week. After a while, I wanted to learn sculpting. I realized I needed formal training to do that type of work."
She applied to Temple University's Tyler School of Art and was accepted. After attending on a full scholarship, she earned a bachelor of fine arts degree in painting and sculpture.
In the years since, Myrna has made a name for herself in the art community, and she has sold many pieces of her work.
The gallery opens
In 2014, she moved to an apartment in The Watermark at Logan Square, a retirement community, in Philadelphia, Pa. Myrna opened up her apartment for tours by appointment, and her gallery was the talk of the Center City retirement community, according to an article in the Philadelphia Inquirer.
She says she loves when people buy her work. "It's deeply, deeply gratifying and very thrilling to me when people like my work enough that they want to live with it."
Myrna recalls, "I enjoyed finding the time to show my gallery to those that inquired, as long as I was home," and she hopes to do the same for years to come at Maris Grove.
A new home
Myrna left her Philadelphia residence to be closer to one of her sons, who lives in Wilmington, Del., and is thriving at Maris Grove.
"I love being surrounded by nature's beauty. It is a happy reminder of my suburban home, where I lived for nearly half a century. Maris Grove has a pool and a beautiful pond, and it was affordable. Everyone here is so pleasant—it's very enjoyable."
Myrna recently exhibited some multimedia works in Maris Grove's annual Resident Craft Fair.
She also hopes to expand her expertise and begin working in the community's woodshop soon.
Maris Grove offers plenty of opportunities for residents to explore their creative and artistic interests.
If you'd like to learn more about the Maris Grove community, request a brochure or a visit now!
Back